"друг," loosely pronounced "droog," is the Russian word for friend. "Apyr," pronounced just like it looks, is the new name of a creepy video game monster that has become a good meme over the past week. But what the hell is Apyr? Where did it come from? Why are so many gamers obsessed with it?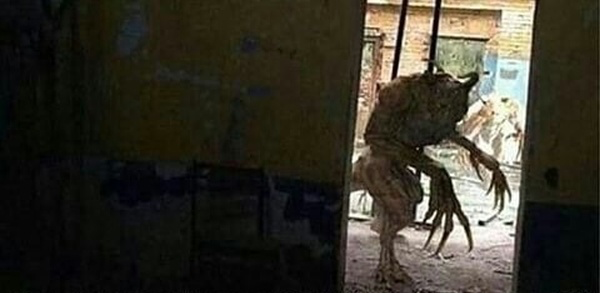 Technically speaking, Apyr is a Deathclaw, a creature from the post-apocalyptic video game Fallout 4. In the context of the meme, though, he's something else.
The Apyr phenomenon seems to have come out of a political compass meme, a chart where you can "tag yourself" as whichever part of the image you identify with politically. Here's the original version of a stereotypical "redneck" political compass, shared by writer Dante Douglas:
https://twitter.com/videodante/status/840019551509073920
And here's what happens when Apyr, the creepy demon "friend," gets involved: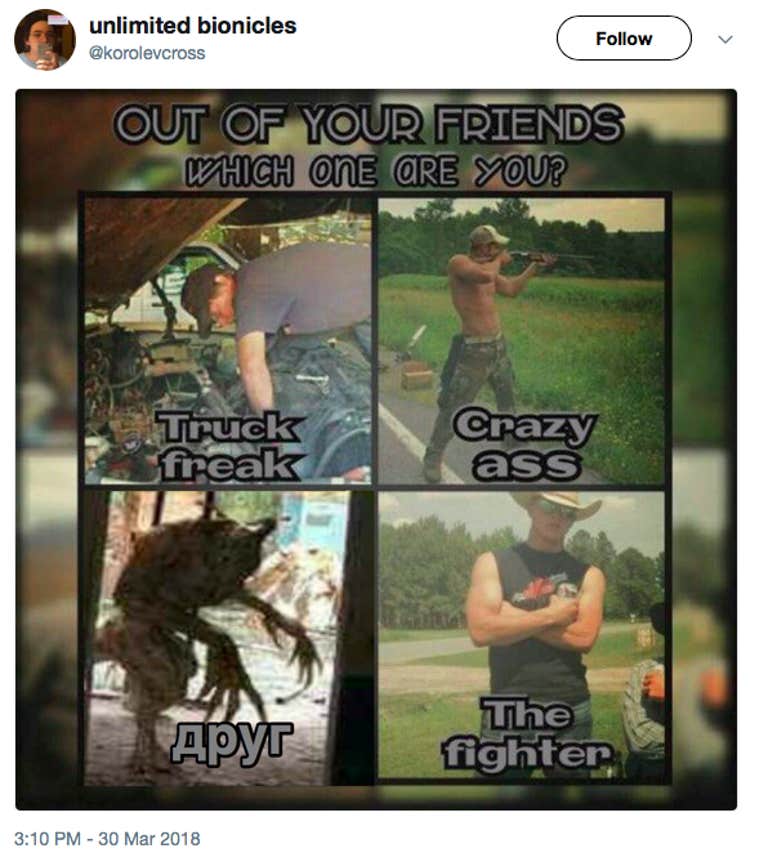 The original image that became Apyr first appeared in 2015 in a series of Photoshops that blended Fallout imagery and real-life photography, but the name "Apyr" seems to have started in March 2018 with the political compass meme above.
But Apyr didn't really blow up until the memes caught the attention of PewDiePie, the incredibly popular, often controversial gaming YouTuber. PewDiePie has been boosting memes all year with his "Meme Review" series, and his influence over the teen boy demographic means anything he covers is guaranteed to go viral. (For the best/worst example of this, see the Ugandan Knuckles meme from January.)
PewDiePie reposted the Apyr "Which friend are you?" meme on April 2, and the creepy demon friend soon took on a life of its own, with people making all kinds of bizarre memes about it. Someone gave Apyr its own Tinder profile:
https://www.instagram.com/p/Bho-TjWgKzn/?taken-by=kill.yuorself
Someone else tried to get it upvoted to the front page of Reddit:
In late April, the entertainment site ebaumsworld had published an article about how much gamers love Apyr. By this point, the meme had turned sympathetic toward the demonic character, depicting him as thoughtful and misunderstood.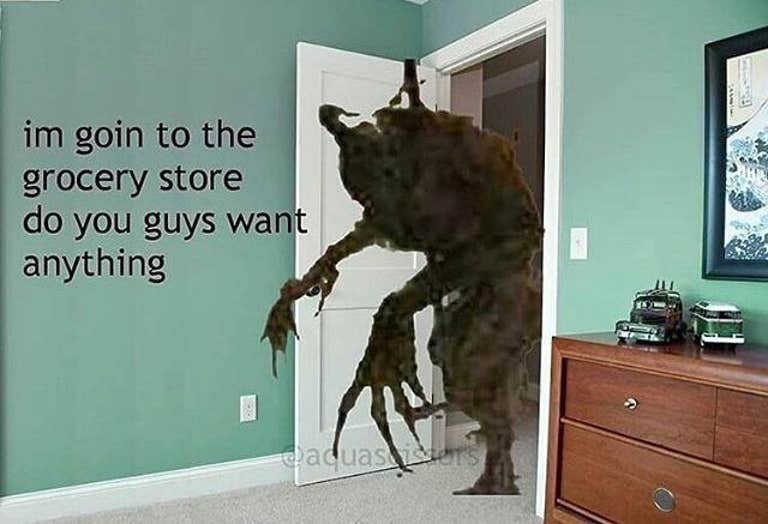 In a stale, repetitive meme environment, one way forward is to create characters that target multiple online niches at once. Apyr is a great example of a meme whose appeal spans at least two large online communities. Gamers are its natural constituency, due to Apyr's Fallout origins, but it also appeals to horror fans who gravitate toward "creepypasta" and Cursed Images. It also has an inherent "WTF" factor that may entice people who don't recognize Apyr to Google him, giving it a larger audience and a little extra longevity.
We all have that one friend, and this month, that one friend is Apyr.