When 22-year-old John Anthony Borell, a.k.a. ItsKahuna of now-defunct Anonymous offshoot CabinCr3w, stood trial for hacking police department websites across the country—and even after he was sentenced to pay restitution of $227,736 and serve three years in prison—he was none too forthcoming about his crimes or motivations. But yesterday, just weeks away from his Dec. 6 incarceration date, he posted an open letter in hopes of somewhat clearing the air.
Borell still wasn't interested in divulging his exact objectives in breaching municipal and law enforcement Web properties based out of Salt Lake City, Syracuse, St. Louis, and Los Angeles. He was, however, compelled to defend himself against rumors spread by his fellow hackers, many of whom believed that he worked with federal authorities to help bring down CabinCr3w member Higinio O. Ochoa III, a.k.a. AnonWorm, referred to here as "Hig."
"I can't blame those who jumped to rash conclusions so quickly," Borell wrote, blaming the period of confusion that erupted as the feds began to crack down on the group. "It was just weeks before my arrest that the information about Sabu [Hector Monsegur] turning and working in cooperation with the government came to light, tensions were high."
As proof that he did not help the government in its case against Ochoa, Borell uploaded photos of his federal pre-sentence investigation report, or PSR, which showed no indication of reduced time in exchange for cooperation.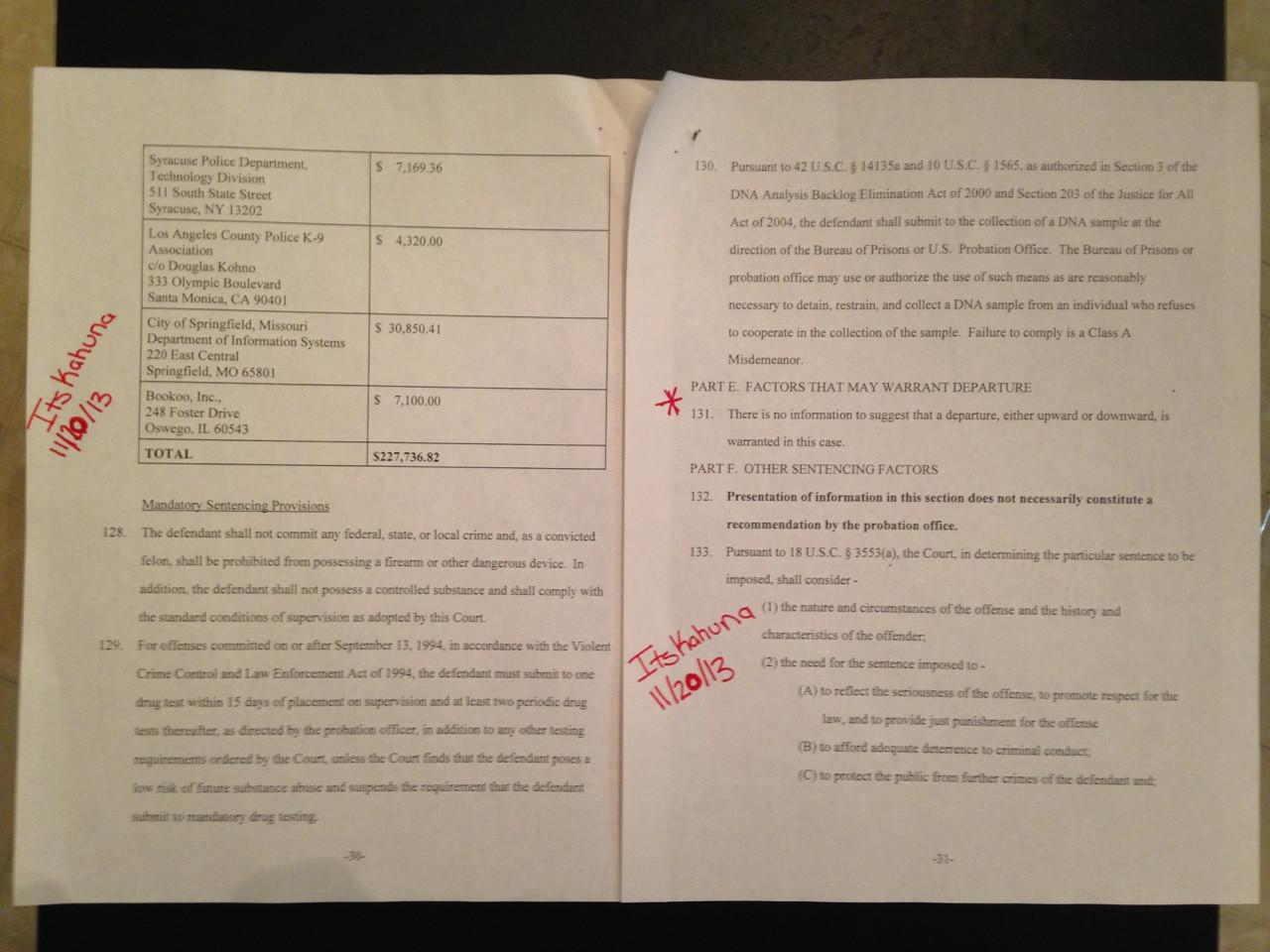 Beyond that, Borell was given to reminisce about "the old days," describe what a joy it was to meet and collaborate with other Anonymous hacktivists, and lament the stiff prison sentences that a few of them have been handed so far. He expressed admiration and love for his wife, Sarah, who in the past had been accused of hastening his downfall. Finally, he told his friends to keep in touch while he was inside and related an epiphany of sorts: 
"Privacy is becoming a forgotten thing of the past as mass surveillance has progressed as an everyday thing in the world. I dont think I truly understood, truly appreciated these freedoms till I lost those that I had left, living under constant monitor and having to report all my activities to the government. Having to go away for years. Its something I would wish on no one. I hope everyone who is still out there, still trying to make a difference understands how important they are in the grand scheme of things."
If we had a better sense of the difference he'd hoped to make—and still wants the rest of us to work toward—we might be able to take that exhortation to heart.
Photo by ribizlifozelek/Flickr