Anita Sarkeesian is the great male-gamer bogeywoman. 
Sarkeesian caused a mass communal bed-wetting last May when she launched a Kickstarter to fund a Web series on sexism in games. Based on the frothing reaction from the community, who trolled and harassed her for months, you'd think she denied the Holocaust.  
After massive backlash and public support for Sarkeesian, haters shifted their tune: They weren't upset that she's pointing out (obvious) sexism, they argued, but that she hadn't started her project. She's stealing money from her Kickstarter donors! 
And now to prove Sarkeesian's biblical level of unholy malevolence, they're Photoshopping images of fake shoe purchases. Because nothing says "mendacious evil feminist overlord" like $1,000 Gucci shoes.
This image, supposedly taken from Sarkeesian's Twitter feed, was posted to Reddit's r/rage community ("for content that pisses you off just by watching it") Tuesday.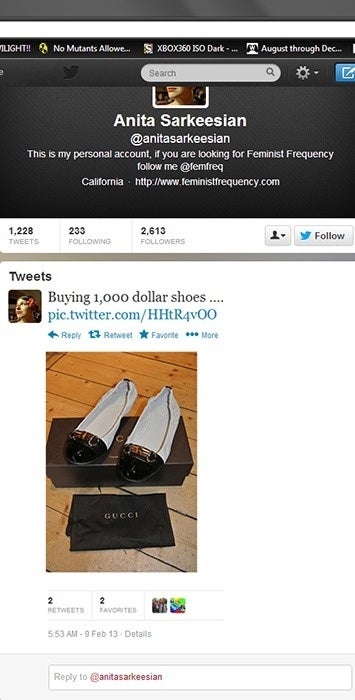 "Instead of making the movies that she promised," read the dire headline, "she's using the money from the Kickstarter to buy herself expensive shoes. She deleted it after noticing her mistake."
Sarkeesian didn't delete anything. As one redditor soon proved, the image was most likely altered. For one thing, a Twitter post doesn't actually look like that. Redditor Glorious-G provided a laundry list of alterations:
Missing lines
Different font
Different alignment
Different buttons above the image
Missing name
Missing twitter handle
Also, notice that the links are red, not blue
Here's where the Photoshopper found his shoe. 
Of course, the premise of the outrage is baseless to begin with. Sarkeesian has already launched a Tumblr for the series, and says she'll probably release the first video this month. She explained to Kotaku's Stephen Totilo:
"Due to all the unexpected extra Kickstarter funding we were able to greatly expand the scope, scale and production values of the project which is exciting but also means we've had to rework our timetable."
Even if Sarkeesian did take her Kickstarter money and run, the idea that anything other than base sexism is motivating the gaming community's hatred is complete bullshit. How many other Kickstarter projects do they follow with such unwavering critical devotion? Where was the community's outrage over this actual Kickstarter scam? Or this one? Or this one?
Gamers aren't angry that Sarkeesian hasn't finished her project. They're angry she ever proposed it.
Photo via Anita Sarkeesian/Flickr