In celebration of International Women's Day, people are taking to the Internet to complain about Anita Sarkeesian. The first installment of her long-awaited video series about sexism in video games was released yesterday, inspiring an inevitable torrent of backlash. Aside from suggestions that she "stole" the Kickstarter funding for the Women vs. Tropes in Video Games series, much of the criticism is because she disabled comments on the YouTube video. In the words of Tumblr user robbiebaldwin:
"She says she wants to 'create a dialogue' or 'force video games into open debate,'  except she turns off both comments and even ratings on her videos. Wanting to hear your own voice in an echo chamber is the total opposite of 'open debate.'"
As a direct result of her work as a critic of sexism in pop culture, Sarkeesian has been receiving death threats and misogynistic slurs for years. When she first set up the Kickstarter campaign to raise money for the "Tropes vs. Women" series, the sheer amount of vitriol she inspired was astonishing. Her social media accounts were flooded with hate mail, and someone even designed a video game where players could punch her in the face.
Eventually she was invited to speak at TED about her experiences with online harassment—at which point the TED website had to shut down comments on her lecture because the trolls had returned. Knowing this, it doesn't seem hugely shocking that Sarkeesian decided to disable comments on the YouTube show's first episode.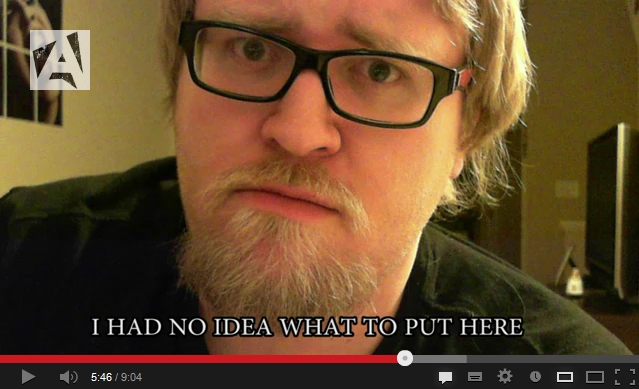 Image via theamazingatheist
Leading the charge against Sarkeesian's decision is Tumblr user amazingatheist, who posted a ten-minute video entitled "Who's The Damsel Now?" Arguing that Sarkeesian's "censorship" of YouTube comments counteracts her message about strong women, and that her TED talk about online harassment amounts to "whining," amazingatheist says:
"What are you afraid of, Anita? Why can't people have a discourse about your material? Why can't people make their opinions towards your content known? I understand that some comments will be abusive in nature — probably most will — but so what?"
Ironically, the existence of this response means by definition that amazingatheist is making his opinion known, as well as participating in a discourse about Sarkeesian's material. If Sarkeesian had indeed been attempting to censor discussion about her video, she didn't do a very efficient job. Both her Tumblr tag and subReddits such as r/gaming are full of commentary on Tropes vs. Women in Video Games, from the predictable misogynist slurs to glowing praise from supporters.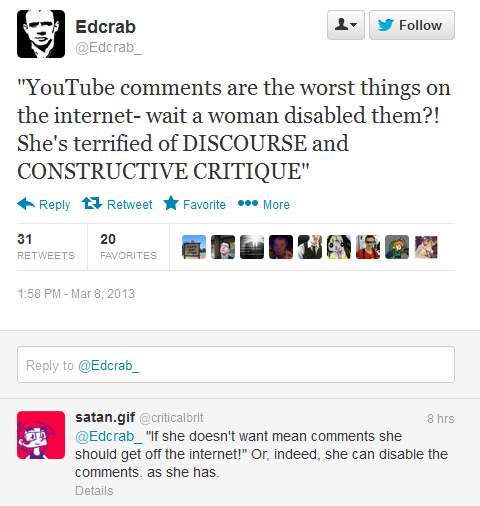 Image via @Edcrab_
Image via FeministFrequency