The United States dropped to 46th in the 2014 World Press Freedom Index, a study on journalistic freedom around the globe conducted by Reporters Without Borders. The 13-rank drop is due in large part to the Obama administration's "hunt for leaks and whistleblowers," the report stated, most prominently following Edward Snowden's leaks from the NSA.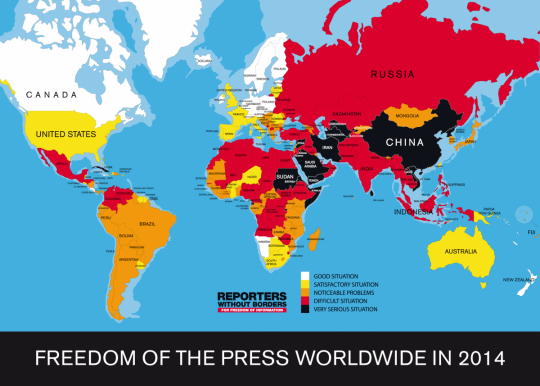 Finland tops the 180 countries listed, followed by the Netherlands, Norway, and Luxembourg. Northern Europe, in particular, is well represented on the list, occupying nine of the top 10 spots.
The most notable exception is the United Kingdom, which occupies the 33rd spot with a grade of "satisfactory." Government pressure on the Guardian, as well as the nine-hour detention of David Miranda, journalist Glenn Greenwald's partner, were cited as some of the more visible violations of press freedom. The U.K. fell three spots in the list.
The bottom of the list is occupied by Turkmenistan, North Korea, and Eritrea, which the report called "black holes and living hells for the journalists who inhabit them."
The index measures pluralism, media independence, self-censorship, the legal environment, transparency, infrastructure, and violence against journalists.
Reporters Without Borders traces the United States' present issues with journalism to 9/11, when the country's heritage of free speech "was shaken to its foundations during George W. Bush's two terms as president by the way journalists were harassed and even imprisoned for refusing to reveal their sources or surrender their files to federal judicial officials."
Obama has been much the same, the report continues, except that now instead of going after journalists directly, the president pursues their sources.
"The whistleblower is the enemy," the report asserts, citing the 35-year jail term given to WikiLeaks whistleblower Chelsea Manning, and the 105-year cumulative jail sentences requested for journalist Barrett Brown in a hacking case. The report cited the Department of Justice's sudden seizure of Associated Press phone records to identify a CIA leak as an example of how major journalistic institutions are in no way immune to government's using the "war on terror" as an excuse to treat journalists as threats to national security.
"Countries that pride themselves on being democracies and respecting the rule of law have not set an example," the report concludes, "far from it."
Photo via Reporters Without Borders