Gender reveal parties have become all the rage in the past few years. If you're not clear on the trend, the idea is that the parents-to-be gather all of their friends and family together and let everyone know if they are going to be having a girl or a boy. This is usually done in some sort of novel way, like cutting into a cake that's either blue or pink on the inside, or releasing a bunch of blue or pink balloons.
Much screaming ensues.
https://www.youtube.com/watch?v=fUvXVq_zTWc
Well, a couple in Ponchatoula, Louisiana, decided to do things a little differently. Instead of popping a balloon, or shooting confetti, they used a rather scary looking alligator to let everyone know the gender of their future child.
If you want to try this yourself (and you absolutely should not), the idea is pretty simple. Just fill a small watermelon with either pink or blue fluid. Find one of nature's oldest and most merciless killing machines. Get it to open its massive jaws that can slam shut with about 5,000 pounds per square inch of force. Throw in the watermelon and hope that you live long enough to see your kid be born.
Bonus points if you play "I Cross My Heart" by George Strait in the background.
Blue! It's a boy!
This is all slightly safer for the father in question. Mike Kliebert, (aka "T-Mike, the Gator King") is a professional alligator wrangler, trainer, and tour guide, who runs Kliebert's Turtle & Alligator Farm. It seems Kliebert deals with these beasts on a daily basis, some of which are far bigger than the one used for the gender reveal party.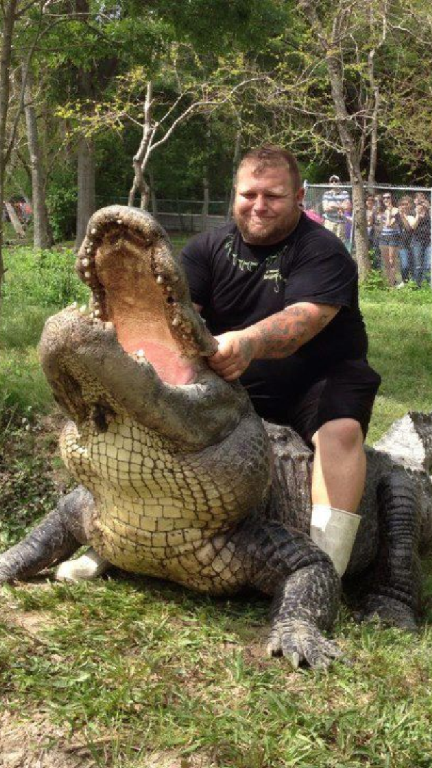 The surrounding party goers seem pretty thrilled with the results of the gender reveal, as did Facebook. The video has now been viewed 1.4 million times. Pretty good advertisement for the Kliebert's gator farm. Hopefully, it helps them raise the future Gator Prince in style.