Children raking leaves, a display of seasonal gourds at the farmer's market, and the crisp chill of fall in the air can mean only one thing: It's time for 4chan's annual rigging of Time's year-end polls.
By the time most Americans begin their preparations for Thanksgiving feasts, the denizens of the site's /b/ board will have cooked up a sinister prank to end their year with one last laugh. It happens every year without fail, and this time, the target is one of the year's most important buzzwords. To close out a year that has seen /b/ antagonize women online like never before, trolls from this infamous prank hub are attempting to ban the word feminist.
The censory offensive began on Wednesday, shortly after Time published its fourth annual word banishment poll, where it asked readers which words they wanted to exile from the lexicon in 2015. Among zeitgeist phrases like "I can't even" and the trendy party slang "turnt" lurked the option "feminist."
"Feminist" and related terms made headlines like never before in 2014, thanks to a flurry of celebrity opinions about women's rights that raised the profile of the everyday disgraces women face.
If there's one site that exemplifies retrograde, head-in-the-sand thinking, it's 4chan. Seeing a chance to tip the scales drastically against their mortal enemies, the feminists, /b/ members struck quickly. Early Wednesday morning, one of them posted a link to the poll and issued a resounding rally cry of "Get in here fags." This is how the results trended later on Wednesday.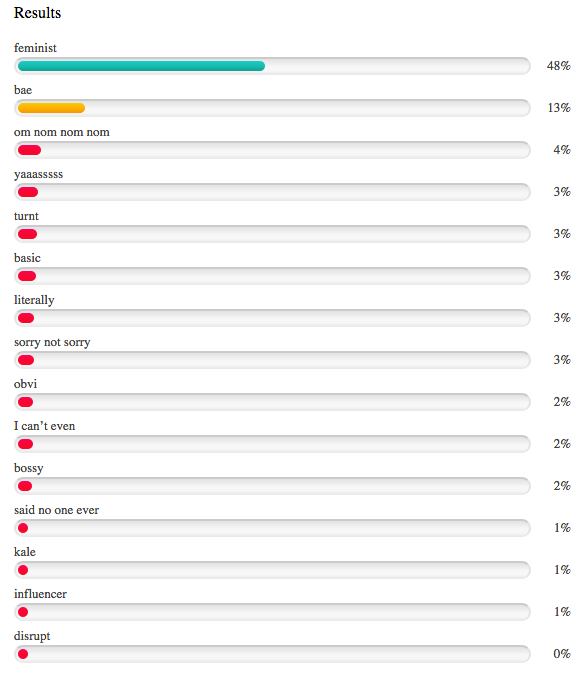 Shortly after the call to arms went up on /b/, moderators removed the thread, but that didn't deter users from mounting new insurrections against women's rights. 


Thanks to the use of auto clickers and constant page refreshing, /b/ was able to stagger the votes drastically in only a few hours. The word "feminist" has taken a massive lead in the polls.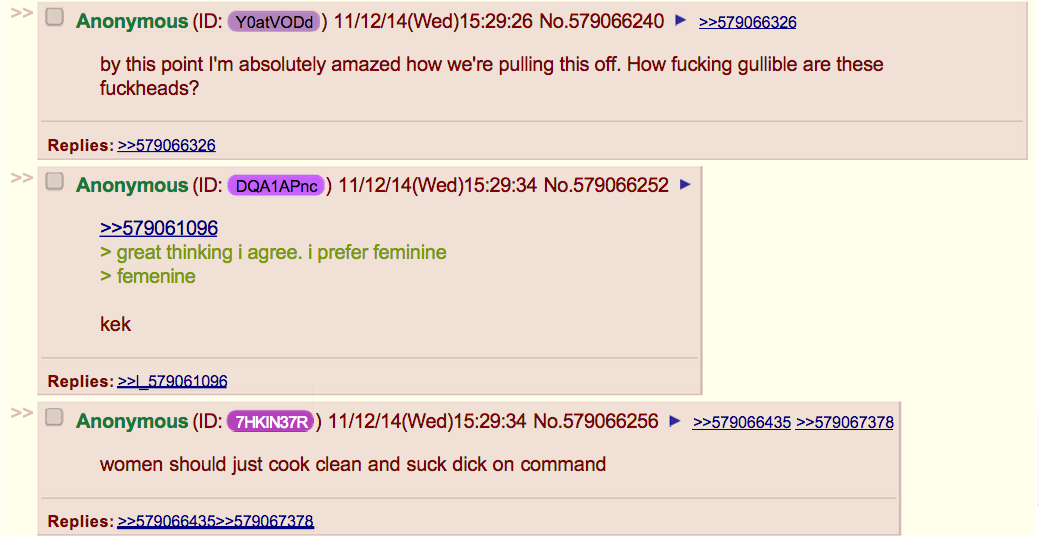 Of course, /b/'s trolling of feminist is nothing new. Since the beginning of the year, its members have attempted to dismantle women in one way or another. It was early January's "bikini bridge" prank that found /b/ spamming social media and news organizations with body-shaming imagery of women whose flat stomachs had caused their bikini bottoms to become suspended across their hips.
4chan followed that outburst of childish deviousness with a less-than-successful Fourth Wave of Feminism campaign and the downright gory rebuking of feminine hygiene products known as "free bleeding." Until Wednesday, the group hadn't seen much success on the feminist front, other than their #endfathersday hoax, which trended worldwide on Twitter in June.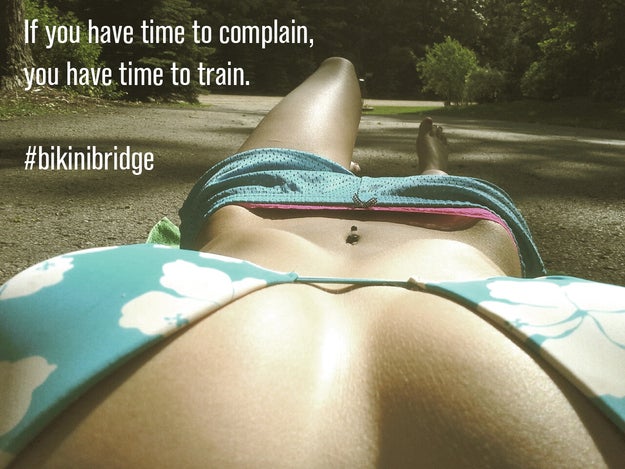 This gaming of the polls is something that Time should expect by now, given that /b/ has been waging a one-sided prank war against Time since 2009. It was in April 2009 when saw /b/ trolls first begin to bombard the magazine's polls, spamming the annual Time 100 contest to promote their fearless leader, Christopher Poole, who beat world leaders and real celebrities with over 16 million votes. Since then, /b/ has managed to hack the results of the magazine's annual Person of the Year poll in both 2012 and 2013.
While it remains to be seen what word will win the banishment poll on November 19th, it's clear that /b/ has taken advantage of vulnerabilities in Time's software and given "feminist" a strong head start. Could this push to banish "feminist" from our vocabulary be just a hint of what's to come in Time's 2014 Person of the Year poll?
Once its engineers wised up to 4chan's tactics, Time was able to close the loopholes pretty quickly in 2013, but it doesn't appear that the site took the same precautions for its word-banishment poll. Here's hoping they'll fix any outstanding software issues before 4chan makes Mama June from Here Comes Honey Boo Boo into Time's 2014 Person of the Year.
Photo via David Fulmer/Flickr (CC BY 2.0) | Remix by Jason Reed