With as many problems as Microsoft's new gaming console, the Xbox One, has encountered in its rocky road to the holiday market, the real surprise is that 4chan managed to wait til December before creating the ultimate prank for anyone still holding onto their dreams of an Xbox not "fraught with frustrations."
Yesterday, 4chan's infamous /b/ forum—which a few months ago convinced a bunch of people to dunk their new iPhones in water—unleashed an elaborate infographic that promises a "hack" to provide backwards compatibility for the Xbox One. 
MORE: Now 10 years old, 4chan is the most important site you never visit
There's just one hitch: Actually following the directions will totally destroy your new toy. You know. The one that retails anywhere from $500 to $900.
To be clear there is no way to make your Xbox One backwards compatible & performing steps to attempt this could make your console inoperable

— Larry Hryb (@majornelson) December 6, 2013
The prank purports to "unlock" the console, allowing it to play games designed for the older Xbox 360.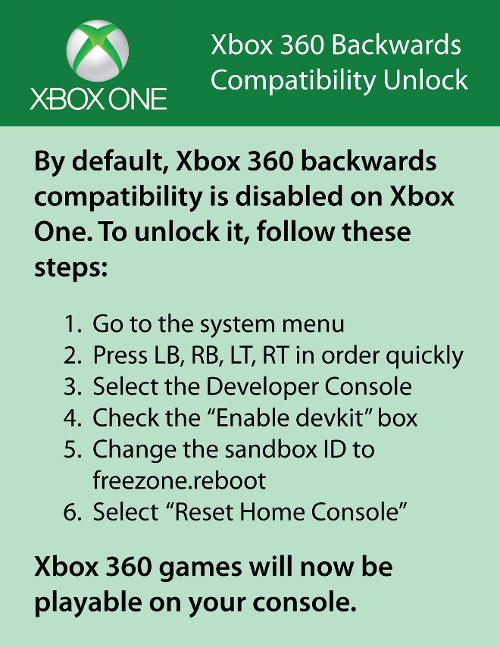 Instead, it "bricks" the Xbox One completely, rendering it totally inoperable. And unfortunately for anyone who trusted the trolls at 4chan, it doesn't come with reversal instructions.

4chan's prank is pure evil. It's also somewhat clever commentary on the level of frustration gamers have felt with the console in the lead-up to its launch this year.
1) First, a highly anticipated E3 premiere of the Xbox One was undermined by accusations of sexism.
2) Shortly afterward, Microsoft had to reverse two controversial features: one that required the console to be constantly connected to the Internet in order to play games, and another that placed DRM restrictions on game-sharing.
3) Then gamers realized they needed to buy an already widely criticized $60 annual subscription to Xbox Live in order to get the most out of the new console.
4) Finally, on top of everything else, Microsoft announced that making older editions of the console compatible with the Xbox One would be "problematic," despite hinting earlier on that they'd be willing to use streaming services to make older games available.
5) The sexism allegations returned in full force as Microsoft published a really weird form letter called "We got your back," addressed to dudes whose girlfriends won't let them play video games. It was as if the company didn't realize that nearly 40 percent of Xbox users are women.
It's hardly a surprise that fans are falling for the prank—after all, who doesn't want to play Halo 4 on their brand-new gaming console, even if the resolution is disappointing? 
The damage has been significant enough that Xbox Live's programming director Larry Hryb put out a PSA via Twitter:
To be clear there is no way to make your Xbox One backwards compatible & performing steps to attempt this could make your console inoperable

— Larry Hryb (@majornelson) December 6, 2013
It seems as though Microsoft has its hands full trying to keep Xbox fans from self-destructing: earlier this week on Reddit, a user tried to explain how to access the Xbox One's highly anticipated Devkit feature, only to be begged to stand down by Xbox developers concerned he would brick the console before the feature was fully deployed.
But with an eight-year stretch between the release of the Xbox 360 and the Xbox One, the odds are many gamers won't want to wait for Microsoft to fix the console's more controversial elements. For 4chan, a crowd of gamers this eager to create workarounds must have seemed easy to manipulate. 
The good news: It's easy to avoid bricking your new Xbox simply by leaving it alone and ignoring anything that promises a feature Microsoft hasn't already announced.
The bad news? It won't get you any closer to having the Xbox you wish you owned, instead of the one you actually bought.
But at least you didn't buy a photo of an Xbox, like this poor kid did.
H/T O Canada | Photo via Wikimedia Commons