With the holidays approaching, Microsoft put in a bid to send the new Xbox One to the top of everyone's wish list. Unfortunately, it might end up alienating a large percentage of its userbase. The company released a form letter online for men to send their girlfriends, explaining why they should, uh, let them buy the Xbox One.
"Hey honey," it begins. "Not sure if you've heard, but Xbox One is now available." 
The letter, called "We got your back," has been revised after the company faced substantial criticism. Here's the original: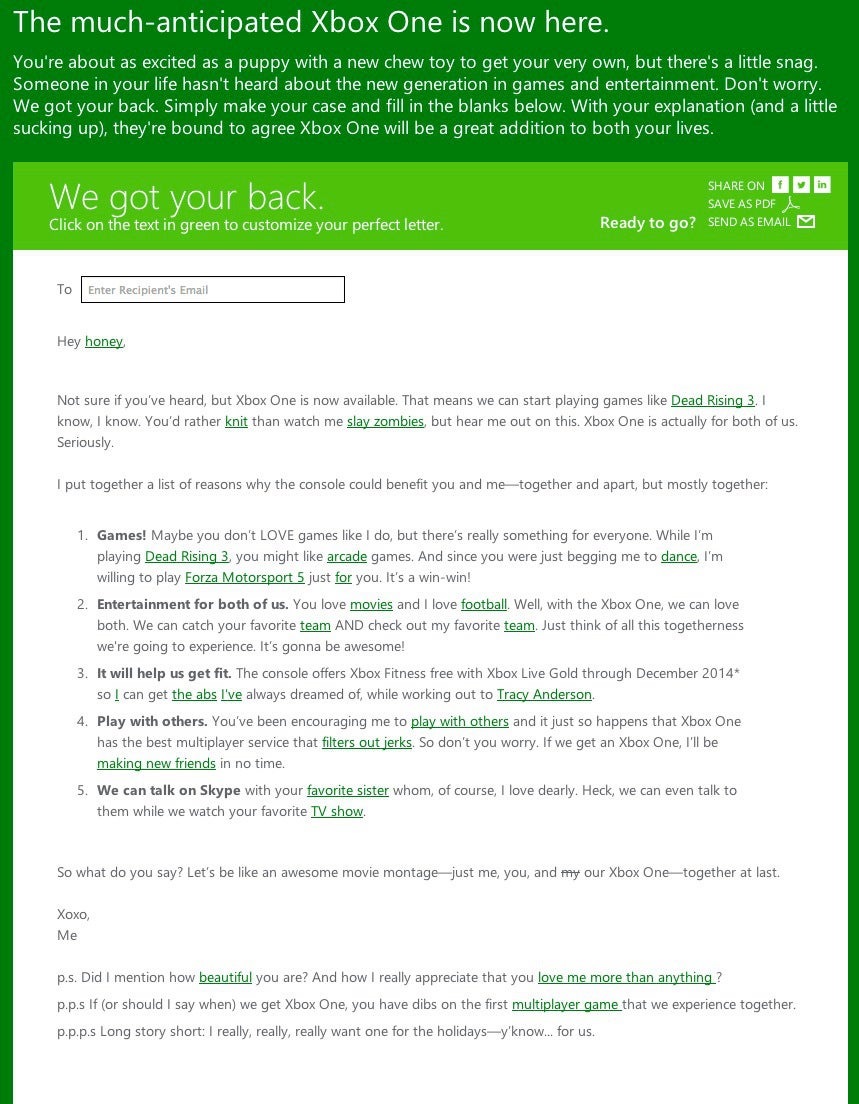 The new version of the letter is more gender-neutral, less heteronormative, and less condescending. It can be sent from any gender partner to any other. The original had lines like "You'd rather knit than watch me slay zombies." Now it reads, "Not sure if you've heard, but Xbox One is now available. That means we can start playing games like Dead Rising 3. I know, I know. You'd rather do your taxes early than watch me slay zombies, but hear me out on this. Xbox One is actually for both of us. Seriously."
The letter, naturally, prompted backlash on social media. Female gamers tweeted that they don't need a man to cajole them into buying games. To think so is backward, they wrote, and inconsistent with the company's sales base.
Microsoft is known as a progressive company, so someone seriously dropped the ball allowing this letter to go out as it originally did. Especially since recent numbers, published in USA Today in June, show 45 percent of gamers in 2013 are women. According to the Wall Street Journal today, nearly 40 percent of Xbox users are women. The company has even bragged about it.
Internally, things are different. In a September Huffington Post article titled "MicBROsoft," Bianca Bosker and Betsy Isaacson reported that all four people "charged with finding Microsoft a new CEO" are men. Seven of the company's nine board members are men, and nearly 80 percent of its U.S. employees are male. "The only two CEOs in Microsoft's history, Bill Gates and Steve Ballmer, have been men," the article laments.
Microsoft hired a slightly larger number of women in 2013. If this letter had crossed one of their desks, maybe it wouldn't have been published.
H/T TechCrunch |Photo by ChipperMist/Flickr