In 1992, the world was introduced to the Dream Team, the first American Olympic basketball team made up of NBA superstars like Michael Jordan, Magic Johnson, and Patrick Ewing.
Now, 20 years and one 4chan thread later, the "Cream Team" is getting ready to hit the hardwood floor.
As part of Operation White Man Can Jump—a reference to the 1992 film about street ball hustlers Woody Harrelson and Wesley Snipes—4chan's sports forum, /sp/,  is encouraging the community to vote for lighter-skinned players as starters in the 2013 NBA All-Star Game. The suggested players include Lakers point guard Steve Nash, Nets forward Kris Humphries, and Timberwolves forward Kevin Love.
"Lets bring america back to the 60s and vote for an all white NBA all star game," stated the original 4chan thread, posted to /sp/ on Dec. 1. "Keep votes the same as this, this way we ensure maximum votes. Also some guys are popular to begin with so that will help. The time is now."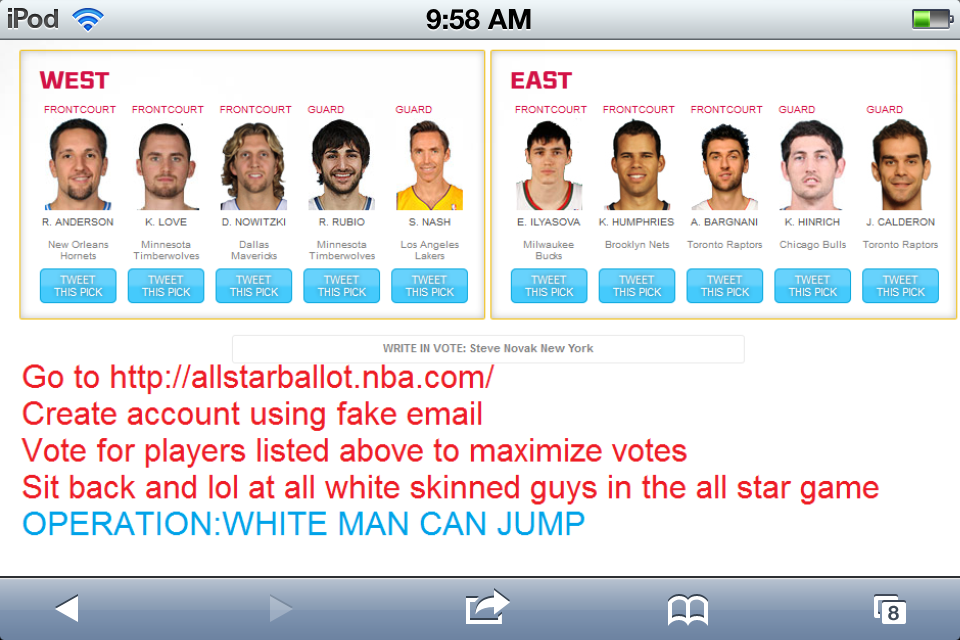 "This HAS to happen," redditor learnd_astronomer commented on a thread in Reddit's /r/4chan. "Could you imagine if the NBA had to intervene? It would be a fucking national controversy."
Starters in the All-Star game are selected through an online balloting system that requires people to have a free NBA All-Access account. (The reserves are voted on by NBA coaches and others close to the game.) But as 4chan discovered, the ballot's mobile site does not require a person to log in to vote.
The winners will be announced in installments over the next 34 days. So until then, there will be no way to tell if Operation White Man Can Jump is successful.
"That is what is so brilliant about it. Nothing can be done to stop it. The NBA can't cancel the vote, just because a bunch of white guys won," redditor ScarfMachine commented. "It's brilliant in it's simplicity."
Operation White Man Can Jump comes after two weeks after Time magazine's Person of the Year poll was gamed to have North Korean leader Kim Jong-un as the top vote receiver. Kim has 5.9 million votes thanks to a Java script created by Internet Relay Chat (IRC) user _js5. That same script also helped _js5 and a group of IRC users manipulate the public poll to spell "KJUGASCHAMBERS" using the first letter of each candidate's name.
"There really is nothing too exciting about the meaning, sorry to say. We chose it because it was clever, had semi-subtle offensive overtones, and wasn't as childish as our second choice of KFCBUTTSEX," one anonymous IRC user wrote in an email to the Daily Dot and other media organizations. "Furthermore, if there was any overt justification for why we chose gas chambers, it's because we wanted to reference Hitler, who's [sic] gas chamber antics are always offensive to people. His name was mentioned a lot when we were discussing what to spell."
In 2009, 4chan pulled off a similar poll-related feat when users voted the site's creator, Christopher "moot" Poole, as Time's Person of the Year. The 4chan users also spelled out "marblecake also the game," a reference to "the name of the IRC channel used during Project Chanology raids [on Scientologist websites], by arranging the first 21 nominees' names in a particular order," KnowYourMeme reported.
Since then, 4chan has gamed public votes for a new Mountain Dew flavor (one popular entry: "Hitler did nothing wrong") and a competition to have Taylor Swift perform at a school for the deaf.
Photo via Los Angeles Lakers