Look at this Craigslist ad and tell me if your heart doesn't actually stop beating for a minute. Three hundred pounds of bacon. It's an unfathomable amount of meat. And it's free—first come first serve. Conceivably, if you've got the means to transport and freeze it, this could be a lifetime supply of hog belly.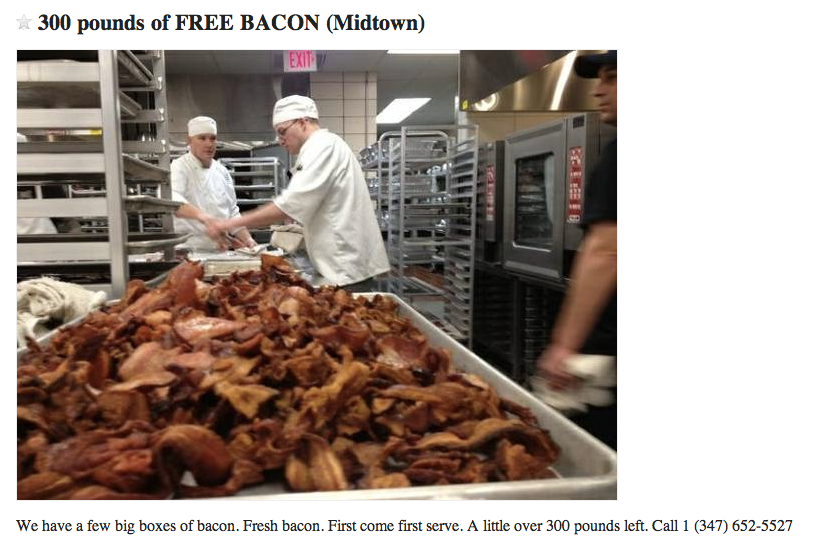 I found the ad (actually, a guy named Dan Bobkoff did) two hours after it was posted. I called, but no one picked up; presumably the seller is dead from trying to consume an entire farm's worth of pigs. Time.com's Alex Fitzpatrick used some reverse-image-search trickery to find the source of the photo, too, and it looks like it comes from an article about a bacon festival in Iowa earlier this year. (The title: "Bacon, Bacon, Bacon!" Smart SEO, KCCI News.)
Like everything on Craigslist, from the apartment listings to the personals to the missed connections, there's only a 0.05 percent chance it's a real offer and not a guy in Yonkers trying to turn your abdominal skin into a belt. All I'm saying is don't get too excited. 
@_Cooper @versharma @mbyhoff More like a baCON ACT, amirite

— SS Private Equity (@PE_Feeds) November 14, 2013
Feels like a (delicious) trap RT @_Cooper: ATTN https://t.co/cPiic8Hh3E pic.twitter.com/yxfyqDRGQS

— Mike Hayes (@michaelhayes) November 14, 2013
But come on, it's 300 pounds of bacon. Let the legend live on in your heart—just like bacon does.
. @AlexJamesFitz @_Cooper Yeah, I have no idea if the bacon ad is real. I kinda don't want to know.

— Dan Bobkoff (@danbobkoff) November 14, 2013
300 pounds of bacon. 300 POUNDS OF BACON. RT@_Cooper ATTN https://t.co/SmndOA8lGS … pic.twitter.com/M6ENCU4qOX

— Shakthi J (@ShakthiJ) November 14, 2013
Photo via cookbookman/Flickr