In what might be the worst example of "word-association marketing" ever, the German company Media Markt is trying to sell a cupcake maker by referencing the infamous scat-porn video "2 Girls 1 Cup."
The company's Netherlands Facebook page posted an image of two smiling girls eating cupcakes with the tag line "2 Girls 1 Cup-cake maker" Wednesday morning. It has since collected more than 950 likes and been the subject of a front-page Reddit post.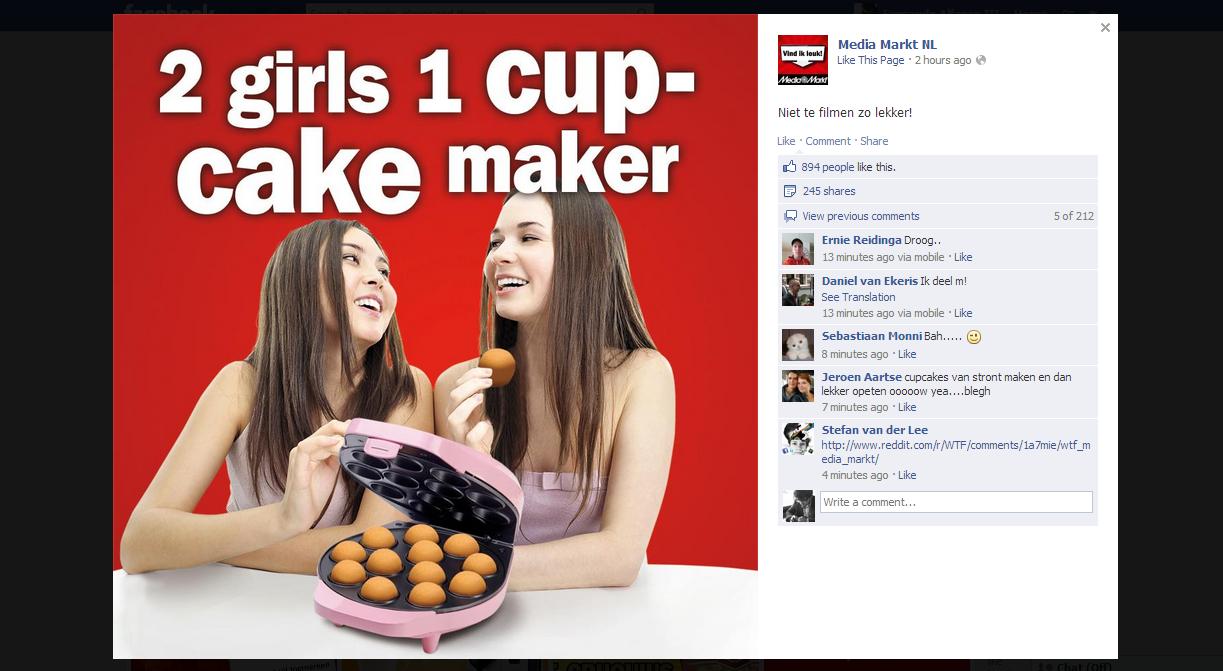 "Obviously, Media Markt has an idea about what they are doing… their image and Facebook page is making it's way to the top of a large social sharing site," zero3computers commented. "Thank Reddit for making a bad idea turn golden."
If you're unfamiliar with "2 Girls 1 Cup," you're lucky. The infamous 6-year-old porno clip involves poop and barf and worse. It's fake, but it's nightmare-inducing. It's also been the subject of hundreds of YouTube reaction videos, including one from Joe Rogan, host of Fear Factor, who was unable to sit through the entire movie. "Oh my God," Rogan said. "Where are those girls? We have to offer them a job."
In January, Ira Isaacs, a 61-year-old pornographer, used what's called the "2 Girls 1 Cup" defense after he was charged with obscenity for a similar film. Isaacs argued that the human waste was actually just a mix of chocolate and peanut butter. No matter: He was ultimately sentenced to four years in prison.
Photo via Media Markt