Game of Thrones can boast a lot of things, not the least of which being its stunning filming locations. From the sprawling Dothraki sea to the frigid mountains north of the Wall, the captivating landscapes in HBO's award-winning series have been dazzling viewers and tourists for years. There's a walking tour of King's Landing available in Croatia, and many fans of the show have tracked down dozens of other Game of Thrones filming locations—and you can view them all through the lens of Instagram.
Where is Game of Thrones filmed?
Buzz Bingo has determined the most-Instagrammed Game of Thrones locations, according to hashtags and the Game of Thrones wiki. Here's the data the site pulled along with information about each destination.
1) Krka National Park (Croatia) | 92,343 hashtags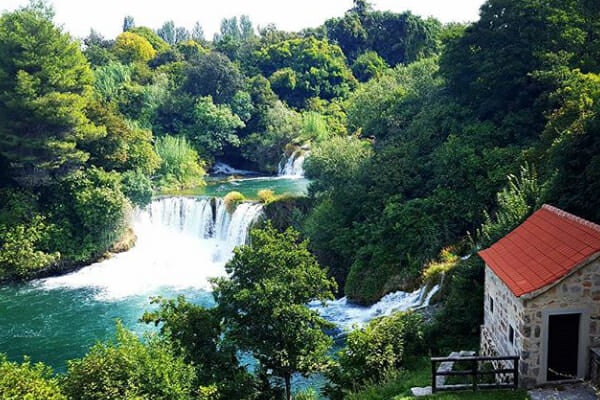 Croatia is home to dozens of Game of Thrones locations, from Blackwater Bay to the cities of Qarth and Meereen. Krka National Park, located in southern Croatia, is one of the most breathtaking. Seven waterfalls cascade through lush vegetation and abundant lavender. Krka offers a number of sightseeing tours, boat trips, and archaeological remains for the interested traveler.
2) Aït Benhaddou (Morocco) | 58,933 hashtags 
The sprawling city of Yunkai—also called the "Yellow City—which Daenerys Targaryen conquers in season 3—is located in southern Morocco. Striking architecture and ancient buildings define the real-life Aït Benhaddou, which is thought to have been built in the 17th century. Though most families have moved from the crumbling remains of the city, five families continue to live within its walls.
READ MORE:
3) Dark Hedges (Northern Ireland) | 43,403 hashtags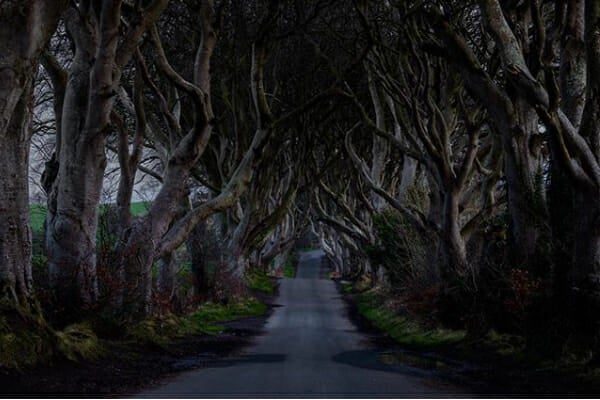 Located between Armoy and Stranocum, the Dark Hedges are an enchanting natural phenomenon and the most photographed location in Northern Ireland. An eerie but picturesque tunnel is formed by the strange growth of beech trees. These make up the edges of what Game of Thrones would transform into the Kings Road. Long branches twine together, blocking out the sky. These cast mystical shadows over the roadway, which is rumored to be haunted by the Grey Lady at dusk.
4) Carrick-a-Rede (Northern Ireland) | 38,007 hashtags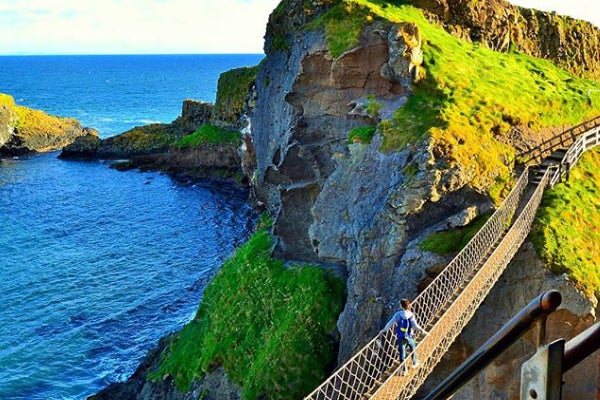 Another gem gifted to the world by Northern Ireland, the Carrick-a-Rede rope bridge stretches 65 feet across the Atlantic Ocean near Ballintoy. Built 350 years ago by salmon fishermen, tourists are welcome to voyage across this exhilarating bridge. A simple fisherman's cottage awaits visitors on the other side. The stunning views from nearly 100 feet up will take your breath away, so keep a firm grip on the handholds.
5) Gaztelugatxe (Spain) | 33,947 hashtags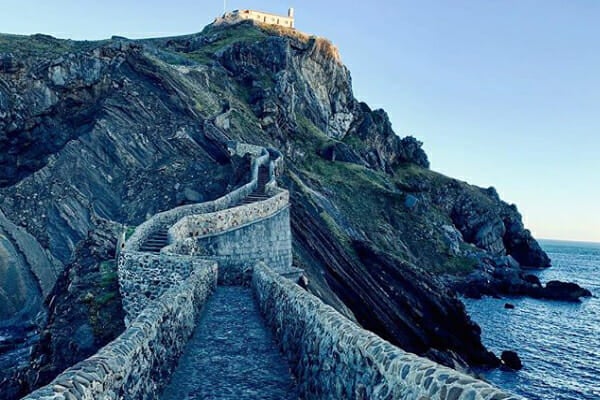 The journey to Spain's San Juan de Gaztelugatxe is an adventure in and of itself. The long stone bridge and 241-step staircase through Games of Thrones' Dragonstone can be daunting. The expedition is entirely worth it, however, to reach the picturesque chapel perched at the peak of the island. The original church—along with many of its successors—were lost to wars, flames, and the ravages of time. The peak offers a spectacular view of the Bay of Biscay and all the wonders contained within.
READ MORE:
6) Bardenas Reales (Spain) | 31,045 hashtags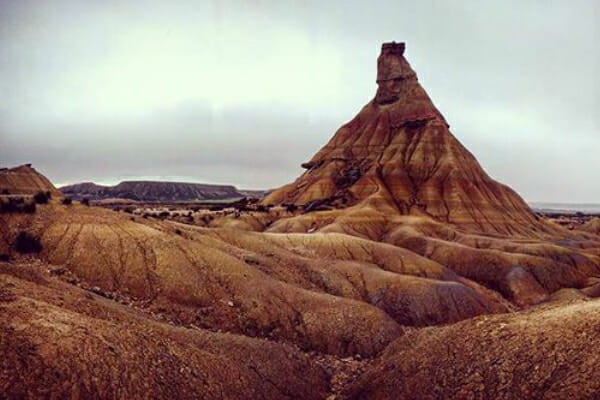 This mesmerizing desert of clay and sandstone is located in southeast Navarre, Spain. Strange formations resulting from millions of years of erosion pepper the landscape. This unique region was transformed into the Great Grass Sea, where the Dothraki roam. A strange interruption to the lush area surrounding it, Bardenas Reales is the result of a very particular climate. Visitors can enjoy the occasional burst of life in small, brilliant oases, which are host to vibrant vegetation.
7) Vatnajökull (Iceland) | 18,893 hashtags 
For a much chillier adventure, the largest glacier in Europe is a favorite of local Icelanders. Vatnajökull stretches all the way along the southern coast, offering dazzling sights most people will never have the opportunity to experience. Iceland is home to most of the crystalline landscapes seen in Game of Thrones whenever characters brave the harsh terrain north of the Wall. A sharp boost in Iceland's tourism—almost doubling between 2011 and 2015—has been primarily attributed to Game of Thrones fandom.
8) Thingvellir National Park (Iceland) | 18,533 hashtags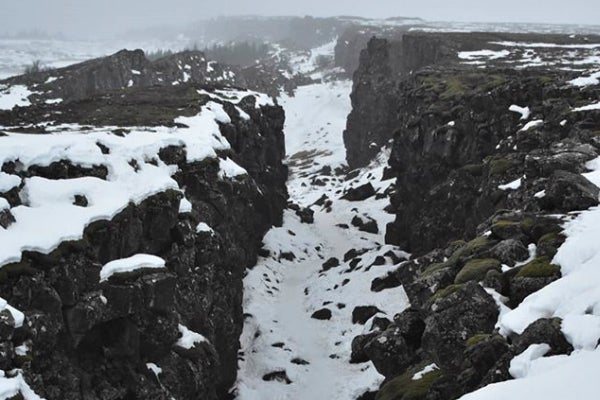 Another of Iceland's picturesque regions, Thingvellir National Park boasts much warmer weather than many sites in Iceland, but it still has chilly weather much of the year. This park is the location of the Almannagjá gorge—which fans may recognize as the Gates of the Moon.  Many of the most important moments in Iceland's early history occurred in Thingvellir, from adopting Christianity for the first time to confirming its first president.
READ MORE:
9) Italica (Spain) | 18,046 hashtags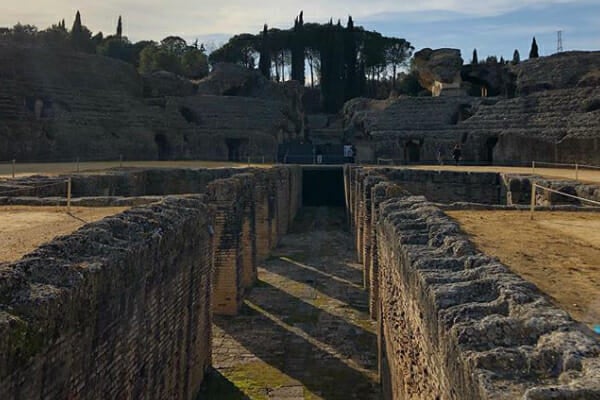 There are very few ancient Roman cities as well preserved as Italica, located in Santiponce, Spain. These crumbling walls contain an incredibly rich history. Numerous museums display Andalusia's architectural heritage through sculptures, carved gems and ceramics, and the largest gathering of characters thus far in Game of Thrones history occurred among these ruins. What season 7 would transform into the Dragon Pit is in fact a crumbling piece of ancient architecture, which is rumored to be featured again in season 8.
10) Doune Castle (Scotland) | 13,106 hashtags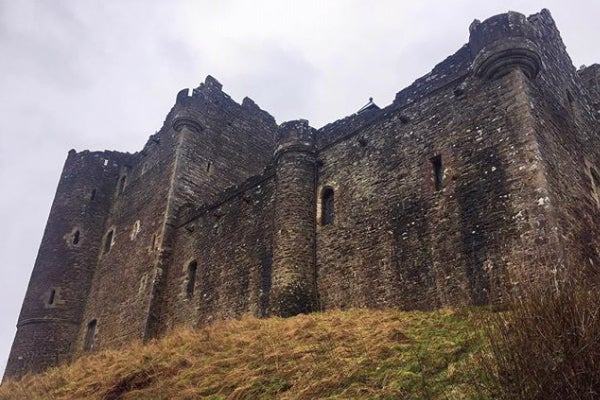 If the 100-foot tall gatehouse towering above this stunning 14th-century castle looks familiar, it may not only be due to Game of Thrones. A number of scenes from Monty Python and the Holy Grail were shot here—yes, including the "I fart in your general direction" scene. The twining labyrinth of rooms in this magnificent castle gave viewers a glimpse into Winterfell for the pilot episode. Doune Castle is also home to one of the best preserved Great Halls in Scotland.
More Game of Thrones filming locations
Looking for even more Game of Thrones shooting locations?
11) Castle Ward, Northern Ireland (Winterfell) | 11,985 hashtags
12) Tollymore Forest Park, Northern Ireland (Forest in the North) | 8,423 hashtags
13) Ballintoy Harbour, Northern Ireland (Lordsport) | 7,718 hashtags
14) Glens of Antrim, Northern Ireland (Dothraki Sea) | 7,480 hashtags
15) Skaftafell National Park, Iceland (Beyond the Wall) | 6,675 hashtags
16) Portstewart Strand, Northern Ireland (Dorne) | 6,487 hashtags
17) Lake Myvatn, Iceland (Beyond the Wall) | 5,826 hashtags
18) Itzurun Beach, Spain (Dragonstone beaches) | 4,461 hashtags
19) Murlough Bay, Northen Ireland (Iron Island) | 4,285 hashtags
20) Black Sand Beach, Iceland (Eastwatch-by-the-sea) | 3,489 hashtags
21) Binevenagh Mountain, Northern Ireland (Dothraki Sea) | 3,099 hashtags
22) Mussenden, Northern Ireland (The Burning of the Seven) | 2,973 hashtags
23) Strokkur Geysir, Iceland (Beyond the Wall) | 2,846 hashtags
24) Pile Gate, Croatia (Spice King's mansion) | 2,492 hashtags
25) The Tabernas Desert, Spain (Dothraki Sea) | 2,160 hashtags
26) Rector's Palace, Croatia (Spice King's mansion) | 1,448 hashtags
27) Fort St. Elmo, Malta (Sowbelly Row) | 1,688 hashtags
28) Mdina Gate, Malta (King's Landing gate) | 1,647 hashtags
29) Trsteno Arboretum, Croatia (King's Landing and Red Keep) | 1,448 hashtags
30) Cushendum Caves, Northern Ireland (The Stormlands) | 1,409 hashtags
31) Lovrijenac Fortress, Croatia (Red Keep) | 1,029 hashtags
32) Fort Manoel, Malta (Great Sept of Baelor) | 970 hashtags
33) Castell de Santa Florentina, Spain (Horn Hill, Old Town) | 962 hashtags
34) Sant Pere de Galligants, Spain (Braavosi Bridge) | 752 hashtags
35) Minceta Tower, Croatia (House of the Undying Entrance) | 749 hashtags
36) Verdala Palace, Malta (Pentos) | 613 hashtags
37) San Anton Palace, Malta (Red Keep) | 605 hashtags
38) Gosford Castle, Ireland (Riverrun Exterior) | 392 hashtags
39) Real Alcázar Palace, Spain (Royal Palace of Dorne) | 359 hashtags
40) Fort Ricasoli, Malta (Red Keep) | 322 hashtags
---
NOW HEAR THIS:
How linguist David J. Peterson created the Dothraki and Valyrian languages for Game of Thrones
Introducing 2 GIRLS 1 PODCAST, a weekly comedy show where Alli Goldberg and Jen Jamula (two actors who perform bizarre internet content on stage) have hilarious and humanizing conversations with Bronies, top Reddit mods, professional ticklers, video game archaeologists, dating app engineers, adult babies, cuddling specialists, vampires, Jedi, living dolls, and more.
Subscribe to 2 GIRLS 1 PODCAST in your favorite podcast app.
---