The blooper reel for The Last Jedi is here, and amid the hilarity on the set of the latest Star Wars film, it really drives home just how much of a trooper Oscar Isaac was while filming it.
Approximately half of the blooper reel is reserved for one scene, one that takes place early on in the film and—according to both Isaac and director Rian Johnson—took place on Isaac's first day of shooting. After taking down a dreadnought, Poe Dameron is summoned on the bridge to talk to General Leia Organa, but instead of being praised for his foolish heroics he's slapped and demoted. As it turns out, it took dozens of takes to get that perfect take (and slap).
"I remember, it was a scene where I come up to talk to [Leia] and she's very upset with me and slaps me," Isaac told Stephen Colbert in a May 2017 interview. "And Rian kept doing it over and over and over… I think it ended up being like 27 takes of Carrie just leaning in, and every time she'd hit like a different spot on my face."
The rest of the reel is more lighthearted with plenty of line flubs, on-set laughs and shenanigans, and a special surprise from BB-8, proving that even droids can surprise you.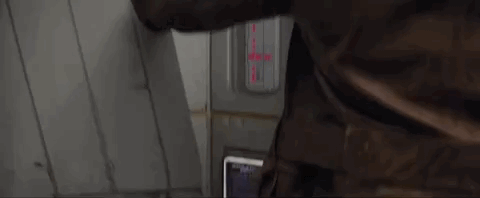 H/T BuzzFeed