Star Trek fans love to complain, and one of the prime complaints about Star Trek: Discovery is that it looks too different from the 1960s series.
If you don't spend much time in Trek fandom, this will sound ridiculous. The Original Series (TOS) began in 1966, filmed on a modest budget. Of course a modern, multi-million dollar show is going to look different. But Discovery takes place a decade before TOS in the Star Trek timeline, and fans want to know why Starfleet's ships and uniforms changed so much in those 10 years.
Unfortunately for those fans, we may never get an in-universe explanation. And really, we don't need one. You might as well ask why Skyfall had more complicated fight scenes than Goldfinger, or why Yoda was CGI in The Clone Wars and a puppet in the original Star Wars trilogy. Technology evolves, and so do the tastes of the audience.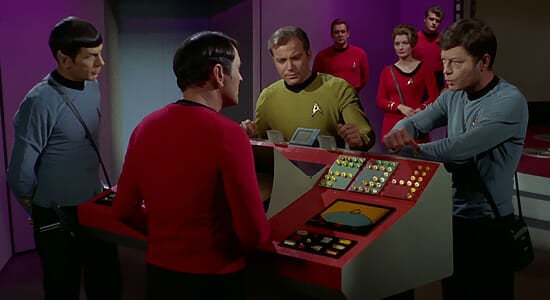 The original series did the best it could with wobbly sets and cheap costumes, inspired by a 1960s vision of the future. The interiors of the U.S.S. Enterprise look like grey boxes with multicolored disco lighting. Even if you gently upgraded this aesthetic with more expensive materials, Discovery would still look like a retro pastiche.
This isn't the first time Star Trek experienced a drastic makeover. In 1979, the first Star Trek movie used its Hollywood budget to redesign the Enterprise and radically overhaul the uniforms. The sets and special effects looked more realistic, and the costumes… well. We may never know why Starfleet opted for pastel pantsuits with built-in shoes. And that was when creator Gene Roddenberry was still in charge!
In 1960s Star Trek, "futuristic" meant beehive wigs, hand-painted alien landscapes, and the revolutionary idea that Russians and Americans could cooperate in space. By the '90s, we had convincing special effects and captains who weren't white men. Discovery's future is governed by our own present, which is very different from the world that inspired the Original Series. In 2017, Star Trek has an unprecedentedly diverse cast, and looks like a glossy sci-fi drama to rival shows like The Expanse and Westworld.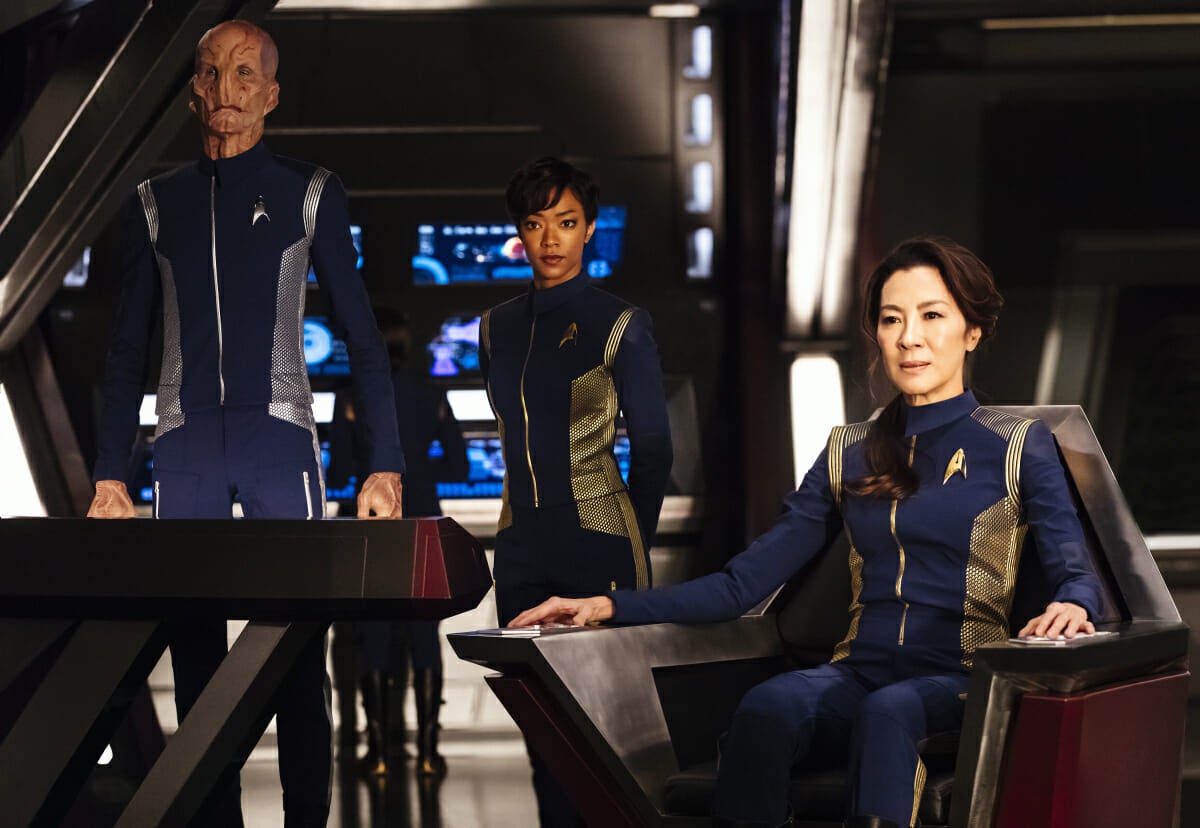 There's a running joke in Star Trek fandom that Trekkies hate every new show, regardless of quality. Then they fall in love after a season or so, with a tenacity that inspires decade-long renewal campaigns when those shows get canceled. In other words, Trek fans have a weird habit of hating anything new, despite being obsessed with a story about exploration, discovery, and looking to the future.
So if you're annoyed by Discovery's lack of 1960s minidresses and clunky production design, please remember that some people hated The Next Generation for similar reasons. Also, Voyager once aired an episode where two main characters turn into newts, have newt babies together, and then abandon those babies on a swamp planet. It's hard to imagine Discovery being worse than that.