How do you get stuff for free online? Try a long-winded request—and make it sound sincere.
Those are just two results of a study called "How to Ask for a Favor: A Case Study on the Success of Altruistic Requests."
Stanford University's Tim Althoff and a small team examined three years' worth of posts on Reddit's r/randomactsofpizza, a subreddit devoted to gifting pizza pies to people in need.
Althoff examined 21,577 total posts between Dec. 8, 2010, to Sept. 29, 2013, to figure out why redditors donate pizza to some users and not others.
Althoff found that the more urgent and detailed a request is, the higher likelihood it has of being fulfilled. The following post shows Althoff's theory in action.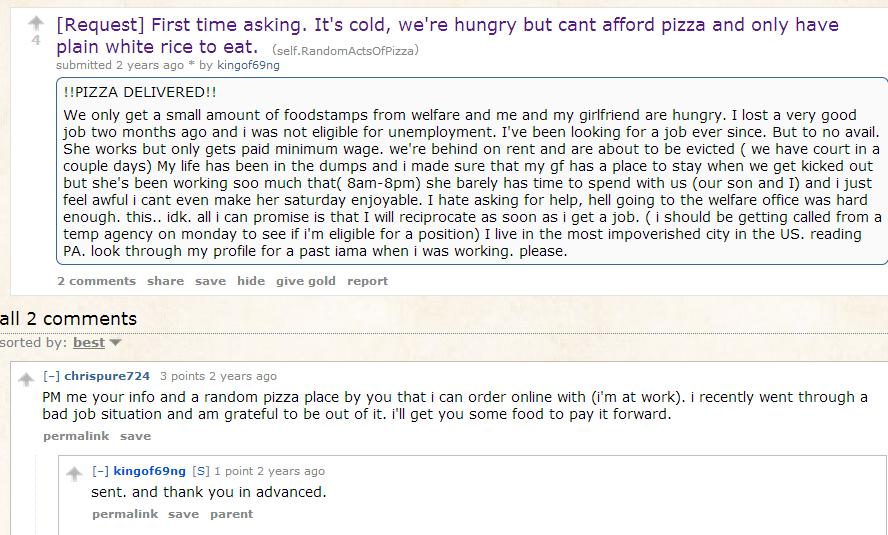 Althoff also determined that people were more likely to donate if they had been helped out by the community in the past.
One of the most telling indicators of a person's success focused on how much karma a person has. (Karma is Reddit's mechanism for rewarding comments and submissions.)
"People are more likely to help users that have contributed to the community in some form already," Althoff writes. "We also note that high status (karma in the top 20 percent) is also positively correlated with reciprocity."
Two factors that had no effect on the success of a request? Politeness and positivity.
Since r/randomactosofpizza was launched in 2011, the subreddit has been featured on ABC, CNN, and the Huffington Post. Following the bombings at the 2013 Boston Marathon, the Reddit community sent pizzas to the hospitals aiding injured runners and spectators.
H/T MIT Technology Review | Photo by Jeffreyw/Flickr (CC BY 2.0)