This review is spoiler-free.
The big test for Preacher season 2 is if it can grow a plot. And if not, whether that actually matters. This show has the energy of someone grinning with blood on their teeth, and the cast is charismatic enough to carry numerous scenes where they just sit around and argue.
Season 1 introduced Jesse Custer (Dominic Cooper) as a Texas preacher with an easily misused superpower: He can command people to do anything he says. Better suited to the Tarantino-esque life he shared with his ex-girlfriend Tulip O'Hare (Ruth Negga), he only joined the church because his daddy wanted him to. After a slow-burn origin story where he learns to use his power, the season ended with his hometown blowing up, killing most of the main cast and freeing Jesse to follow the actual premise of the show: a roadtrip to find God. As in, the real Christian God, who has gone missing from heaven.
Now he, Tulip, and his best friend Cassidy the vampire (Joseph Gilgun) are doing what they did in the comics, driving around America and acting like hooligans. Their journey takes place against a backdrop of grimy Americana, with hints of Fear and Loathing in Las Vegas amid the roadside strip joints, neon casinos, and overzealous small-town Christianity.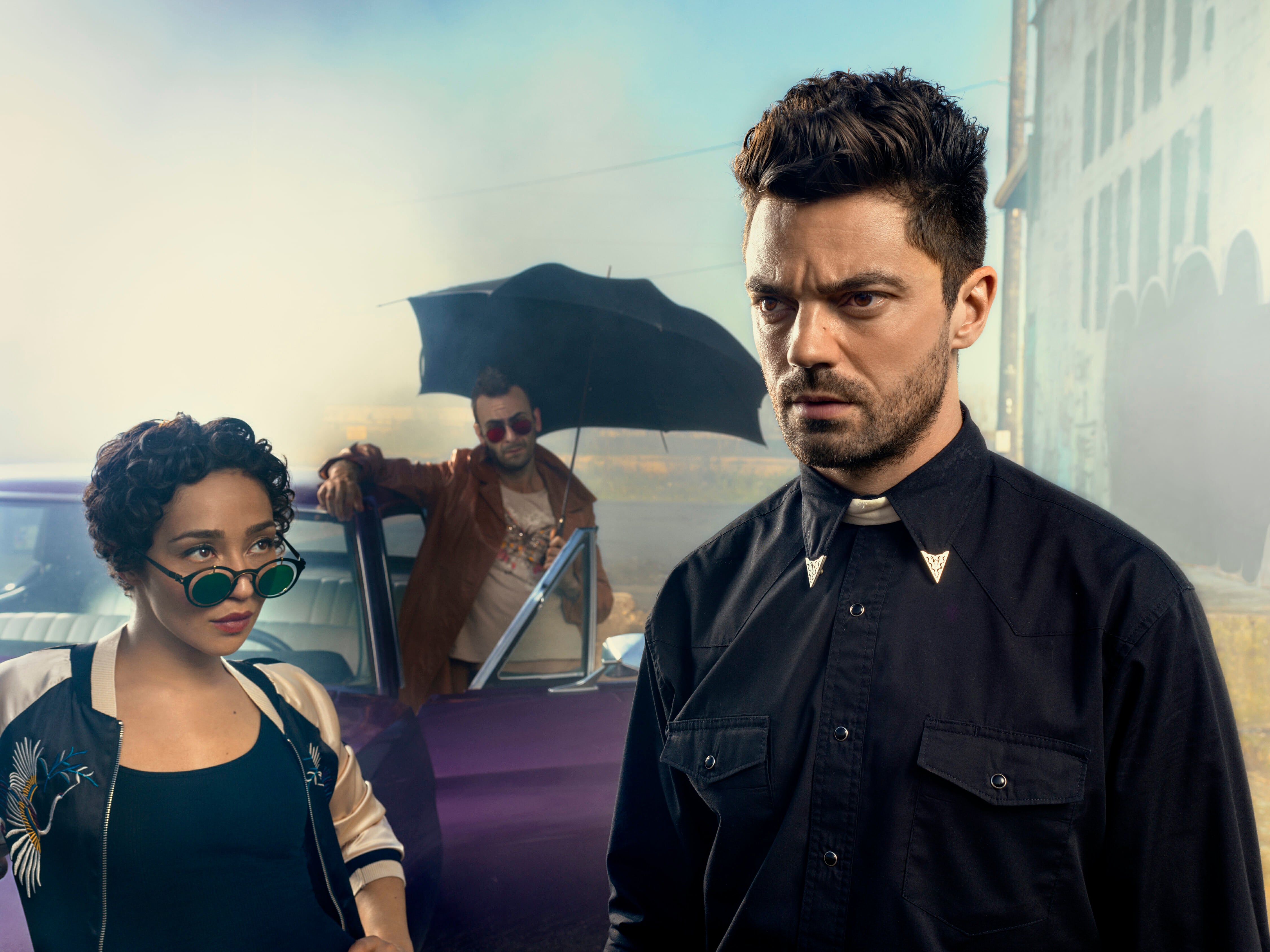 Starting one week after the finale of American Gods, it's hard not to compare the two shows. Both are stylish roadtrip dramas with religious themes and a morbid sense of humor, starring British leads (Ricky Whittle and Dominic Cooper) who can't quite nail their American accents. They both relish their capacity for sex and violence, while telling meandering, un-structured stories without an end in sight.
The key difference is that Preacher doesn't try to be smart or explore a serious message. Jesse Custer is an immature idiot, and he and his friends thrive on a lifestyle of gleefully bad choices. It's very funny if you're able to stomach gory violence as a punchline: slapstick comedy, except instead of slipping on a banana peel, someone trips over a detached intestine. Seth Rogen and Evan Goldberg returned to direct the opening episode, and it shows. Although they're better known as writers (and in Rogen's case, as an actor), they've directed two movies together and produced numerous others, and have a good eye for visual humor.
When your protagonist has such an impressive superpower, you need to balance it out. This balance arrives as the Saint of Killers, an Old West assassin who was easily the most boring element of season 1. We saw his backstory play out in tedious detail last year (yes, he's very gritty and dangerous, but who cares?) and now he's on the trail of Jesse Custer. This gives our heroes something to fear, but the Saint of Killers is a pretty one-dimensional villain. Fortunately, episode 3 hints at a new antagonist from Tulip's past, filling a gap left by the entertainingly evil businessman Odin Quincannon.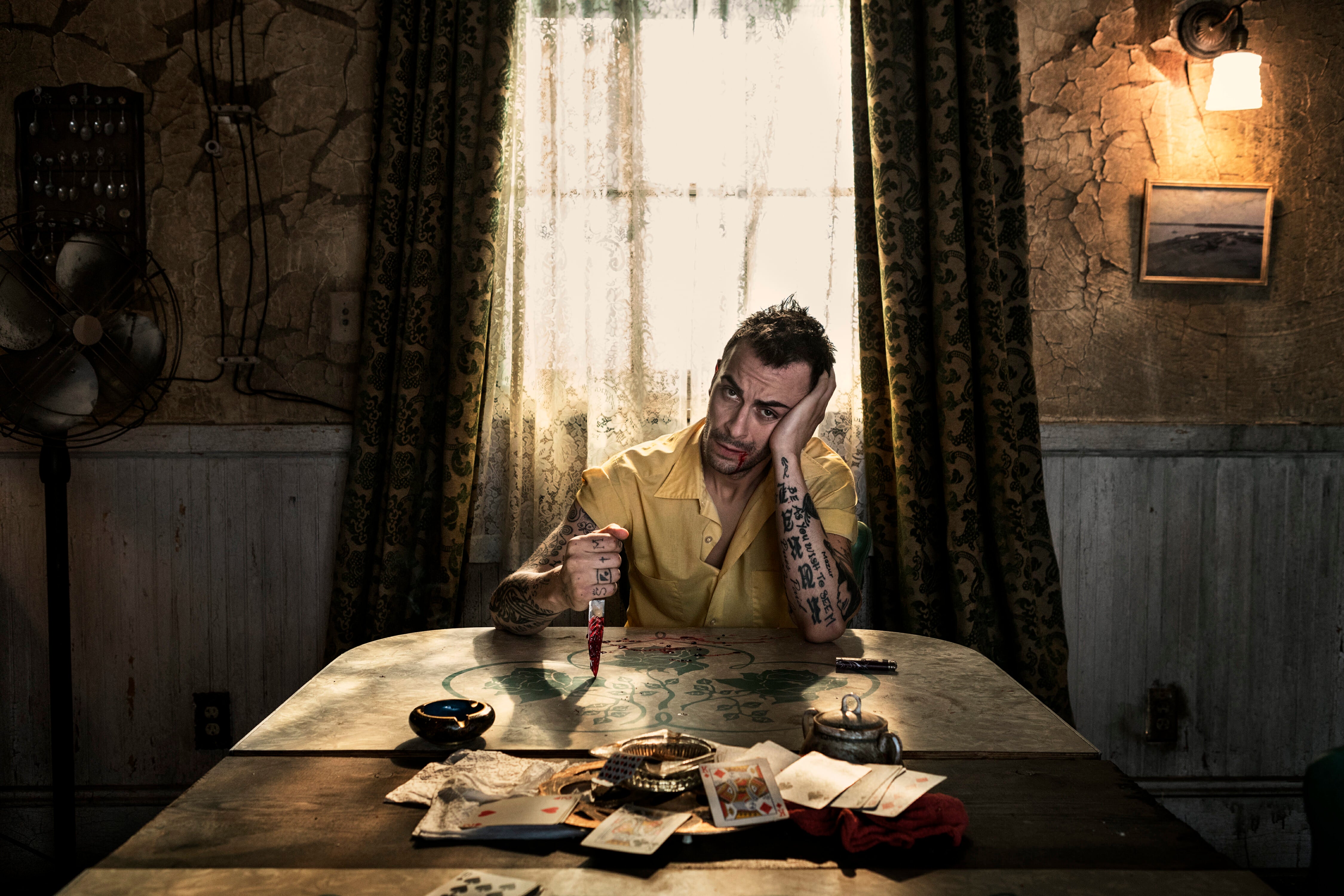 If you enjoyed the show before, you know what to expect. Preacher is hyper-violent, and its strength lies with Tulip and Cassidy, who are much more interesting than Jesse himself. It's hard to tell what the showrunners are trying to do with him. Cooper can play sexy, menacing douchebags just fine, but for some reason he's not doing that here. Jesse is petulant and selfish, but because the show takes him relatively seriously, he's nowhere near as likable as his two friends.
Also, we're still suffering through a rather unnecessary love-triangle subplot. Tulip and Cassidy had a one-night stand last year, and they still haven't told Jesse. Cassidy may be a horny, hedonistic agent of chaos, but he's ultimately a sensitive soul, and wants to tell Jesse the truth. Meanwhile Tulip thinks Jesse would fly into a rage, so they need to keep things quiet. It's an unoriginal way to inject some conflict, and in this case the obvious solution would be a threesome—although sadly, Jesse is way too self-absorbed to make that work long-term.
Negga was the standout star last season, and it looks like the showrunners understand what they have on their hands. (For those who aren't up-to-date on their Ruth Negga news, she's gone from a supporting part on Agents of S.H.I.E.L.D. to a Best Actress Oscar nomination in the space of two years.) Tulip and Cassidy have more prominent roles, as a pair of rule-breakers who do whatever they want, whenever they want. In this kind of show, Tulip could easily have become a stereotypical nagging girlfriend or sexy "bad girl," but she feels perfectly believable as a violent, fun-loving criminal who genuinely enjoys Jesse's volatile nature, and deals with demons of her own.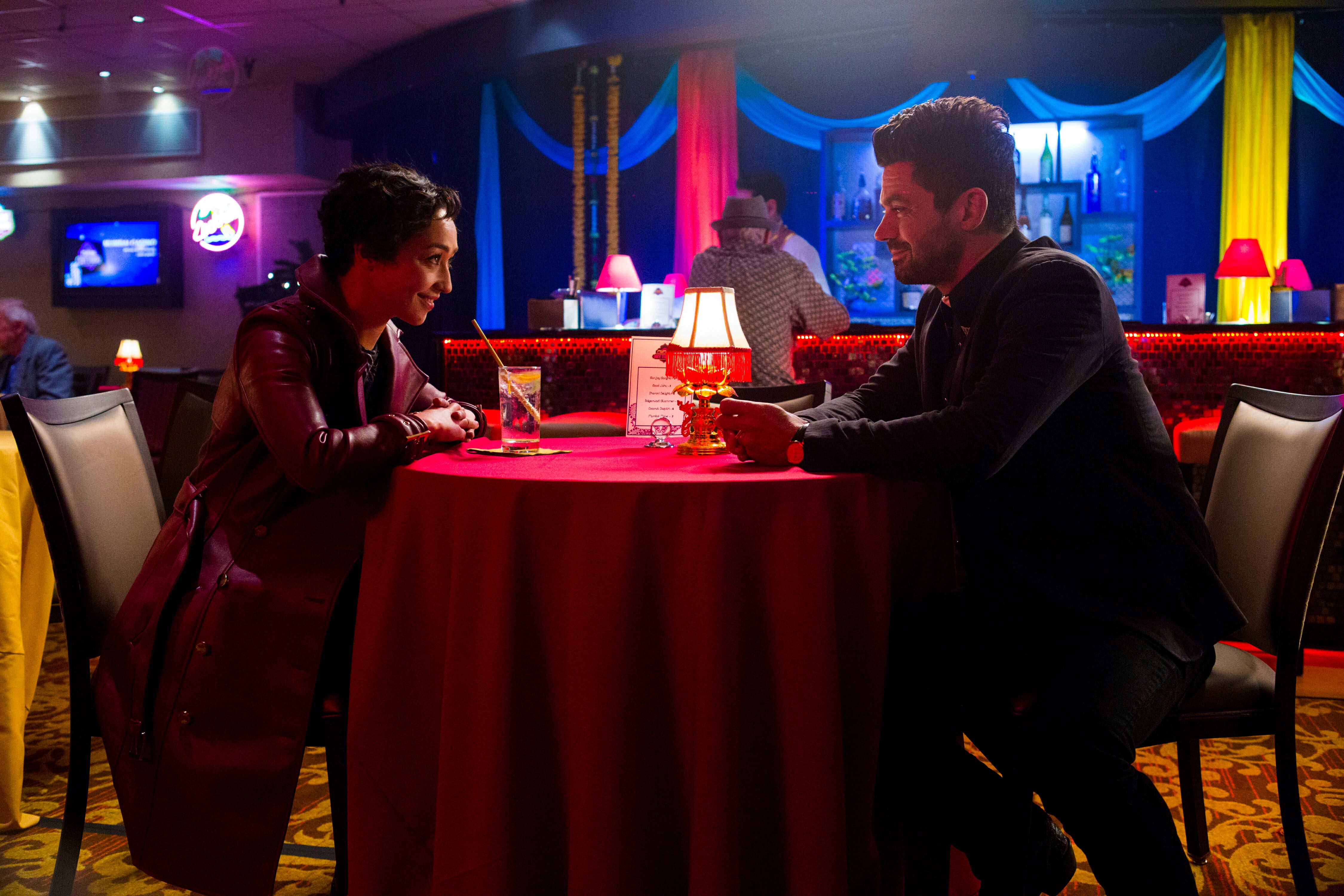 Tulip and Cassidy's increased screentime is one of two major improvements. The other is the fact that they're finally on the road. Preacher was originally advertised as a roadtrip story about Jesse's quest to find God, so season 1 felt like an extended pilot episode, stuck in the static world of Jesse's hometown. Now they're on the move, the story moves at a faster clip, with more material packed into the first three episodes.
Like last season, Preacher has an in-your-face attitude. It's not the edgy, intentionally offensive humor of something like South Park, but it is the kind of show that finds comedy in a traumatic and bloody suicide scene. Basically, it's not attempting to be sensitive. But if you got through season 1, you already know what you signed up for.