Though the social phenomenon has certainly worn off, mobile game Pokémon Go still brings communities together for fun. In America however, it can also bring together people through tragedy. The users of the Pokémon Go Hampton Roads Discord server now know this all too well.
On May 31, a veteran city engineer walked into a municipal office in Virginia Beach, Virginia, and shot and killed 12 people shortly after resigning from his position. For some members of the Pokémon Go Hampton Roads Discord server, the first time they heard of the shooting was from fellow members. 
"Any idea what happened down at the courthouse area? About 30 cops and ems just flew past [Landstown Commons] and are still coming," one server administrator known as BaconFuller asked at 10:33am ET on the Landstown subsection of the server.
Only 12 minutes later, the user tagged the entire subsection with a dire warning.
"Stay away from the courthouses an active shooter has been reported in the area and I can confirm about 35 cops have flown past Landstown commons," BaconFuller wrote, along with an early report of the shooting from local news outlet WTKR.
The channel quickly descended into a chorus of comments regarding the shooting. 
"Stay safe everyone."
"Holy moly."
"Tons of cops flew down independence headed that way. Hope everyone is safe."
"I think everyone I know is safe haven't heard anything different as of yet."
"I'm just down the street."
The Daily Dot was able to glean a little more perspective on how this tiny community of gamers reacted to the shooting after speaking with BaconFuller on Discord.
"Landstown isn't exactly small, but yes I had hoped I'd never have to (report a shooting)," BaconFuller said.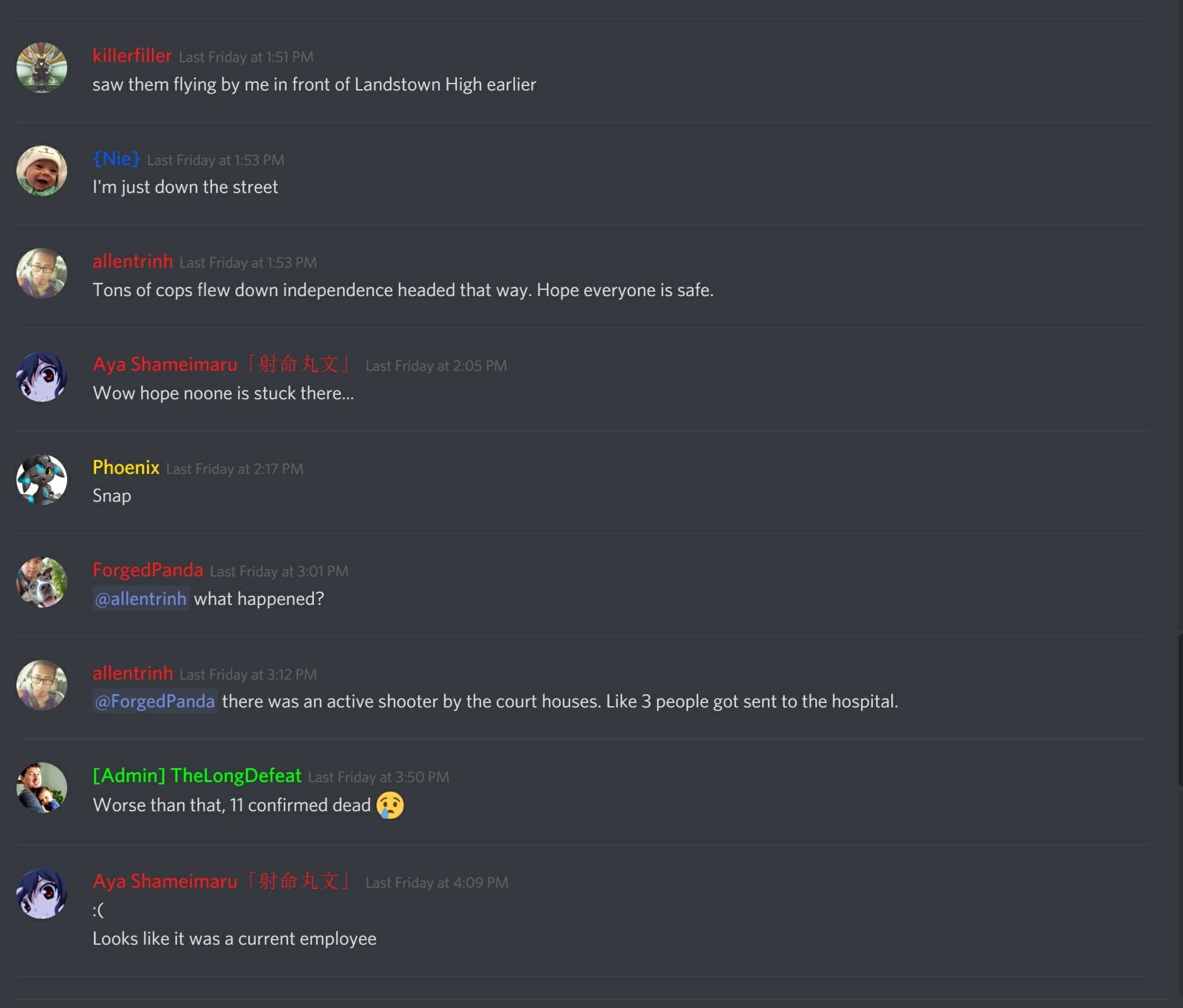 Meghan Duffy, a member of the Hampton Roads Pokémon Go Discord and an area resident, told the Daily Dot that she was at work when she checked her phone to find confusing notifications, which weren't coming from the server's announcements channel. Duffy said her apartment is just down the road from where the shooting occurred.
The fact that a massive shooting happened on a road I drive down to get to work is just. Terrifying to me

— Meg @ Scuttlebug Jamboree (@Smalls2233) May 31, 2019
"On one hand, it was good that we were sharing information to keep each other safe, but on the other, it was like wow we have to interrupt a server for Pokémon to let each other know that people are being shot near us—which is just insane," she said.
The Pokémon Go Hampton Roads Discord has more than 3,000 members, according to an admin. Channels are location-based, with separate channels for Landstown, Little Creek, Kempsville, and other local districts. The rest of the server is split up by interest-based channels.
With the Pokémon Go Hampton Roads Discord, each district has a "city representative" that acts as a moderator of sorts. In the case of Hampton Roads, that relationship with the rest of the server's members extended beyond what either party could have imagined.
"Everyone, in light of the shooting tragedy yesterday, we, the staff of Pokémon Go Hampton Roads, would like to extend our condolences to the victims, and their friends and family that have been affected," wrote one city representative who linked to a fund for victims of the shooting.
American gun violence continues to reach epidemic heights. 
The intersections between gaming's more toxic communities and real-world violence have been documented. It's also common to see social media platforms like Twitter and Facebook being flooded with users expressing their grief or anger after a mass shooting. 
Yet, the Hampton Roads Pokémon Go Discord shows us that gun violence can loom over even the most innocent of games and its communities.
Correction: A previous version of this story included PT instead of ET. The story has been updated to reflect the correct time zone.
READ MORE:
Got five minutes? We'd love to hear from you. Help shape our journalism and be entered to win an Amazon gift card by filling out our 2019 reader survey.