Solo: A Star Wars Story blessed us with a truly delightful revelation: Lando Calrissian is a vlogger.
In one of the Millennium Falcon scenes, we see Lando recording a hologram diary of his exploits. Titled The Calrissian Chronicles, he's writing a dubiously accurate memoir inspired by vintage Star Wars novels like Lando Calrissian and the Mindharp of Sharu. But for the purposes of my own entertainment, it's totally a vlog. Lando could be a SpaceTube celebrity, and now I'm obsessed with imagining what his channel looks like.
Inside Lando's space vlog
1. Haul videos. This is a no-brainer. Star Wars already released an official video tour of Lando's cape closet, and the movie reveled in the idea of Lando as a style icon. His ship is meticulously decorated, and even his blaster has a mother-of-pearl handle. This guy loves to shop, and you know he loves to tell people about his latest wardrobe investment.
2. Droid memes. Lando's channel went viral after he posted a slapstick montage of L3-37 getting into bar fights. At first, she was angry about it, before realizing it was a great platform to draw attention to the issue of droid rights. So far, that last part hasn't really panned out. She did, however, learn something from the experience. In retaliation, she now keeps an encrypted file of blackmail videos of Lando, including footage of him trimming his nose hair and crying to sentimental Twi'lek folk music.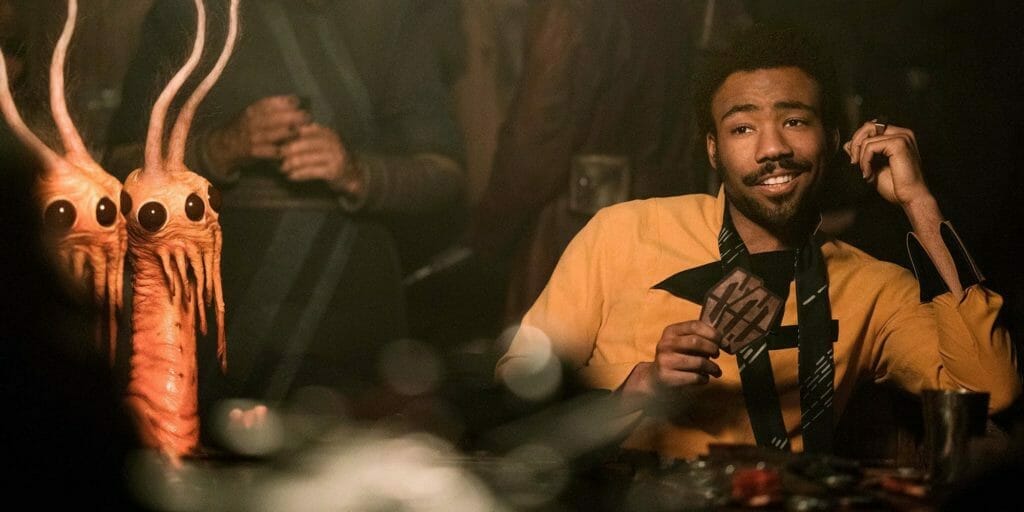 3. Taunting his rivals. We all know that Lando is a master of self-promotion. He favors eye-catching outfits and spreads tall tales of his escapades, winning Sabacc games in front of a rapt audience. Basically, he loves attention.
At this point in his career, he's able to attract new business partners with his carefully curated image as a glamorous adventurer. However, he's often on the wrong side of the law. Unlike his later years in Cloud City, he still faces plenty of situations where he has to make a quick getaway. But once he's out of range, he always posts a smug holo-vid of himself with his feet up on the Falcon's dashboard, taunting whichever bounty hunter he just escaped.
4. Gambling tips. In between smuggling gigs, Lando is building a reputation for himself as a professional gambler. He has a tidy fan-following of wannabe card sharps, following his tutorials on how to get rich quick. Of course, at least half of his Sabacc tips are confidently delivered lies. You don't actually want to help your future competition, right?
5. Sex toy reviews. When you're out there making sweet, sweet love to aliens of all shapes and genders, sometimes you run into anatomical issues. There's a roaring trade in interspecies sex toys in the Star Wars universe, and Lando is here to share his expert recommendations. Tell me you wouldn't want to see Donald Glover discuss the merits of a tentacle dildo while L3-37 heckles him in the background.
According to Solo's official guidebook, Lando actually plans to publish his hologram diary as a trilogy of books. Which would, incidentally, be a fantastic framing device for a Lando movie. Just imagine it: Hilariously self-aggrandizing clips from the Calrissian Chronicles, followed by a jump cut to what actually happened.
Since we don't really know what Lando was doing between Solo and The Empire Strikes Back, I've decided he became a bestselling holo-author. Cloud City's seed money didn't come from smuggling; it's the profits from the Calrissian Chronicles. If anyone in Star Wars could go from sharing fashion tips on YouTube to becoming a Rebel general, it's Lando.