Has one Harry Potter fan site outdone Pottermore as the best, most enjoyable post-Harry Potter fandom community around?
Maybe. Hogwarts is Here sure seems to have everything: an internal social network, house points, a Facebook-like feed just for your Hogwarts house, and a whole magical library for you to read.
But can you handle the homework?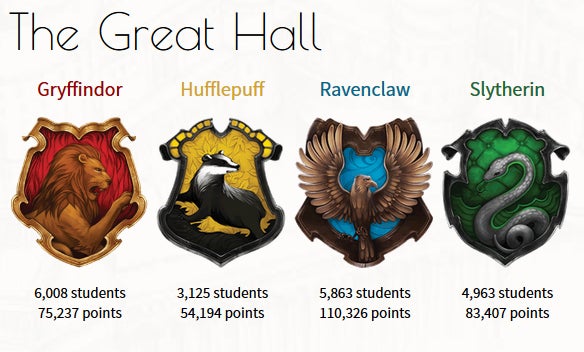 Hogwarts is Here combines the fun of an RPG with the real coursework of a MOOC—a Massive Open Online Course. Only this time the courses aren't about helping you understand real-world issues. Instead, they take you inside the Wizarding World, with insights into everything from fundamental laws of transfiguration to the importance of dragon dung and centaur tears in caring for magical plants.
Along with the textbooks and lesson plans, this virtual Hogwarts also offers real class quizzes and essay assignments, with an actual grading system. And don't think you can just skip through to the good parts:
@Emily_Price yes, it will prevent you from accessing week 3

— Hogwarts (HiH) (@Hogwarts_HiH) April 13, 2014
Hogwarts is Here started its life as the now-defunct #myHogwarts, which aimed to be a social network for fans but evolved into HIH. In its current incarnation, it has an impressive fan following, with its brand-new Facebook page getting over 6,000 likes since the beginning of the month.
Before you can really see most of the wonders HIH has to offer, you have to actually enroll in Hogwarts. Joining requires sorting yourself into your preferred Hogwarts house. Careful! Once you're sorted, you're sorted for life. But a glance at the house Common Rooms shows that Hogwarts' new crop of virtual students are getting totally into their roles: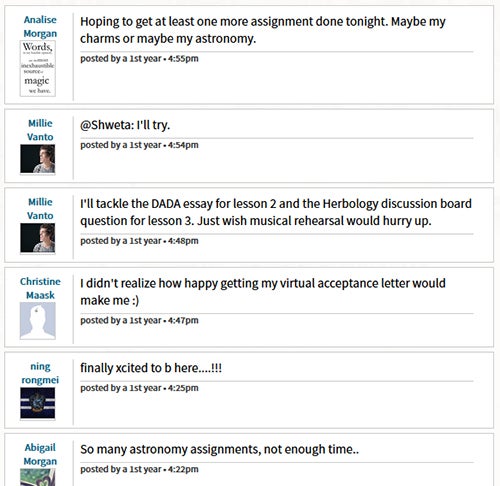 If the thought of hardworking Ravenclaws eager to do homework makes you happy, just wait til you check out the library: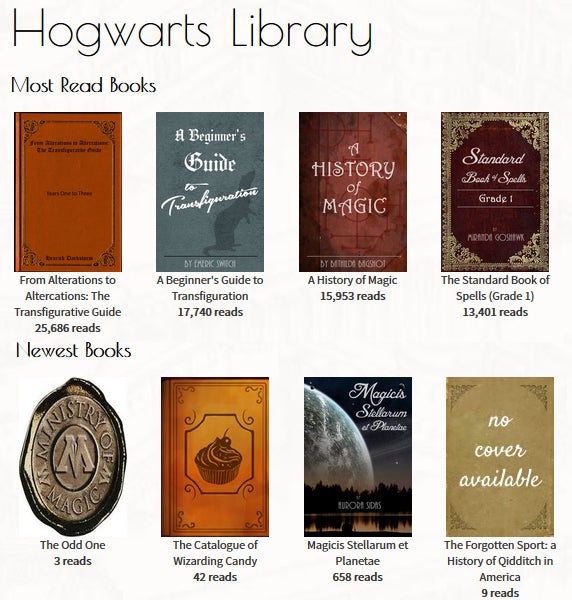 Holy crap, it's like Wattpad for magicians!
Did we mention that all of this is created by and for fans?
The courses are intense, and your Hogwarts professors mean business. Here's an excerpt from the very first lesson for Transfiguration students:
Transfiguration

Compulsory Work:

Week 5: Content Related Test (20% Grade Weighting Value)

Week 9: (80% Examination)

OR Optional:

Week 1-4: (Optional 20% Textbook Related Quizzes)

Week 1-9: (Optional 30% Discussion Board Participation)

Week 6-7: (Optional 20% Theory of Magic Assessment)

Week 6-8: (Optional 30% Transfiguration Research Assignment)

The Test in week 5 and the Examination in week 9 are compulsory. Students are advised but not required to perform the other work. The advantage lies in that, students who complete the optional work can choose to have it contribute to their final grade in place of or in reinforcement of their examination and test results. Take note that this will be on top of other homework, readings and side work applied within classes.

…

Gamp's Laws of Elemental Transfiguration

To begin understanding this course, it is first vital that you grasp the concept of "Gamp's Laws for Elemental Transfiguration", as they are the foreground for all things in transfiguration. Gamp's Laws lay down the fundamental principles for performing transfiguration and simply put, they are the primary exceptions for all things which human beings, whether muggle or magical, must strive for and earn for themselves. If money, clothing and love were to be generated by magic, human beings would lose touch with that which truly makes them human. Listed beneath are summaries of the 5 principle laws you need to understand in this course. For greater depth and subsection Laws, refer to the Transfiguration Textbook "From Alterations to Altercations: The Transfigurative Guide".

1)  Food

a.  As the first of the laws, food may not be conjured, created or generate in any way shape or form. It may be summoned if it has already been made, and the place of transferal is known (i.e. the dining halls at Hogwarts) and it may be multiplied and divided but cannot be made from nothing

2)  Money

a.  Similar to food, Money may not be created out of thin air. Contradictory to muggle belief, magical laws governing money prevent it from being created, moved or altered by magic

3)  Life

a.  Perhaps the most prime principle of magic; there is no spell to reawaken the dead. Although there are magical potions and properties to extend life and alter age and the like, there is no spell which can reverse a life pattern once a life has ended.

4)  Knowledge

a.  You cannot know something you've never heard of. Therefore, as the fourth exception, knowledge can be neither conjured nor generated by magic. Proof of this fact lies in that Aurors are unable to conjure the location of criminals, nor students conjure up the necessary knowledge to pass tests and the sort.

5)  Love

a.  The fifth exception is love. "Love Potions" are misleading in that they claim to generate love, however they do in fact only generate a deep sense of lust or desire. There is no way to conjure or generate love – it must be created from within

It is essential that you memorise these 5 laws of Elemental Transfiguration, as, by the next lesson, and for your first assignment following this lesson, you will begin an application of these laws to the spells known as the Class-A Transfigurative Spells. It is essential that you read up on these spells before the next lesson when you will begin learning about these spells, their magical properties and what they are capable of.
Wow. We thought we were getting a fun new Harry Potter roleplaying game, but instead we got a proper schooling in elemental magical physics!
This is why we love Harry Potter—and Harry Potter fandom.
Photo via apple-ink/deviantART; CC-BY-3.0