For some of us, video games present an escape from the tragedies of our troubled civilization. For others, they're a chance to live out militaristic fantasies that bear more than a passing resemblance to real-world conflicts. Lately, Google Play has been catering to the latter camp.
First up, there's BombGaza, a well-reviewed app that puts you in the cockpit of an Israeli jet flying low over Gaza's rooftops. Aim to destroy any building filled with black-clad, rocket-toting Hamas operatives, but be wary of collateral damage: When you've killed too many innocent civilians, a "Rage" meter tips into the red zone, and your mission comes to an end.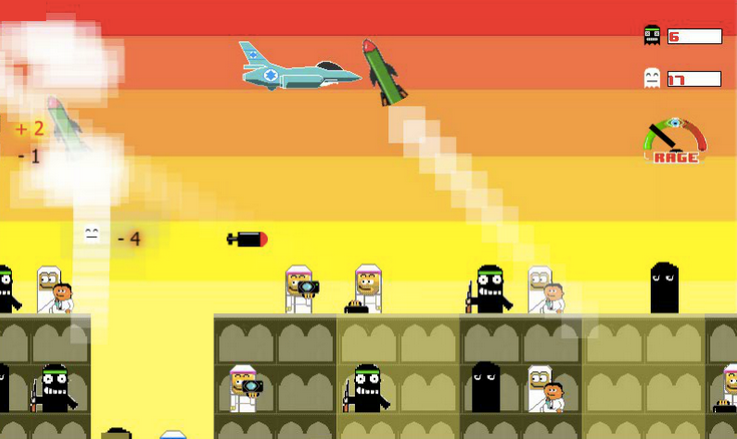 Next up is Gaza Assault: Code Red, which invites you to "[t]ake control of an Israeli UAV equipped with powerful weapons in an attempt to secure the region" and rather pointedly asks if you "have what it takes to protect your citizens." Don't forget, though, you're fighting to bring about peace, which is only possible when the enemy's territory has been reduced to rubble.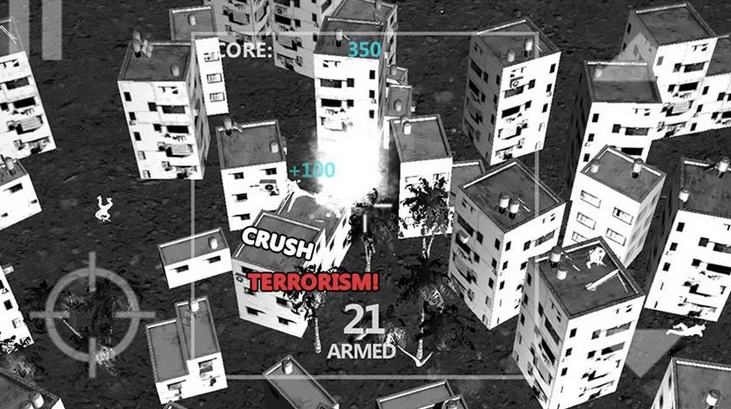 There's no shortage, either, of games inspired by Israel's infamous Iron Dome air defense system. Graphics here run from the surprisingly slick to the cuddly and kid-friendly, but each  relays the same disjointed propaganda: "Our people is in danger, trapped in their own home with wives and kids," reads the description for Iron Dome—The Game. "Terrorists are infiltrating the city and exploding their-selves in the name of their god. You are our last hope." 
On the other side of the battle, we have something called Rocket Pride or Rockets of Glory, a Flappy Bird clone that has the player guiding "resistance missiles" through the thorny defenses of an "oppressive occupier" amid bone-chilling screams. It seems like a direct hit among its target audience: "God wills the game magnificence," wrote one satisfied customer.

The Daily Dot reached out to Google for comment on these products; we'll update if and when the company replies. Although the Google Play Developer Program Policies specifically forbid "gratuitous violence" and "hate speech," both clauses provide more than enough wiggle room for the warmongering titles above to slip through. So play on, you radicalized, bloodthirsty geeks—if you don't stand up to pixelated straw men, who will?
Update: Google has removed BombGaza and Gaza Assault, but the rest remain available. Although the company declined to comment on any specific app, a representative emphasized that they "remove apps from Google Play that violate our policies."
Additional reporting by Dell Cameron.
H/T Tech Digest | Photo via Iron Dome/Google Play