This article contains spoilers.
Fans are still reeling from Ser Jorah Mormont's brutal death at the hands of the Night King's army.
The courageous character fought valiantly for his queen, taking blade after blade in his effort to protect her. Daenerys' heartbroken sobs were one of the last things we saw in the third episode of Game of Thrones' final season. At the start of the fourth episode, which aired Sunday night, the Dragon Queen knelt by the corpse of her longtime adviser. Tearfully, she whispered a few final words in his ear. It was a fitting, painful end to one of the show's longest-lasting characters.
After Jorah's emotional sendoff, fans were eager to hear the last words spoken to him by his beloved queen. As it turns out, however, they may be too precious to share. Given that Ser Jorah's actor Iain Glen and Daenerys' Emilia Clarke have known each other since the very first episode, it's unsurprising that the goodbye was difficult for more reasons than one. In an interview with Glen, Entertainment Weekly discovered that the showrunners gave Clarke full reign to decide on what to say. Beyond that, he didn't feel like sharing much.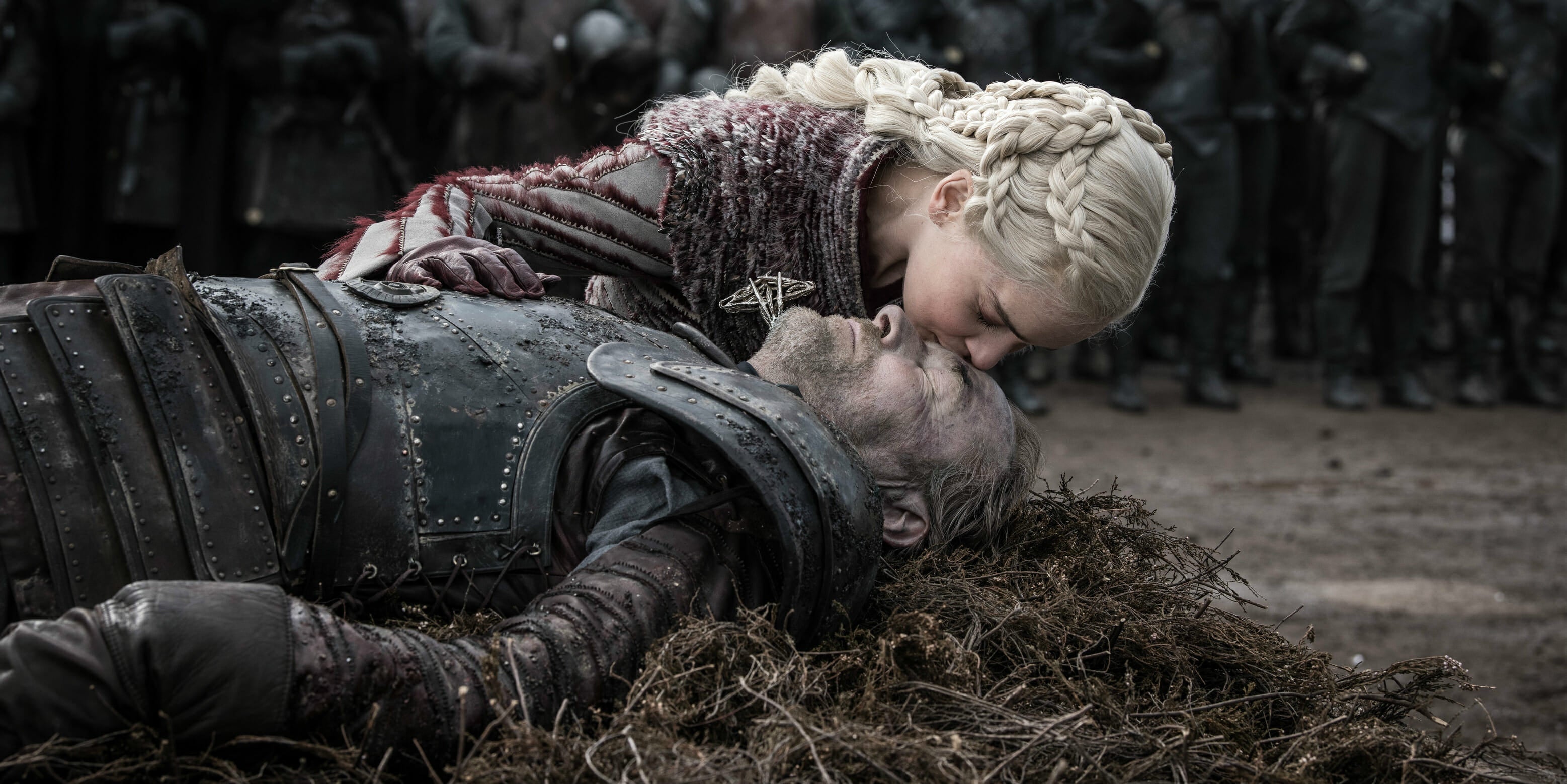 "It's something entirely sincere and true to the moment and something that I'll never forget," he said. "I'll always cherish it because it's something no one will ever know but the two of us. And that's a memory to hold onto."
In a world of leaks, spoilers, and rabid fandom, the sentiment is understandable. And considering that the stage directions read "Daenerys whispers something to him that he'll never hear and we'll never know," according to EW, the actors followed the showrunners' plans flawlessly.
It stands to reason that we may discover Dany's words someday, but for now, the actors are remaining tight-lipped. After eight seasons and almost a decade of friendship, can we really blame them for wanting something to themselves?
READ MORE:
Need more news from beyond the Wall? Sign up here to receive our weekly Game of Thrones newsletter from in-house expert Michelle Jaworski.
H/T Esquire