It's hard to believe that Fire Emblem was an obscure Nintendo franchise even as recently as four years ago. Many fans' first exposure was the surprise inclusion of Marth and Roy in Super Smash Bros. Melee, representatives from a game that hadn't yet been released outside of Japan. Now, the most recent Super Smash Bros. roster included six characters spanning several games, even more representation than a series like The Legend of Zelda.
Thanks to the smashing success of Fire Emblem: Awakening, the tactics-infused fantasy franchise was given new life, including remakes of forgotten favorites and a solid mobile spinoff. From new territory comes Fire Emblem: Warriors, another addition to the expansive Dynasty Warriors profile. Zelda was recently given this treatment in Hyrule Warriors, a bombastic celebration of the series' long legacy.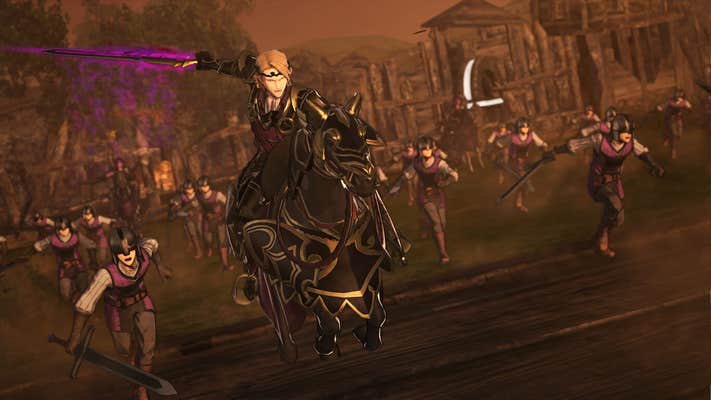 For the uninitiated, this franchise from acclaimed Japanese developers Omega Force is one of the proven standards of the hack-and-slash genre. What originally started as a dramatization of Chinese history has grown to encompass fantastical elements and exaggerated fanservice in its characters. Each warrior offers new weapons and mystic powers to play with, but for the most part, gameplay remains the same as the player pushes through massive crowds of enemies to capture objectives and tackle high-level targets.
In many ways, Fire Emblem is a perfect match for this "Musou" style. Each installment in the main series brings a new selection of fighters with their own quirks and stylish flourishes. The franchise now features a massive amount of vibrant, memorable characters, so much so that the final roster can't feel like a disappointment when looking at any specific omissions. And while most of the characters come from recent installments like Awakening and Fates, there are a few crowd-pleasing surprises from titles like Shadow Dragon to pad out the final number here.
As with any character-based fighting game, Fire Emblem: Warriors already features extensive plans for add-ons. A Season Pass is offered, including new scenarios, characters and costumes well through 2018. The content currently offered isn't severely lacking in any regard, but it's important to note that the game will continue to grow and change for those who opt to buy in.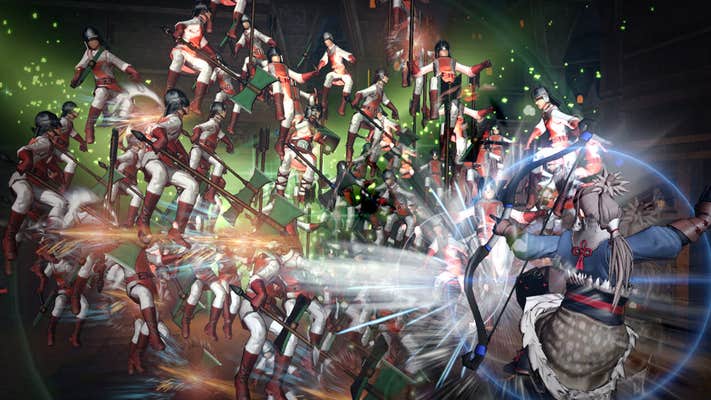 The cast is the main draw of Fire Emblem: Warriors; to watch them interact and to learn their intricacies on the battlefield. Set in the new kingdom of Aytolis, Warriors introduces a pair of royal characters to serve as the player's main avatar. Having this brief introduction into the wacky main plot of crossovers and time travel helps ground the game as much as possible, but the story is borderline nonsensical. Still, meeting heroes and villains from different corners of the Fire Emblem world is played with a whimsical tone that should entertain even the most casual fan.
Likewise, each warrior plays in a different way, some more subtly than others. Sword users can traverse the battlefield at a brisk pace, while horse-riders are better for clearing out forts and outposts with efficiency. Deployment gets even more interesting when Pegasus and Wyvern riders are introduced to the cast, who can fly over throngs of enemies as well as certain obstacles on the map. You'll need to acclimate yourself to switching between characters rapidly on the fly to meet all the given and optional objectives in a mission, especially on higher difficulties.
Thanks to the prevalence of spellcasters and mounted units, Fire Emblem: Warriors feels like one of the most gameplay-diverse entries to bear the Warriors' moniker. While there is a traditional variety in the stats and effects of individual weapons offered, it helps that you aren't always switching back and forth between sword wielders, axe users, or spear bearers.
But Dynasty Warriors games never escape repetition. This is a fairly niche franchise for a reason, as combat can often be a mindless grind. You have very few basic attacks at your disposal no matter what class you play as, with a number of combos and special moves to unleash over time. You can't shake the feeling that the game could play itself after fighting through thousands of enemies in a single match. Fire Emblem: Warriors tries to circumvent this problem as much as possible, with varied objectives and maps that can be influenced by player strategy.
The overall structure of the game also features many Fire Emblem-inspired twists. You can enable a permadeath mode that requires careful maintenance of each unit during battle or they won't return after falling. Individual units can also pair up and support each other, which opens the possibility for new dialogue and special items to upgrade their abilities.
Your exposure to either franchise should determine whether or not you'll enjoy this title. It plays as a great mix of both, though lacking some of the tactical strategy of a Fire Emblem title. Warriors is a strong addition to the Nintendo Switch's library of action games, though it suffers a few technical issues in handheld mode. The thick of a battle can be frantic and stressful on the player and the console, but never too much to ruin an exciting, fast-paced experience.
Fire Emblem Warriors is available now on Nintendo Switch and New 3DS.
Score: 3.5/5
Disclosure: A copy of Fire Emblem Warriors on Nintendo Switch was provided by Nintendo for this review.