Fidget spinners have quickly become the new "it" toy, but how intensely you're feeling the craze may have a lot to do with where you live.
According to a new report from Slice Intelligence, a data company that tracks online consumer habits and loyalty, fidget spinners now account for 17 percent of toy sales in the U.S. The simple, handheld devices do exactly what you might guess: You hold them, and they spin. It doesn't sound very exciting, but many claim the gizmos help soothe anxiety.
Fidget spinners landed on the market just five months ago, and since then they experienced an exponential boom in popularity—especially among kids in middle America.
A map published by Slice Intelligence shows that Utah residents have purchased the most fidget spinners per capita, with four spinners sold for every 100 residents. It's closely followed by Vermont, Texas, Oklahoma, Massachusetts, and Missouri.
A county-level heat map of fidget spinner popularity shows surges around New York City, the Great Lakes region, the greater Seattle area, and huge portions of Texas, southern Florida, and Utah.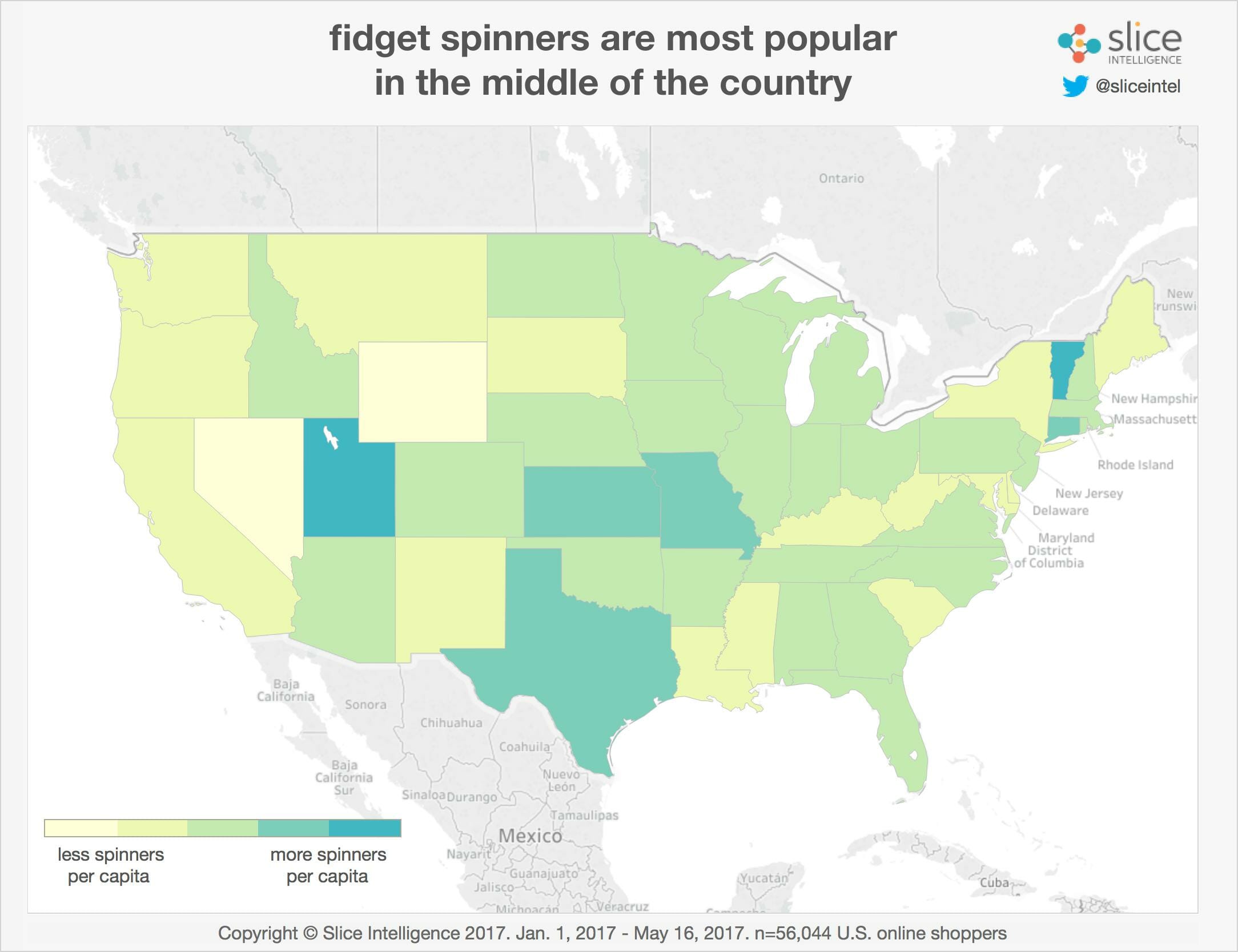 According to Slice Intelligence:
"While Middle America boasts a higher concentration of fidgeters across the entire state, East coast urban centers prove to be the densest fidget regions in America. New York dominates with Miami and Chicago following close behind."
On the other end of the spectrum, Nevada and Wyoming have the fewest spinners per capita.
It's important to note that Slice Intelligence's data focuses on online sales, so the map could look different if physical store sales were included. Gen X women between the ages of 35 and 50 are the primary online purchasers of fidget spinners, likely because they're moms getting pestered by their elementary-age children. Fortunately for those moms, fidget spinners cost $10 on average—much easier to stomach than the $60-plus they had to shell out for Hatchimals last holiday season.
As with any toy fad, fidget spinners are bound to hit a peak—and it may have already happened. Slice Intelligence data show online fidget spinner sales have been declining since hitting a high point on May 5.
You know what that means: Brace yourself for the next big thing.
H/T Motherboard