Move over, Overwatch. Daddy's home.
After a nine-month run at the top, Overwatch was dethroned as the most popular game on Tumblr last week by a game about hunky fathers called Dream Daddy.
The simulation game, created by Tumblr users Leighton Gray and Vernon Shaw, has a simple concept. It is a game about dads dating other dads. That's pretty much it. After creating your dad, you can choose your date from several different dads whose personalities gradually reveal themselves through interactions with their children and other dads. Oh, and you get graded on your dad dates. Different interactions yield different endings, and the fight to discover all of the different possibilities keeps players enthralled beyond the usual interest levels of your typical simulation game.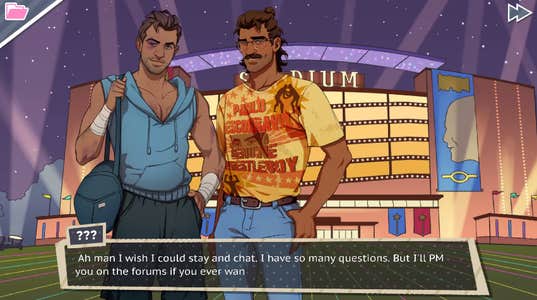 Overwatch began its Tumblr reign on Oct. 17, and it lasted uninterrupted until Dream Daddy overtook it, Amanda Brennan, Tumblr's senior content insights manager told Mic. This may seem like a fluke, but the game is popular across the entire site. In fact, the tag "dream daddy" had the second-highest trending score, just behind "gif."
https://twitter.com/Moosopp/status/890037009271488513
Tumblr boasts its own special gaming fandom, and its interest in fanfiction (and its male-relationship-focused counterpart, slashfic) makes this definitely the type of game that would thrive there—and thrive it has. This last week saw Dream Daddy's popularity skyrocket, and it's rising fast. The simulation game had 59 percent more total engagements than Overwatch last week, according to Brennan.
It's hard to say how long Dream Daddy's reign will last, but for now we have to give these hunky—and surprisingly dedicated—fathers the props they deserve.
H/T Mic