Only a few things in life are certain: Death, taxes, and leaks for Avengers: Endgame. This time, it looks like a new toy on store shelves could be giving away a key plot point on how the Avengers defeat Thanos.
This image, taken from Imgur and which went viral on Reddit this week, appears to show a modified version of Thanos' Infinity Gauntlet, which the purple-skinned Mad Titan used to snap half of the universe out of existence at the tail end of Avengers: Infinity War, including most of the Marvel heroes we've come to know and love. It's unclear where the photo comes from, however.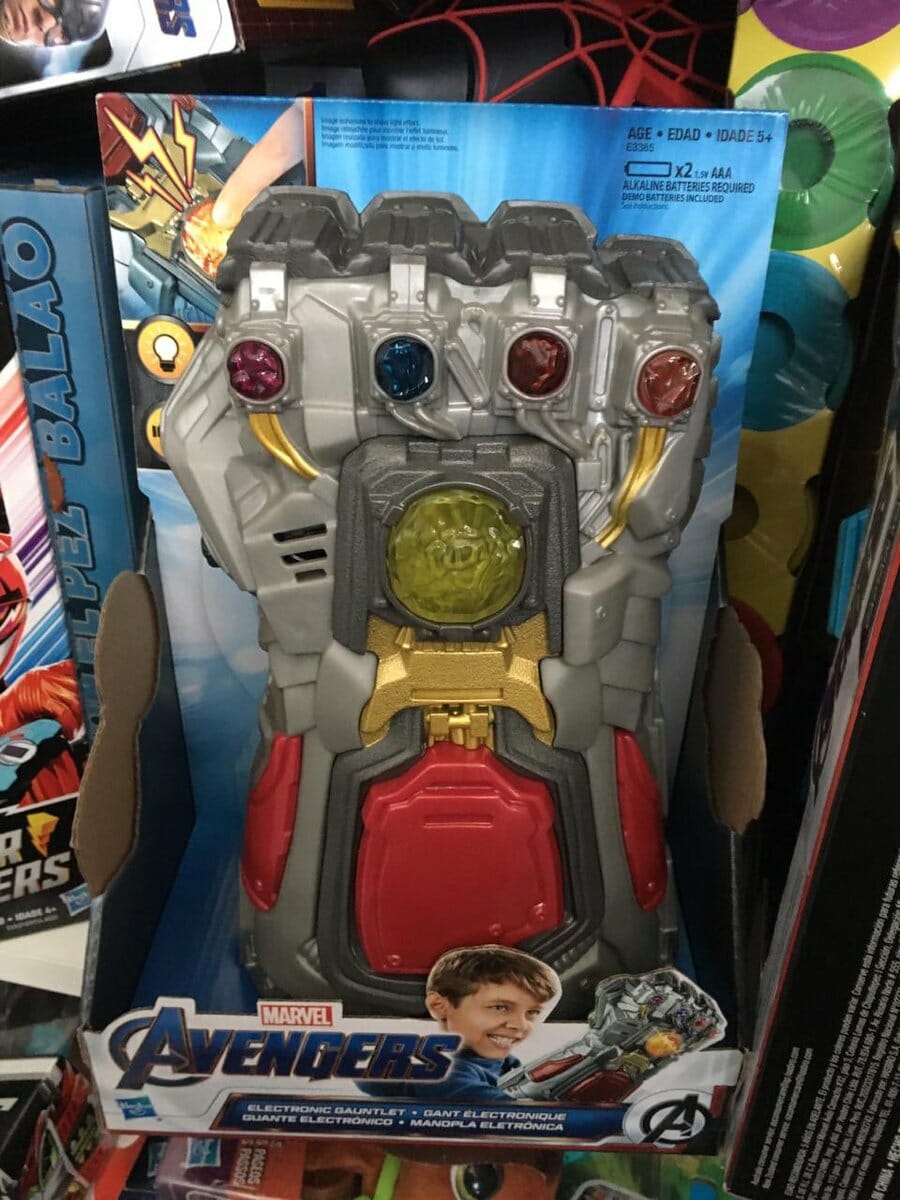 Instead of Thanos' traditional tan-colored Infinity Gauntlet, the colors on this toy are more red and gray, colors more commonly associated with Iron Man and his many permutations of the armor he wears in battle. There's still plenty of room for the reality-altering Infinity Stones, all of which seem to be in place.
This could potentially mean that the Avengers (and most likely Iron Man) are able to secure the Infinity Stones and place them into a replica of Thanos' gauntlet in order to reverse the "snap" and bring humanity back to life.
It looks like it'll be a necessary tool, too, considering that at the end of Avengers: Infinity War, Thanos' snap caused the Infinity Gauntlet to essentially overheat and practically burn itself to a crisp. We still see the Infinity Stones in place, unharmed, and Thanos seemingly takes the gauntlet back home with him after escaping Thor's attack. We haven't seen the gauntlet in any of the trailers for Endgame so that certainly leaves the door open for any number of possibilities.
It also may tie into the time-travel theory that asserts that the Avengers will be going back in time to fight a younger or different version of Thanos, using those fancy white suits we see in the trailers to go deep into the Quantum Realm, where reality works very differently.
Of course, it could all mean very little in the end. Big blockbuster franchises typically have at least a few toys that don't bear any real connection to the film at hand, and Marvel is no exception. Would you care for a Captain America shield that morphs into a Nerf gun? How about Black Panther with a big gun for an arm?
READ MORE:
H/T BGR