This post contains discussion of harassment and abuse.
Alec Holowka, a video game developer who was recently accused of harassment and abuse, died on Saturday, Kotaku reports. He was 35.
Eileen Holowka, his sister, shared news of his death on Twitter.
"Alec Holowka, my brother and best friend, passed away this morning," she wrote in a statement. "Those who know me will know that I believe survivors and I have always done everything I can to support survivors, those suffering from mental illnesses, and those with chronic illnesses. Alec was a victim of abuse and he also spent a lifetime battling mood and personality disorders. I will not pretend that he was not also responsible for causing harm, but deep down he was a person who wanted only to offer people care and kindness. It took him a while to figure out how."
At the time of publication, her Twitter account was private.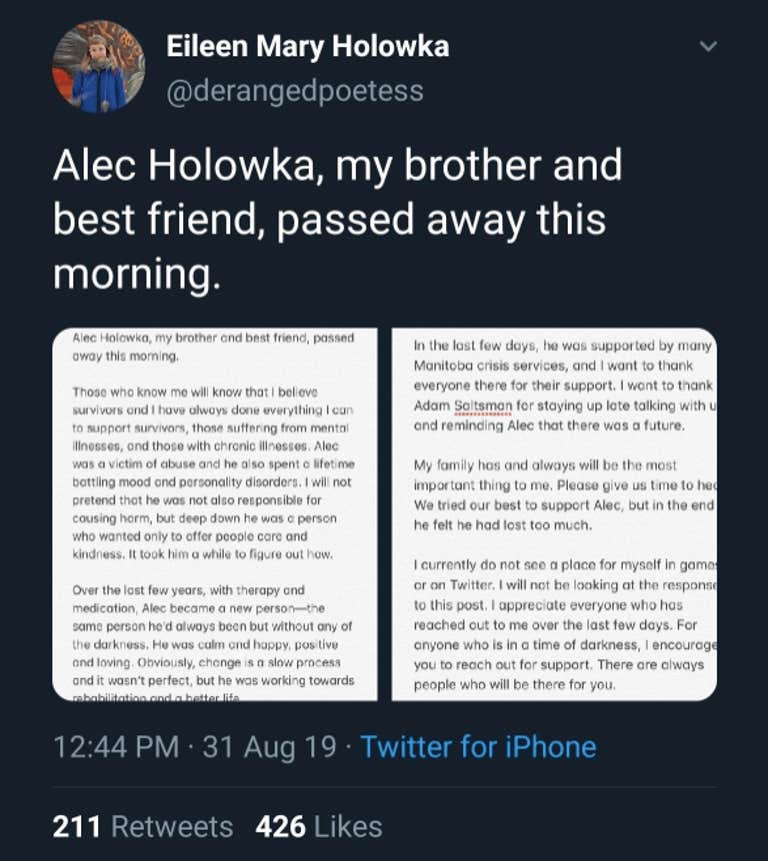 Holowka is best known professionally for his work on Aquaria and Night in the Woods. The news of his death comes less than a week after fellow game developer and ex-partner Zoë Quinn (who uses they/them pronouns) accused Holowka of harassment and abuse.
Quinn, who was thrust into the spotlight and subjected to harassment during the Gamergate controversy, alleged that Holowka repeatedly screamed at them and occasionally became violent when they visited him in Winnipeg, Canada. Quinn added that they believed Holowka was mentally ill and needed treatment rather than punishment.
Eileen Holowka also wrote that her brother had received help from crisis services in Manitoba, Canada, in the days following Quinn's allegations. She added that her brother had become a "new person" and was "working towards rehabilitation and a better life" over the past few years.
Twitter users quickly reacted to the news of Holowka's death with speculations and accusations—many blaming Quinn—to which Eileen Holowka offered her own response. "And in case it's not already fucking obvious, Alec *specifically said* he wished the best for Zoë and everyone else, so don't use our grief as an excuse to harass people," she wrote. "Go outside, take care of someone, and work towards preventing these kinds of things in the first place."
For more information about sexual assault or to speak with someone about being sexually assaulted, contact the National Sexual Assault Telephone Hotline at 800-656-HOPE (4673) to be connected with a trained staff member from a sexual assault service provider in your area.
READ MORE:
H/T Kotaku