Australian morning TV host Karl Stefanovic thought "no one was watching" when he suggested that a large-bodied man ate his girlfriend. 
That's not exactly true: at least one YouTuber was paying attention at 5:42am.
A clip of the Today host yelling the 15-year-old Austin Powers quote "Get in my belly!" on air this weekend made its way to Reddit, which propelled it to more than 776,000 views. 
Some deemed Stefanovic's comments "mean spirited" and unprofessional. Others found the video hilarious and lauded him for having more personality than morning hosts elsewhere. Instead of slapping down his fat-shaming remarks, some redditors used the clip's popularity on r/videos as an excuse to excavate old videos of Stefanovic's boorish humor.
Reddit—and the Internet at large—are already pretty well acquainted with Stefanovic. He's the ebullient guy in that famous "Fuck yeah" reaction GIF.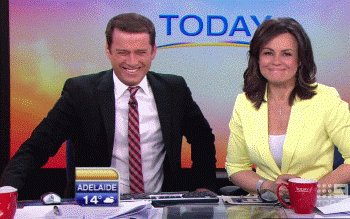 We have to wonder if he was as pleased with himself after his Fat Bastard impression.
Photo via avlxyz/Flickr