Just because it's viral doesn't make it true.
A popular Tumblr post claiming to have found a way to unmask anonymous blog commenters has turned out to be a hoax.
The 67,000-note post originated from The Science of Deduction, a blog that purports to help train aspiring detectives, on Sept. 25. Through what appear to be screenshots, the author demonstrates blocking an anonymous user to have his or her name revealed in Tumblr's "Block Users" area.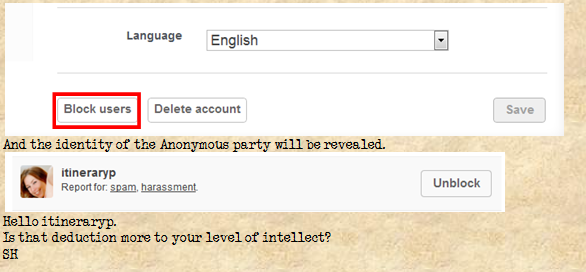 But despite the thousands of reblogs that have continued as recently as Wednesday, the post has a few red flags. Several early rebloggers claimed to try the trick out shortly after it was posted, only to meet failure. A post update does nothing to bring the success rate above zero.
"I tested it, it doesn't work. It just blocks them and you can't see who it is or even unblock that person," kaku-chan wrote.
Then there's the question of the culprit The Science of Deduction revealed—a porn video blog with three entries, inactive since March 2011. Why would this user lurk on a detective training blog?
"It's also kind of weird that the revealed culprit is an unused porn account," awesomearchives wrote.
Daily Dot reporters attempted to recreate the post by sending numerous anonymous messages to one another. While we may have unwittingly blocked some of our coworkers from commenting on our blogs, we still have no idea which ones.
Why is it so much easier for this sort of misinformation to spread on Tumblr than on, for example, Reddit? It all has to do with the discussion format. On Reddit, users upvote the most useful comments (for example: debunking the post) to the top of the discussion, so they're visible no matter how many comments the original post has.
On Tumblr, comments are hidden within a list of notes. New rebloggers won't see that people have already debunked the original post; they'll just see a number next to the post that indicates how many comments and reblogs there are in total, and that popularity can be misleading.
That's why a false September post is still being posited as true today.
Photo by Romain Toornier/Flickr