Last week, a Chicago woman's abortion was crowdfunded on the website GoFundMe. A first of its kind, the campaign quickly caught the attention of the press and activists on both sides of the contentious issue. Now several religious, pro-life organizations are attempting to find Bailey, the woman who decided to terminate her pregnancy. And some are using the publicity to do a little fundraising of their own.
As of Tuesday, GoFundMe claims it will no longer tolerate campaigns related to or associated with abortion. The page that would have reflected the success of Bailey's efforts was removed from the fundraising giant's website. But contrary to what the company's new acceptable-use guidelines say, there are still plenty of abortion-related fundraisers on GoFundMe, including a new one aimed at preventing Bailey's elective procedure. 
The goal of the "Bailey's Healthy Pregnancy" fundraiser, which has currently raised over $1,400 on GoFundMe's website, is to "offer Bailey a compelling reason to reconsider having an abortion." 
The page's description, which seems well-intentioned enough, includes a personal letter from the pro-life campaigner. It asks, "Bailey, if we stripped away all of the pain, anxiety, and difficulty of this pregnancy (as much as we are able), would you still choose an abortion? Or, if you could receive the care you need, would you consider carrying and delivering this child?"
But the money being raised on GoFundMe, however, will never reach Bailey. As previously reported here, she chose to proceed with her operation early this week. Instead, the money being raised in her name is to be diverted to a pro-life organization in Colorado.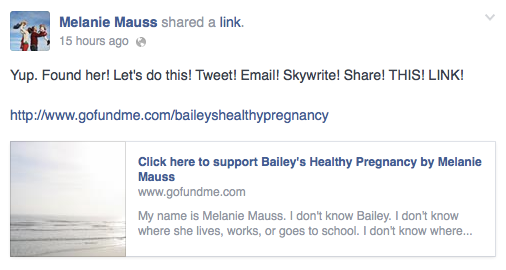 According to the campaign organizer's Facebook page, "all proceeds of this campaign will still go to a great cause, no matter what Bailey chooses. I'll be donating everything to Life Network here in Colorado Springs. Keep spreading the word!" 
A spokesperson for GoFundMe told the Daily Dot on Wednesday that the company reviews the specific purpose behind each fundraising campaign on its website. "At this time, GoFundMe makes no distinction and places no restrictions on a pro-life or pro-choice group's ability to fundraise for rallies or protests." The statement seems to directly contradict the company's new guidelines, however, which specifically state that, as of Sept. 9, "content associated with or relating to" abortion is "not allowed on GoFundMe."
In Washington, D.C., a meeting was held by another religious group, which praised GoFundMe for shutting down Bailey's fundraiser. On Facebook, Patrick Mahoney, director of the Director of the Christian Defense Coalition, announced that he was meeting with a student organization "trying to find Bailey." 
Mahoney is a evangelical Christian minister, who in 1994 established a fund for Paula Jones—yes, the woman who who sued President Bill Clinton for sexual harassment. Earlier that year, Clinton had signed the Freedom of Access to Clinic Entrances Act, making it illegal to use physical force or threats to prevent women from entering reproductive health clinics.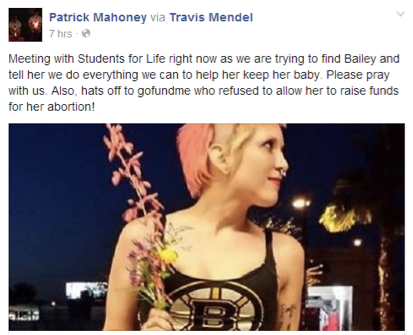 According to the Los Angeles Times, Mahoney was also affiliated with the anti-abortion group "Operation Rescue." In 1991, they organized massive protests over a six weeks at women's clinics in Wichita, Kans., resulting in more than 2,600 arrests. The primary target of the group was Dr. George Tiller, whose clinic providing late-term abortions had been previously firebombed.
Two years later, Dr. Tiller was shot in both arms by a pro-life activist. He survived. In 2009, he was murdered during worship services inside a Lutheran church.
Photo via valakirka/Flickr (CC BY 2.0)