It all happened at the height of excitement and exhilaration, as a squadron of NASCAR drivers went racing towards the finish line at Saturday's Daytona 500 in Daytona Beach, Fla.
The cars edged towards one another in an effort to gain the upper hand, then all hell broke loose. Three cars shaded into each other and two spun out control. A collection of automobile debris went shooting into the stands—glass, some siding, a car tire—injuring 12 fans who'd come to Daytona Beach to see the race.
Filming from the grandstands, Florida native Tyler Andersen captured the carnage in full frame. You see the cars begin to spin, the debris cut through the fence blocking fans from the Daytona track. Then Anderson pans left, and you see a crowd of NASCAR fans screaming for help.
Andersen posted the video he'd recorded onto YouTube when he got home from the race on Saturday night, but the clip didn't stay there for long. NASCAR struck "Drive 4 COPD 300 Finish Live" from the video-sharing site rather quickly.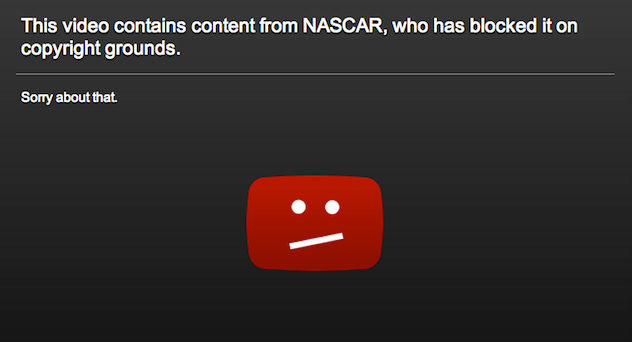 Deadspin reported that stock car racing's governing body filed a copyright claim on the video—one that ran in accordance with legal literature that reminds race spectators that "NASCAR owns the rights to all images, sounds and data from this NASCAR event"—but NASCAR quickly changed its story, writing to The Verge that "the fan video of the wreck … was blocked on YouTube out of respect for those injured in today's accident.
"Information on the status of those fans was unclear and the decision was made to err on the side of caution with this very serious incident."
Be it copyright or carefulness, the takedown didn't last long. YouTube reinstated Andersen's clip shortly after receiving notice of the copyright claim, writing to The Washington Post that "Our partners and users do not have the right to take down videos from YouTube unless they contain content which is copyright infringing."
There's no telling what happened behind the scenes to get the video back up onto the site. YouTube removes videos from its site immediately upon receiving any copyright claim from a supposed copyright holder, and it's generally up to the original uploader to file a counter-notification to get the video back up.
In this case, because YouTube did not disclose any more information to The Washington Post besides the fact that "we have reinstated the video," it's tough to tell whether or not the site actively went forward and reinstated the video without Andersen's request.
Neither YouTube nor Andersen responded to the Daily Dot's request for comment. Since Saturday, Andersen's video has accumulated more than 600,000 views.
Photo via tyler4dx/YouTube