Cult webcomic Homestuck is drawing to a close. Maybe.
It seems fitting for the end of Homestuck to be just as mysterious as it's content. Famously impossible to explain to outsiders, the Homestuck phenomenon mixes MS Paint illustrations, flash animation, video game terminology and a super-involved fanbase to create something that goes beyond the simple genre of "webcomic". Its seemingly impenetrable complexity has led to it being described as the Ulysses of the internet, but its fans are enthusiastic enough to support a $2.5 million Kickstarter and an immediately recognisable presence at geek culture conventions.
While there is no official end date for Homestuck, many fans think its final update will come on April 13, 2013. In a story with heavy apocalyptic themes, this date is Homestuck's Y2K. The webcomic's creator, Andrew Hussie, has supposedly named 2013 as the final year for the comic, but even that is uncertain because Hussie is known for trolling his audiences — not to mention extending Homestuck well beyond its original run of one year.
The main evidence supporting the 4/13/2013 end date is the significance of the number 413 in Homestuck mythos. Not only did the comic begin on 04/13/2009, but the number 413 appears again and again within the Homestuck multiverse, as explained on the comic's wiki. Since real-world conspiracy theories often rely on numerology (remember all those 12/21/2012 theories?), it's entirely plausible that Hussie might have written a few clues about the end of his own fictional world.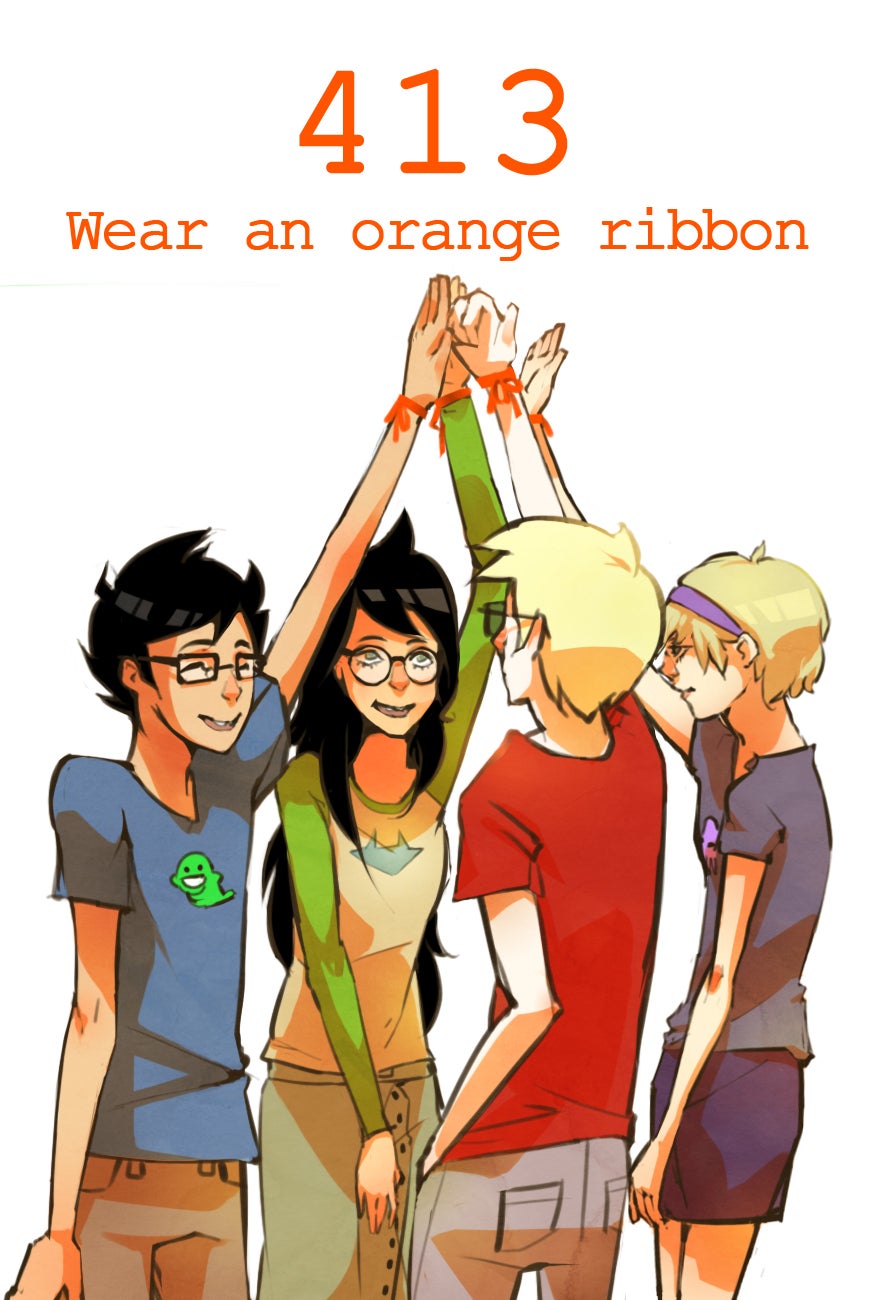 Image via Meeladot 
Some fans are still looking on the bright side, though. April 2013, itself a "413", has been declared International Homestuck Month. A worldwide flashmob is planned for April 13, with fans dressing up as Homestuck characters or wearing an orange ribbon as a symbol of the fandom. "DON'T DO ANYTHING STUPID", reads one celebratory post, "BUT IF YOU DO MAKE SURE TO GET IT ON CAMERA SO WE CAN LAUGH AT YOUR EXPENSE".
Many fans may have come to the 4/13 conclusion on their own, but the idea was popularised by a Tumblr called how long until homestuck ends. Racking up over 4,000 notes, its most popular post reads, "As of today, January 15th 2013, there are only 88 days left in Homestuck". This apparently caused so much upset that the Tumblr's author discontinued their blog, stating, "I don't want to freak anyone out without reason".
Much like Y2K, not everyone buys into the 4/13 theory. Some believe that Homestuck will end on April 26 (4 years and 13 days after the comic began), while a few are convinced that Homestuck will never end.
As Tumblr user r3troguy puts it: "Homestuck's ending is like death. Nobody actually believes in it, but it will come eventually."
Image via onewithhowlbeasts