Last Friday, Oct. 4, at around 12:30pm, an autistic, mute 14-year-old boy named Avonte Oquendo disappeared from his school in Long Island City, Queens. He was last seen on school surveillance footage, running through the hallways before exiting the building.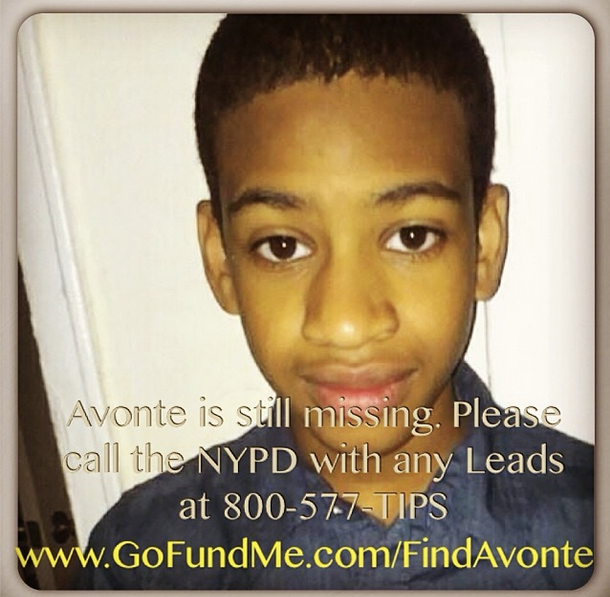 For the past eight days, officials in the tri-state area and Oquendo's family have been frantically searching for Avonte. Organizers have set up headquarters in Long Island City, where volunteers help distribute fliers and search the area, and a vigil was held in the area last night outside the Riverview School, where Avonte was last seen.
The search for Avonte Oquendo has also gone viral, with a missing person's flier of Oquendo being shared by thousands of people nationwide. The reward for his safe return is now $70,000.
Avonte's brother Danny, an Orlando-based musician who fronts a band called the Sun Moon Sect, has led the online search parties, posting hourly updates and photos of Avonte on his Twitter, Instagram, and Tumblr, under the handle @KingDetrick. A (now-inactive) GoFundMe account was also set up to help fund the search efforts.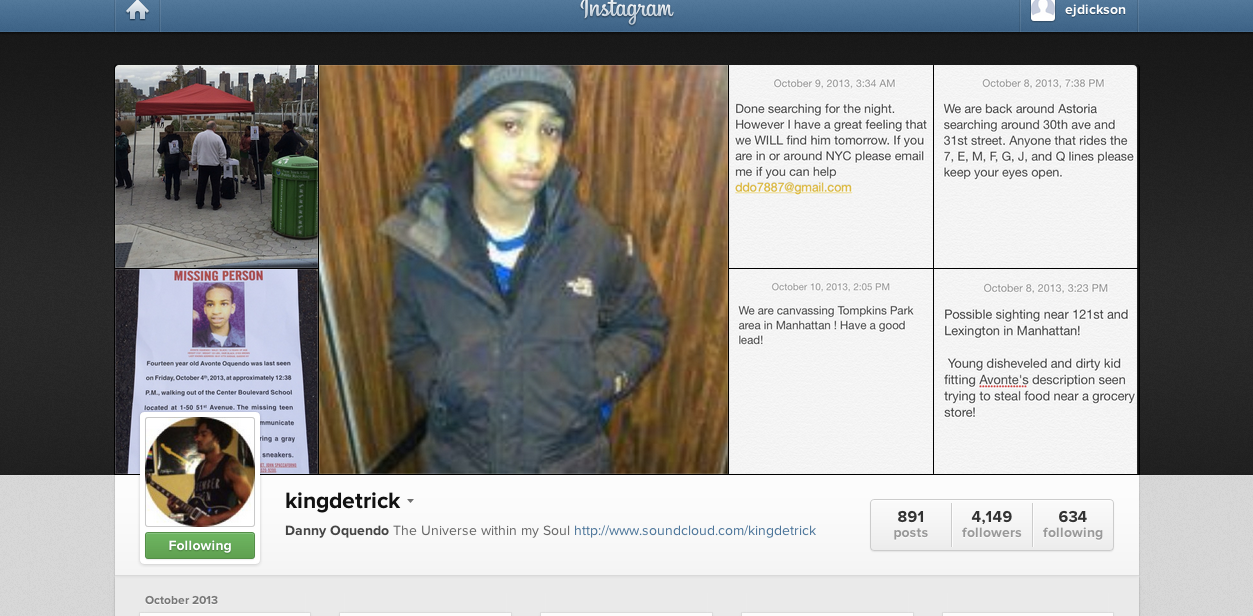 Screengrab via Instagram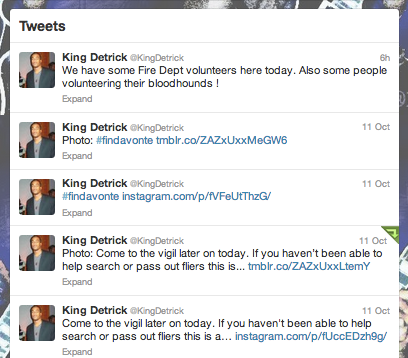 Screengrab via Twitter
A Facebook account, Missing Avonte Oquendo, has been set up in association with Danny Oquendo, to recruit volunteers and document updates in the case (neither Oquendo nor the admin for the Facebook page would respond to requests for comment). Friends of Missing Avonte Oquendo have posted tips on the page and translated the boy's missing flier into various languages, including Chinese and Portuguese, to be shared on Facebook. 
Throughout the week, there have been a slew of promising leads in the case, to no avail. Last Tuesday, authorities responded to a report that Oquendo was seen wandering around a supermarket on 121st Street in East Harlem. The individual turned out to be another missing person who was not Oquendo.
According to a post on Missing Avonte Oquendo from earlier today, Oquendo was reportedly spotted at a public school family festival in DUMBO last Saturday at around 5:30pm. "The kid in reference caused a bit of a stir as he stood very close to [the DJ], trying to touch the DJ equipment multiple times," FuziPop, a children's dance party company, wrote on its Facebook page, asking fans if they had video or photographic documentation of the event. 
Police Commissioner Ray Kelly said Friday that more than 50 NYPD officers are on the case every day, and that every subway line had been searched. The MTA suspended subway maintenance this morning to search for Avonte, ordering 200 MTA workers to comb through the city's subway tunnels (his family says Avonte is fond of trains, and had been found wandering through the tunnels on three separate occasions). 
Oquendo was last seen wearing a grey striped shirt and black jeans with sneakers. He is 5-foot-3 and 125 pounds. Anyone with information on the case is asked to contact the NYPD Crime Stoppers line at 800-577-TIPS or post a tip on their website. 
H/T Daily News, NBC News | Photo via MTA Photos/Flickr