WikiLeaks founder Julian Assange has every reason to be on a high right now.
On August 12, after 613 days of Assange's detention (53 of which have been spent at the Ecuadorian embassy in London), WikiLeaks tweeted that an announcement by president Rafael Correa was imminent. Leaving nothing to chance, it used Twitlonger to offer instructions to supporters in case a) the request for asylum was granted or b) things got complicated.
As seems inevitable in every WikiLeaks story, things got complicated. These are the options WikiLeaks foresaw:
1) Ecuador grants political asylum or refugee status to Mr. Assange

Immediately everyone will need to give a show of force to defend the diplomatic, political and legal correctness of Ecuador's decision and to prevent retaliation against the nation of Ecuador. Already the Washington Post Editorial Board and others have called for trade sanctions against Ecuador if it gives Mr. Assange asylum.

2) Ecuador rejects asylum application

While it is unlikely that Ecuador would simply reject the claim, it may well make a complex compromise decision. The end product of a compromise decision would be a long negotiation, including with Mr. Assange's team. If such a decision is reached we would expect to have at least a week's prior notice. It is hard to formulate a precise plan until the contours of the compromise are known, but at least some of the approaches are likely to be those described in scenario#1.
They didn't anticipate a third option, which actually occurred:
That Ecuador would announce that, gee, there sure was a lot of material to go over and it would be Wednesday at least before any announcement would be made.
Then, that unnamed Ecuadorian officials in Quito today would tell the Guardian that Assange would certainly be granted asylum, done deal, all over but the fat lady singing.
Then, that Correa, apparently not one to take leakers on his own staff lying down, subsequently took to Twitter to specifically deny the rumor, while shedding no light on his possible decision.
Given that WikiLeaks supporters' actions so far have included nothing more strenuous than peaceful rallies in places as diverse as Paris and Assange's boyhood home of Magnetic Island, Australia, leafleting, and postering, it's unlikely that the call for a "show of force" was meant literally. Maybe they meant "The Force."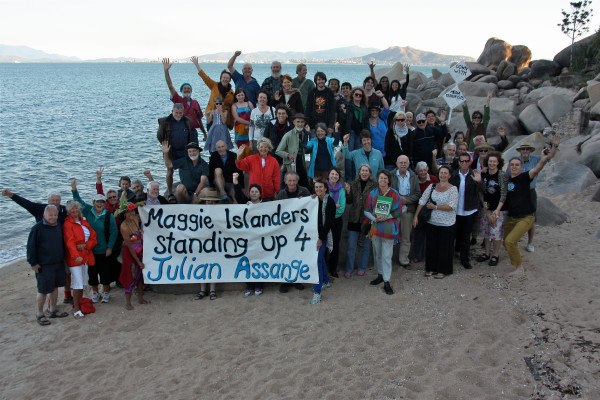 Supporters are on alert, however, and the recently-launched social activist site Friends of WikiLeaks (FoWL) has coterminously announced its second secret initiative. The first was a work sprint on the Global Intelligence Files, which led in part to recent coverage of the TrapWire surveillance program. Facebook has a list of active FoWL chapters spanning 25 countries, not bad for a nonprofit network that was dormant until July of this year.
For the last several weeks, UK FoWL has been collecting messages of support for Assange, and on August 12 they presented them to Sarah Harrison of WikiLeaks, who took them into the embassy. The statements represent a spectrum of supporters, from freedom of information crusaders to fans of Ecuador to youth celebrating a role model. 
Harrison returned from presenting the book of messages with a message of thanks from Assange and, mysteriously, assorted lollipops to be distributed to the supporters.
WikiLeaks itself has gotten its juice and its website back, having successfully neutralized a two-week-long DDoS attack. Its recent court victory against VISA and its new alliance with Carte Bleu mean that fundraising is also back online.
Charges have also been filed against Marianne Ny, the Swedish prosecutor who requested Assange's extradition to Sweden almost two years ago. This news was, naturally, well-received by WikiLeaks staffers and supporters.
"We're ready to rumble," WikiLeaks tweeted.
Photo by fudyma/Flickr