If the New York Times publishes all the news that's fit to print, 4chan's /b/ Weekly has… everything else. 
Wednesday afternoon, a member of /b/, 4chan's image dump of all things weird and obscene, posted the first edition of a newspaper he created for the board. Topics included the shibe meme and a disabled man named Colin McCooey, who's trying to build his YouTube channel.
"Get yer news here! The first ever /b/ newspaper!" the user wrote. "This week, the news will be released on Wednesday, but the subsequent issues will be released every Friday. Enjoy!"
The first edition was an immense success, collecting more than 30 pages' worth of comments from people saying it reminded them of /b/'s "good ol' days."
"This is pretty awesome OC [original content]. Nice job, Anon," one user wrote. "Perhaps a 'Beta of the Week' or 'Bawwww Post of the Week' section?"
Not only was the newspaper well received, it actually inspired /b/ to do some good.
Over the past three years McCooey has tried tirelessly to build up a following on his YouTube channel where he posts webcam videos captured from his home in Scotland. Before Wednesday, none of McCooey's 50-plus videos had ever collected more than 500 views each. That all changed Wednesday night.
After someone tracked down his YouTube channel, three of McCooey's latest videos racked up more than 27,000 views combined. And his subscriber list has gone from two to 1,900.
"Someone should make this guy a kickass YouTube banner to celebrate his recent success as a present for being so awesome," creepyrasta commented on YouTube.
"I'm going to get onto making one for him tonight," eldrism replied. "Wont be 3D but I will try and make it professional, watch this space." 
"Keep 'em coming, buddy! All the best from Poland :)" Aleksander Strześniewski said. 
The /b/ Weekly follows in the footsteps of the S4S Tribune, a publication inspired by the community Shit 4chan Says. The board was added on April Fool's Day as a joke and apparently has collected enough users to keep running. Like Reddit's Shit Reddit Says (best known as SRS), S4S calls out anyone for posting "bigoted, creepy, misogynistic, transphobic, racist, homophobic" content. It's like shooting fish in a barrel.
Click to expand: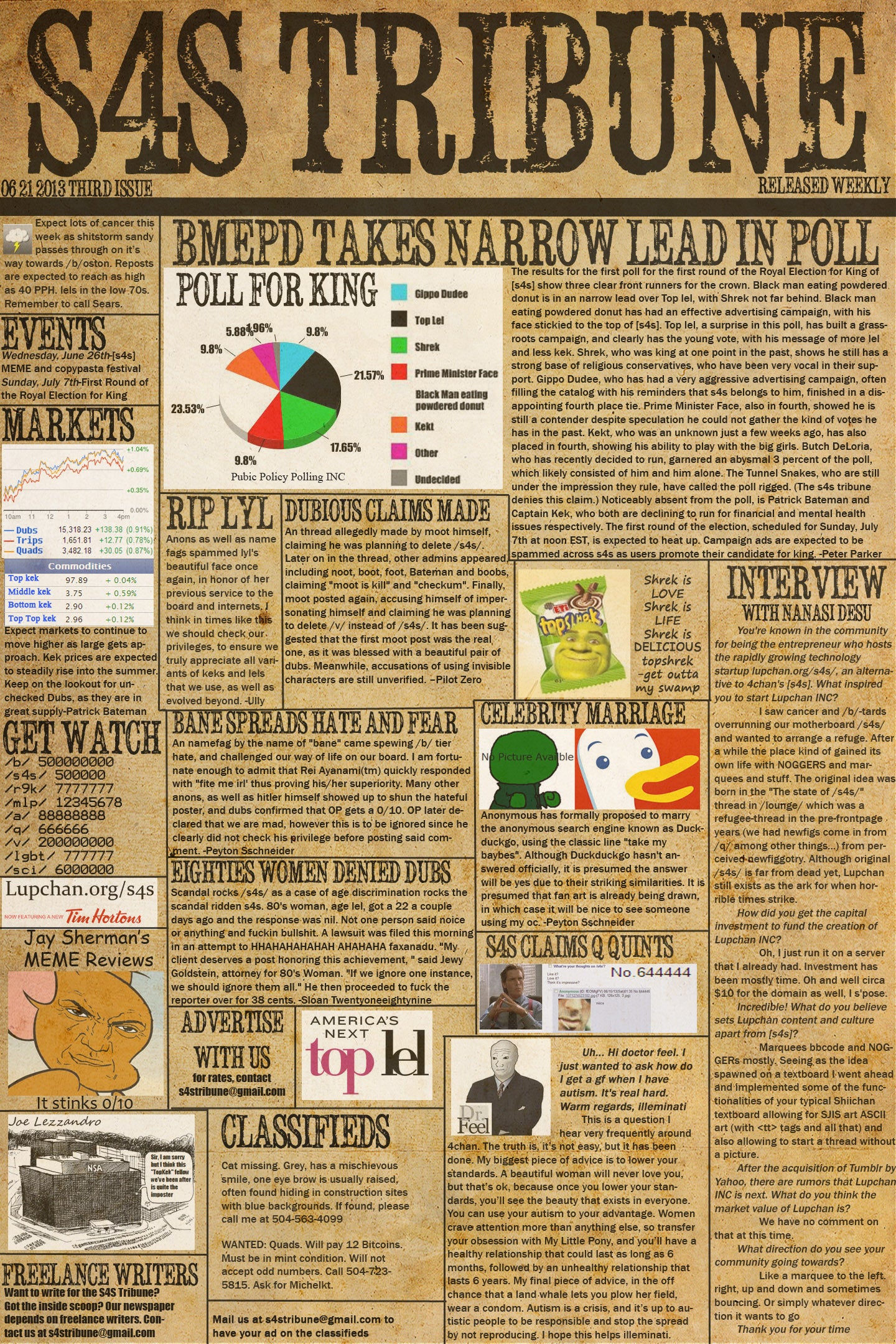 /B/ was the first board created on 4chan, almost 10 years ago. In the beginning it was a place where users could post all things anime and random. Over the years, it has become a breeding ground for the site's most popular memes—Rickrolling, LOLcats, pedobear—and for its pranks and raids. Just in the last year alone, /b/ has tried to have a creepy old dude named Charles win a chance to meet Taylor Swift, derailed the trial of George Zimmerman, and fooled people into believing the new iOS 7 made their iPhones waterproof. 
Illustration by Fernando Alfonso III