A man who gained the attention of right-wing media after he claimed he was stabbed for being mistaken for a neo-Nazi admitted that he made the entire story up.
BuzzFeed News first reported that Joshua Witt, 26, admitted that he invented a story about being stabbed that was shared on Fox News, the New York Post, the Alex Jones Show and Inside Edition in the wake of the violence that occurred in Charlottesville, Virginia. Witt told police that a man attacked him with a knife outside of a Steak 'n Shake in Colorado.
On Monday, authorities told BuzzFeed News that Witt changed his tune after they confronted him with evidence that the attack never took place.
Witt posted about the alleged incident on Facebook earlier this week with several photos of his leg and car covered in blood.
"Sooooooo apparently I look like a neo-nazi and got stabbed for it," Witt wrote in the now-deleted Facebook post. "luckily I put my hands up to stop it so he only stabbed my hand…. please keep in mind there was no conversation between me and this dude I was literally just getting out of my car."
The post also had a picture of his bloodied leg with a text box over it reading: "Lolz apparently I look like a neo nazi so I get stabbed at."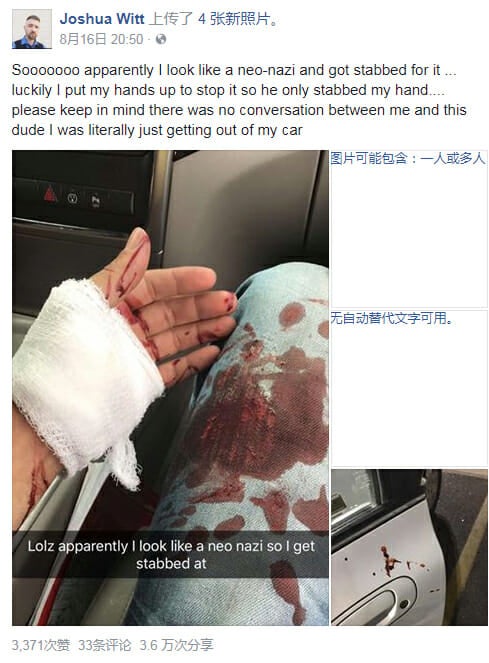 Witt told police that a Black man in his mid-20s had attacked him, according to the Sheridan Police Department.
Police were suspicious of Witt's story because surveillance footage did not show anyone running from the scene, as he had described. Authorities also found video from a nearby sporting goods store that showed Witt buying a small knife before the attack, the Sheridan Police Department department said in a statement.
"Mr. Witt subsequently admitted to accidentally cutting himself with the knife while parked in his car in front of the sporting goods store and admitted making up the story about being attacked," the Sheridan Police Department said.
Witt was released on a summons for "false reporting to authorities," and if convicted, faces a fine of up to $2,650 and up to one year in jail.