YouTuber Vara Dark recently ran into some trouble while investigating fellow YouTuber Suzy Lu. After posting several critical videos, Dark claims she received an anonymous threat—and that a hacker stole her credit card info and went shopping.
Dark has been looking into Lu's activity on YouTube for just over a week. In that time, Dark has posted two videos on the subject: "Suzy Lu Deplatforms And Censors Her Critics | What I Think Of Her" and "Suzy Lu's Strike Censorship Continues | My Last Word On Suzy Lu."
These videos explore the controversial, years-long history of Lu's reaction channel.
Lu's reaction videos, which often involve her reacting to entire episodes of anime, have been repeatedly questioned by members of the YouTube community for copyright infringement. But the controversy surrounding Lu has more to do with her reaction to criticism rather than the critiques themselves.

See, many of the YouTubers posting critical videos of Lu soon find their channels flagged. This has led to accusations of targeted flagging by Lu, who appears to often go after any YouTuber who posts content critical of her channel. YouTubers Mark After Dark, TipsterNews, and John Swan have all been targeted following Lu-critical uploads.
That's where Dark comes in.
Her recent uploads dug into these accusations against Lu. She outlined several recent channels that received privacy complaints following Lu videos and even had some videos removed. She intended her second video to be her final word on the matter, but Dark says she was blocked by Lu—and that's when Dark says things took a turn.
Dark dug into these events in a follow-up video titled "I Was Threatened And Hacked Over Suzy Lu Videos."
Dark says she received an anonymous email a day after her second Lu video went live. It lays down several subtle threats against Dark and, in particular, her YouTube channel. "I'm curious if you think this (sic) making accusations like this is a joke or if you even realize how you could get in trouble for making these false allegations," the alleged email reads. "Whatever is surrounding this situation is false and you may find yourself in the line of fire if you continue to spread lies around."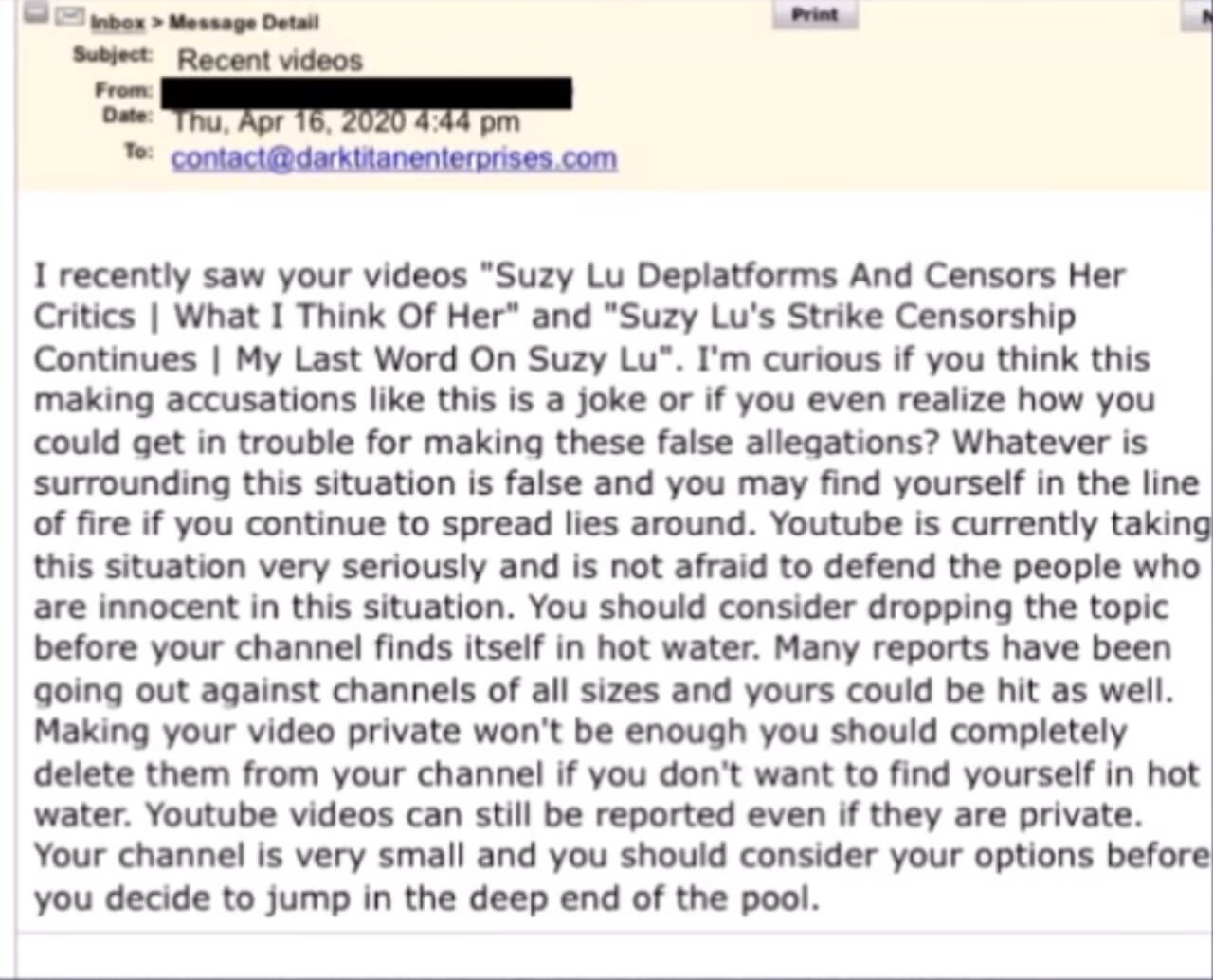 The email also indicated that Dark could find herself, and her channel, in "hot water" if her investigation continued.
The author of the email urged Dark to remove the Lu-critical videos immediately. "Youtube videos can still be reported even if they are private. Your channel is very small and you should consider your options before you decide to jump in the deep end of the pool," the email concludes.
Mere hours following the email, Dark claims a hacker got into her web-hosting account. Using a credit card already on file, the hacker allegedly proceeded to rack up nearly $1,000 in purchases. Dark says her bank flagged the purchases and is working with her to get the spent money back.
Dark was careful to note in her video explaining the email and subsequent hacking that she is not accusing Lu of anything.
A few hours before the email arrived, however, Dark said that she was blocked by Lu on Twitter. This indicates that the YouTuber was well aware of the videos Dark had made about her.
Near the end of her video discussing the email and hacking, Dark notes that she almost decided against making another video: "But I really, really hope that other content creators are not silenced because they received emails like this, or they received threats like this. And I do think the strikes on other videos should stop."
We've reached out to Lu and Dark.
READ MORE: