When the fall course schedule dropped at the University of Texas at Austin, students were surprised to find the names of two professors who had previously been found guilty of sexual misconduct were scheduled to teach undergraduate classes.
Outraged, student leaders drafted and unanimously passed a resolution in April to remove both professors, English associate professor Coleman Hutchison and biology and philosophy professor Sahotra Sarkar, from the course schedule.
An internal investigation found Hutchison violated university policies by making inappropriate comments to students and failed to report a relationship with a student in 2011. Sarkar was suspended from teaching in 2017 after allegations that he made suggestive comments to students. Both faced some disciplinary action, including being unable to supervise graduate students on their own. Neither Hutchison nor Sarkar immediately responded to the Daily Dot's request for comment.
Despite the sanctions, both professors are teaching fall classes and scheduled to teach multiple undergraduate classes in spring 2020. After seeing the spring course list, four seniors—Michaela Lavelle, Anilya Krishnan, Angela Kang, and Alyssa Ashcraft—decided to take action.
"We were just tired of the university not having said anything about it," Lavelle told the Daily Dot. "Not having acknowledged the resolution in any public way, and not acknowledging that these professors have been found in violation of university policies."
The group scheduled a sit-in for Oct. 25. Their Facebook event outlined the plan: Students would station themselves outside of the office of university Provost Maurie McInnis and let her know how they felt. McInnis did not respond to the Daily Dot's request for comment.
A week ahead of the sit-in, students started sharing a screenshot of the professors' names and urged their classmates not to register for their classes. Then on Twitter, students spread details about the sit-in and voiced their disappointment at the university.
User @the_parkerc urged students to email the Provost and attached an email template that could be copied and pasted.
Take 5 minutes to email the UT Provost Office (@Maurie_McInnis) and demand action in removing sexual predators from campus!

The document includes all the necessary information (email, subject, and body).

Just copy and paste and send!https://t.co/jOvwxcbLmE pic.twitter.com/B7ULbgVTdr

— let's-overthrow-the-government☭ (@radicallorax) October 30, 2019
I'm having surgery today and can't be there so *please* show up to protest UT's decision to let professors with sexual harassment charges to keep teaching classes.

Details: Sit-in 10 am-5 pm today at the UT Tower (provost's office) pic.twitter.com/zNfctq2sNN

— zach price (@price_zach) October 25, 2019
According to Kang, roughly 200 students attended the sit-in, banging on doors and holding up handmade signs. The one person nowhere to be found? The provost herself.
"No one that needed to be there was there," Kang said. "It was emotionally charged in the sense that we're all trying to support each other, but at the same time you have to reach into a very vulnerable place in yourself to be angry about this and to push for something when the people that need to be pushed aren't there to listen to you."
The online response from students continued amid and after the sit-in. Students used Twitter and the sit-in Facebook event page to share pictures and videos.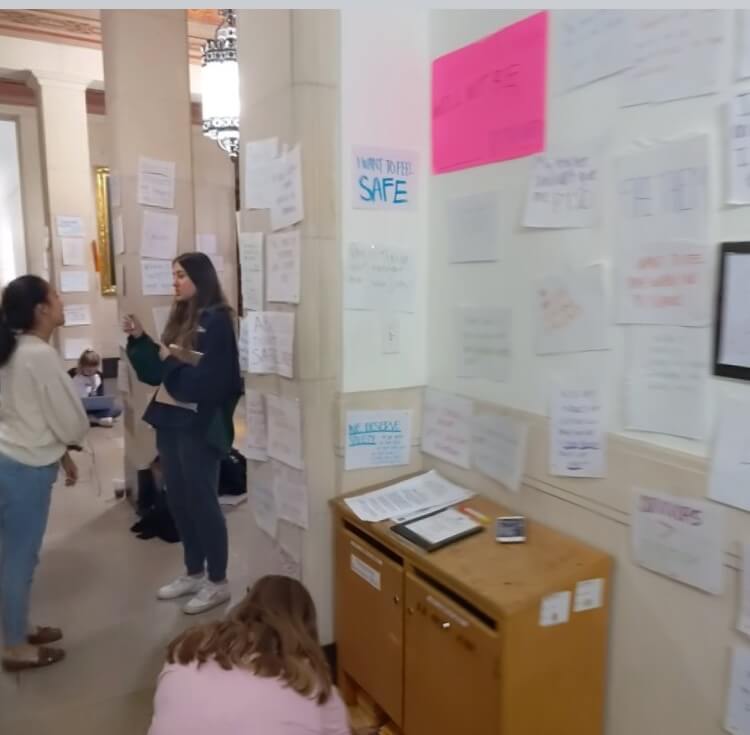 According to Lavelle, the group sent an email to the provost two days before the sit-in, both to notify her that it would be happening and to list their demands. Students asked for the professors to be removed from the course schedule, a campus-wide email releasing the names of professors found guilty of misconduct, and a town hall and more resources for interpersonal violence prevention.
"I want them to do better and I need them to do better and I know that they can," Kang said.
A week after the sit-in, students met with McInnis and other administrators, urging them to send out a campus-wide email and confirm what was going with both of the professors. According to Kang, McInnis said she wouldn't be sending out any communications until they had an active plan on what to do for the UT community.
But a week later, and the day before a different group of students had scheduled a second sit-in, university President Greg Fenves sent an email announcing that outside consultants would help the administration figure out its next steps.
The second sit-in never took place. Student organizers say they feel the university is putting a Band-Aid over the situation.
"It makes me nervous," Ashcraft said. "I'm not saying that it couldn't be very productive, but I personally feel like I would want to know a lot more about it before I could say it's gonna be fruitful."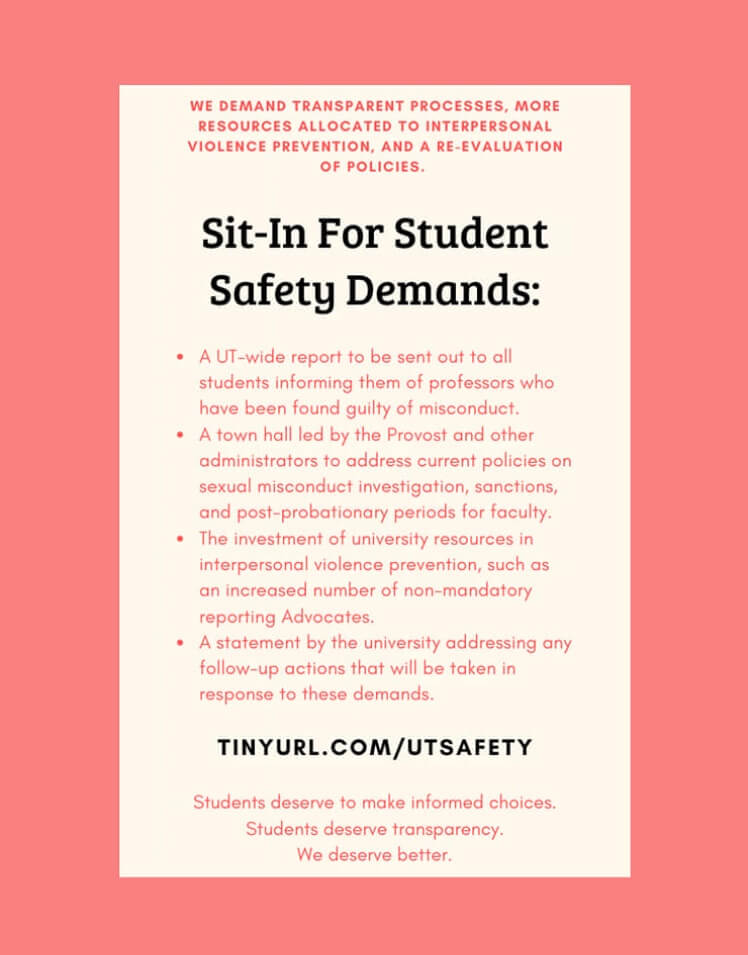 According to Kang, students have proposed that the university send out a semesterly report on professors who have been found guilty of sexual misconduct. Students receive a similar report every semester listing organizations that have been found guilty of hazing.
"It's about informing students about the environments they're choosing to put themselves in," Kang said. "For instance, with those hazing reports, you can still choose to join those organizations, you are now just informed about what exactly has been the context of that org in the past."
The students agree there is little that can be done about Hutchison and Sakar now because the university has already issued sanctions against them. Lavelle said that she thinks if the university tried firing the professors at this point, they would likely sue and win.
"It's not our responsibility as students to be the university's consultants and tell them what to do," Kang said. "They should be taking the opportunity here to pioneer a safer space especially as the premier institution of Texas."
Kang and the other student leaders will meet with the provost on Friday to discuss next steps. Ashcraft said student response to the issue is still gaining momentum.
"I think for the first time in the university's history, this isn't just going away," Ashcraft said. "Between social media and news organizations that are doing really good work, students aren't going to forget this, and the anger isn't going to go away. It's a very unique environment that we're very lucky to have right now as students."
READ MORE: