Yesterday, Twitter tweeted that it would be publicly filing a Form S-1 with the Securities and Exchange Commission ahead of a $1 billion initial public offering that had been confidential until last month.
Our S-1 will be filed publicly with the SEC momentarily. This Tweet does not constitute an offer of any securities for sale.

— Twitter (@twitter) October 3, 2013
There aren't too many surprises in the 200-page document, just figures detailing Twitter's user base (big, with room to grow, especially in the U.S.), mobile ad money as a percentage of revenue (better than Facebook), and profitability (nonexistent).
More interesting were the history and high points of the social networking platform as recounted by the company itself—each day 500 million tweets are blasted into the ether, but which few make it a vibrant, not to mention viable, business proposition?
Well, for starters, Twitter helps bored pro basketball players find pickup football games. During the NBA lockout, "Oklahoma City Thunder player Kevin Durant (@KDTrey5) was looking to get some exercise."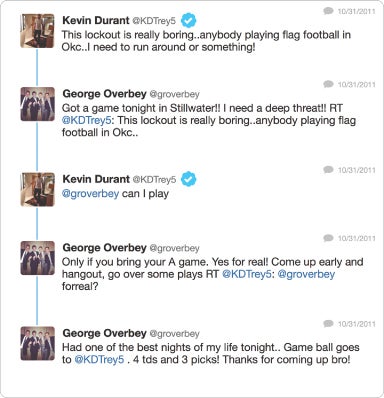 It's also a useful tool for announcing royal births, however often those happen: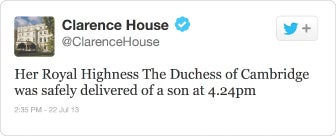 Let's not forget, either, that Twitter is a fount of bizarre and accidental front-lines journalism, as the prospectus summary emphasizes:
A local resident in Abbottabad, Pakistan unknowingly reported the raid on Osama Bin Laden's compound on Twitter hours before traditional media and news outlets began to report on the event.
Even better, it provides an opportunity for grunge musicians can second-guess the cooking advice of celebrity chefs: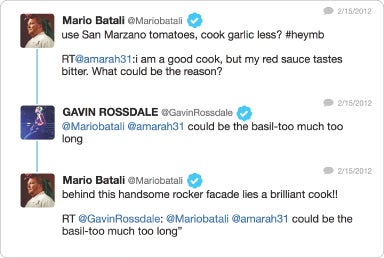 Of course, we know this is all just window dressing. It's what keeps the humble average user scrolling through Twitter, not the stuff that makes investment dollars flow. The meat of the filing is all about the advertisers and brands that have embraced the service with success, from Wheat Thins to Oreos. The word "engagement" appears 162 times in all, often in conjunction with "brand."
Because while you're favoriting and retweeting and creating great "content" of your own ("People are at the heart of Twitter," the document lovingly declares), even if you ignore or block advertisers and promotions all the while, you're creating a framework for corporate success.
We enable our advertisers to target an audience based on a variety of factors, including a user's Interest Graph. The Interest Graph maps, among other things, interests based on users followed and actions taken on our platform, such as Tweets created and engagement with Tweets. We believe a user's Interest Graph produces a clear and real-time signal of a user's interests, greatly enhancing the relevance of the ads we can display for users and enhancing our targeting capabilities for advertisers.
In other words, you don't have to be following @Bonobos or using their #thatsBonobos hashtag to be doing them a favor. Users may have value as compelling voices that draw people to Twitter in the first place (especially if they're famous, it seems), but beyond that, they aren't much more than data points in the struggle to curb operating losses. It's a lot like how ad-supported "old media" functioned—only this time, the product is you.
H/T @michaelhayes | Photo by cvrcak1/Flickr