The PlayStation 5 game Resident Evil Village launches May 7, but fans are already making memes about Lady Dimitrescu, the towering, large-chested woman donning a black brim hat in the game's trailers.
Despite the character's appearance as a tall vampire lady, it seems like most people are anything but scared. With pet names like "mommy vampire" to "big booba lady Romanian," gamers seem happy to have Lady Dimitrescu chase after them.
Twitter user @DeputyRustArt wrote, "Yeah I'm hunting down the vampire lady and making her my wife."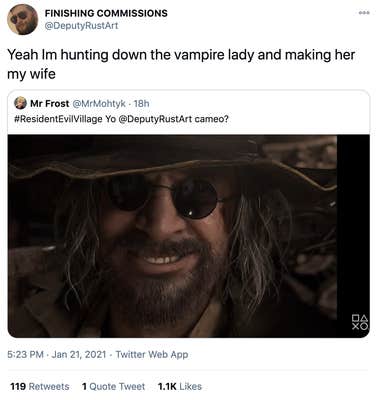 Resident Evil Village, the latest installment of the survival horror game Resident Evil series is set a few years after the Resident Evil 7: Biohazard, in which protagonist Ethan Winters and his wife Mia build a new life together. Peace doesn't last long before Winters' world is uprooted, and he must once again survive chilling evil.
In Resident Evil's latest trailer, Lady Dimitrescu can be heard on the phone saying, "Because (Ethan) is in my castle and has already proven too much for my daughters." The scene ends with her hanging up the phone moments after saying "I won't let you down."
Fans ogling over the irresistible charm of the lady in white have already released an onslaught of horny memes.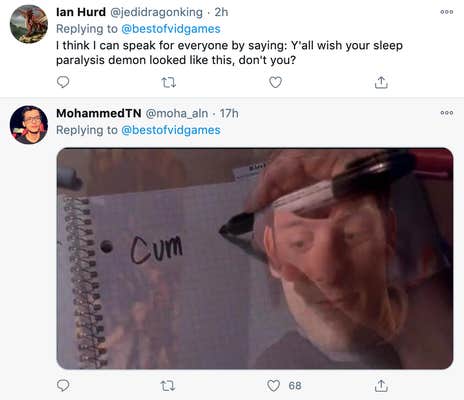 Digital artists have also jumped on the Lady Dimitrescu meme bandwagon, channeling their obsession into fan art. Twitter user @rayluaza even changed his Twitter handle to "Lady Dimitrescu Stan Account."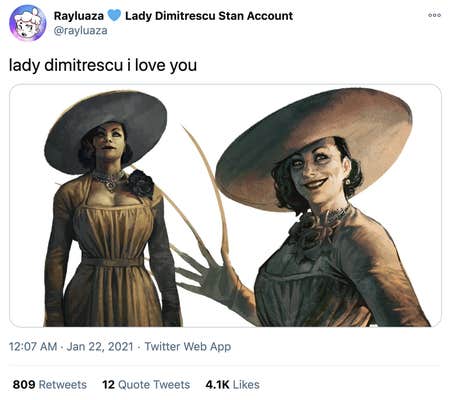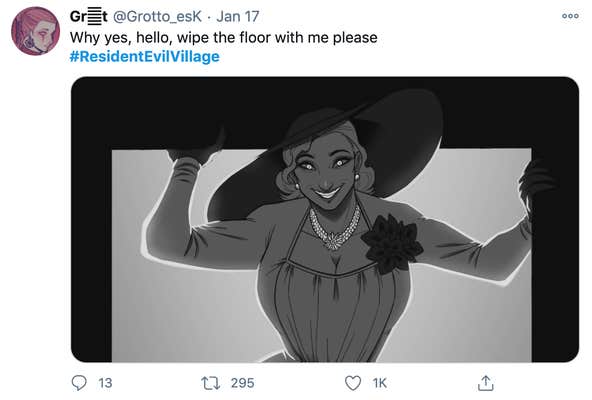 Others are more confused or interested in seeing how fans will react once Lady Dimitrescu's full nature is revealed in the game.
"I live in weird times," said Twitter user @TadBird73. "My ancestors would never have thoughts of human beings getting horny over a monstrously tall unfathomable age vampire lady."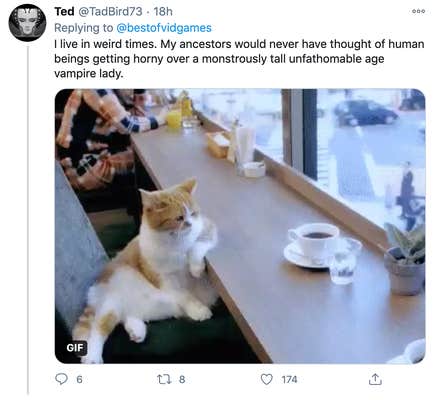 Until May 7, people can quench their thirst for the vampire lady by playing the standalone demo Maiden in which players wake up as a maiden in a dark dungeon and have to escape from Dimitrescu Castle. The demo is available for download on PlayStation 5.
---
Must-reads on the Daily Dot