One police officer's Facebook post calling for accountability in the death George Floyd is going viral.
Jonathan Parker, a police officer from Georgia, told the Daily Dot that he was speaking out because what he "saw in the video was so obviously wrong."
"My faith and love for people necessitates speaking out in ways that can be healing and bring about change. This isn't the first situation I have addressed publicly, and unfortunately probably won't be the last," he said.
In the Facebook post, Parker, a police officer from Georgia, alleges that the officers who attempted to arrest Floyd never followed proper protocol and disregarded fundamental police training.
"One of the first principles we were taught 13 years ago in the police academy about subduing and handcuffing subjects had to do with 'positional asphyxia.'" Parker writes. "The subject can die if their breathing is restricted by the position we place them – like handcuffed on their stomach especially with weight on their neck or back."
The lengthy post goes on to explain that Floyd's death is unlike any other case because he believes the police's handling of his arrest was unequivocally wrong.
Despite acknowledging the officers' wrongdoing, Parker still does not believe Derek Chauvin, the officer who knelt on Floyd's neck acted out of prejudice, writing, "Do I think the officers intentionally killed George Floyd or did this because they hated him or his race? I doubt it."
"I can't say for sure that a white man would have been treated differently, but I can certainly understand and sympathize with those who feel the disparity exists," Parker told the Daily Dot.
Still, the officer argues police should refrain from defending the now-former officers and justifying Floyd's death.
"You, fellow officers, surely were not trained to do what the officers in the video did," Parker wrote. "Don't try to justify it. This is not one of those cases."
Many commenters on the post expressed gratitude for Parker standing in support of Floyd and called for the four officers involved to be charged with murder.
"Cop should be charged for murder, period!" user Karan Cartwright commented on the post.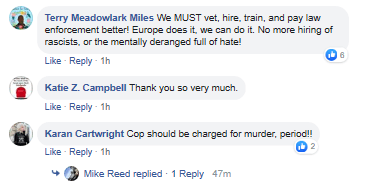 Parker told the Daily Dot he believes Floyd's death should be "thoroughly investigated."
Protests are raging across the nation, demanding justice for Floyd's death. In Minnesota, the protests have become explosive with reports of looting and fires being set. On Thursday, the U.S. Justice Department vowed to make an investigation into his death a "top priority." So far, there have been no arrests made.
Editor's note: This story has been updated to include Jonathan Parker's responses.
READ MORE: