When people have success with online dating sites, it's rarely a surprise, but a sugar dating site all the people want to know is "what's your secret?"–or in this case, how does SugarDaddyMeet work?
What is a sugar daddy?
Before we get into the nitty-gritty of my SugarDaddyMeet.com review, let's discuss the basics of sugar dating. There isn't exactly a library workshop on sugaring (as far as I'm aware) so consider this your complimentary comprehensive rundown of expectations that need to be met by either party.
A sugar daddy (or momma) is ordinarily a person seeking companionship in exchange for financial support. The sugar "baby" is stereotypically younger, though this isn't always the case. A sugar baby receives monetary benefits from the sugar daddy in the relationship, whether it's lavish gifts, vacations, or cash to pay bills.
Like every relationship, each arrangement is different and depends on the wants and needs of the people involved. As Brandon Wade, the founder of Seeking.com (formerly known as SeekingArrangement) pens on his blog, "Every successful relationship is an arrangement between two parties. In business, partners sign business agreements that outline their objectives and expectations. Likewise, romantic relationships can only work if two people agree on what they expect, and what they can give and receive from each other."
Some relationships may be sexual if that is a part of the agreed-upon arrangements. Others may be entirely about companionship or platonic financial support. It's a tricky line to draw. If you are seriously looking to become a sugar baby, it is most important to be upfront about consent, conscious of your own safety, and fully aware of the terms of an arrangement. It comes down to figuring out your desires and finding someone who is on the same page, then establishing some rules.
How does SugarDaddyMeet work?
Like any other dating or matchmaking site, SugarDaddyMeet requires users to build a profile that describes what they're looking for and provides a mini snapshot of who they are.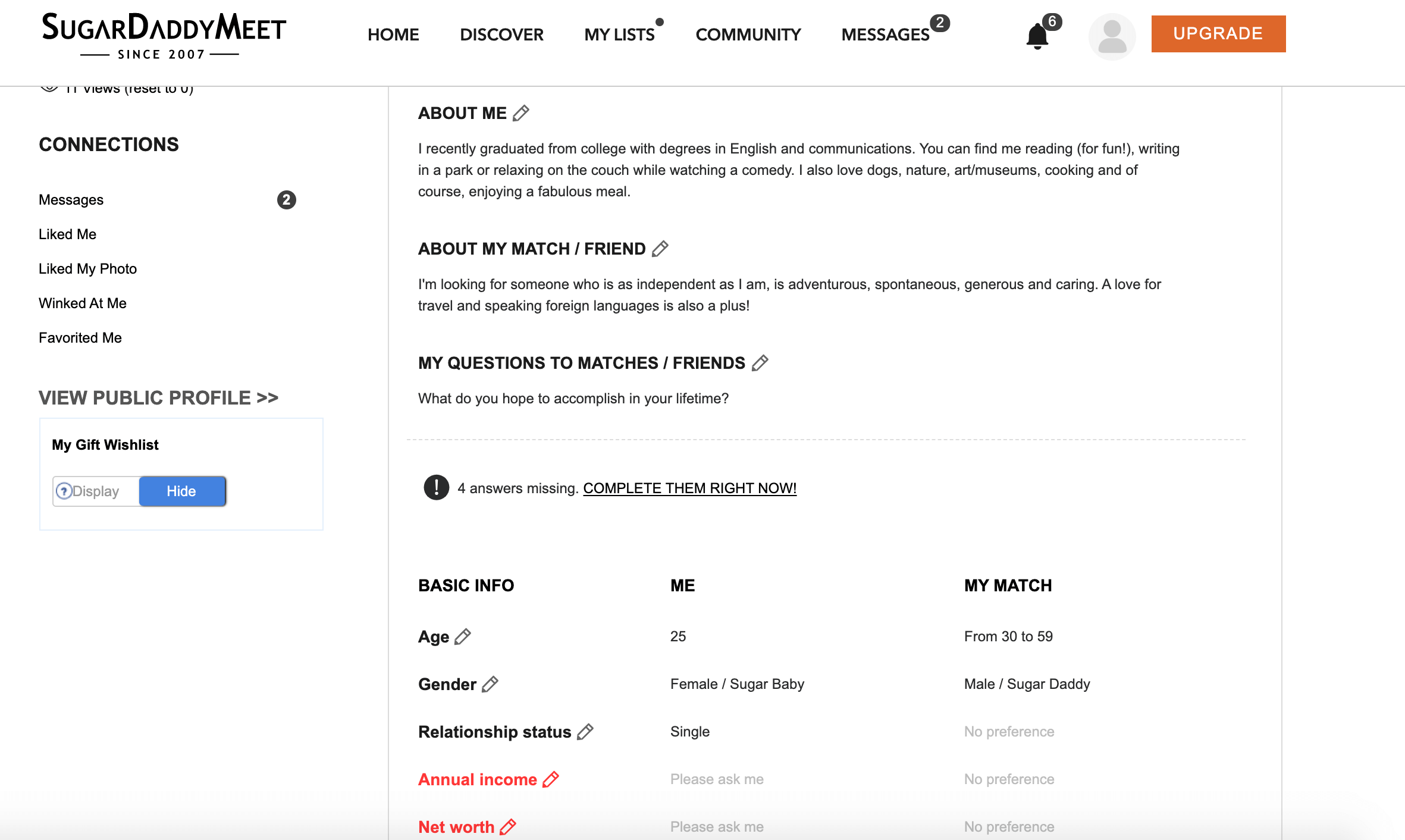 When users first sign up, they'll be asked whether they're a "Sugar Baby looking for a Sugar Daddy" or a "Sugar Daddy looking for a Sugar Baby." Although this language is outdated since it only allows for cishet relationships, there are profiles on SugarDaddyMeet that are looking for arrangements outside the binary. So I wouldn't say that SugarDaddyMeet requires members to be cisgender and straight, but if you're not adhering to those adjectives, you'd probably have better luck on a gay hookup site.
Once your profile is saved, there will be a short waiting period until any of your photos or videos are posted to give SugarDaddyMeets.com employees ample time to approve your uploads and make sure your photos are legitimate and appropriate to the site's standards.
Members can then surf through their homepage like they would any other social media newsfeed–liking and commenting on photos, privately messaging accounts they find intriguing, contributing their own thoughts and posts to the online community, discovering local members, perusing blogs, and sharing date ideas.
How much does SugarDaddyMeet cost?
You'd probably be surprised to hear that the cost of a SugarDaddyMeet membership can be as cheap as free! For the most part, I was able to roam around the site and do what I needed to do at no cost. However, there are definitely some perks to having a paid membership, and if I was a serious user of the site I would consider paying them.
Free accounts are able to create, update and view profiles, reply to messages (but not initiate them), utilize SPARK (the Tinder-style matchmaking option), view a member's first date ideas, create or request access to a private album, get photo verified, link their Facebook account, and publicly post their answers to "Fun Questions."
Upgraded members can do all that plus respond to first date ideas, initiate chats, check online lists, access advanced search filters, hide from search results, see who has viewed/liked/favorited their profile, view profiles secretly, certify their profile, get highlighted as a featured member and enjoy other personalized account services and membership care.
Membership options (pay with a credit/debit card, bank check/money order or PayPal):
SugarDaddyMeet.com reviews: My experience online
There's no doubt this is an active site. Within 72 hours of having my account approved, I received messages from three different users, over a dozen profile views, and a handful of photo requests. From what I could tell, all of the accounts seemed to be run by legitimate people who were looking to meet up. I didn't get any suspicious or spam messages, and even though I had no photos uploaded, the people who did contact me made it obvious they had read my entire profile (which was surprising as this is not what dating sites are known for!).
The way SugarDaddyMeet.com organizes its user profiles is helpful in terms of getting an idea of what each member is looking for, but that said, I do wish there was a better way to organize the homepage. When someone updates multiple parts of their profile, each update is added to the feed, essentially spamming users with the same profile over and over again.
Considering the amount you can do for free, I can see why people flock to it. However, if you're used to making the first move or just don't have the patience to wait for people to message you, you'll definitely need to upgrade your account to a Premium membership.
MORE BAZAAR DEALS:
The Daily Dot may receive a payment in connection with purchases of products or services featured in this article. Click here to learn more.