Domino's has dropped its promotion for giving "nice Karens" a free pizza after the company was flamed online for insensitivity.
On Monday, Domino's New Zealand and Australia began offering free pizzas to people named Karen. In the last couple of months, social media users have used the name "Karen" to call out white women who act privileged, racist, rude, or refuse to wear a face mask. The promotion provoked strong reactions from people calling for the company to donate the pizzas to a better cause and from people, you guessed it, named Karen.
"Karen the nurse, Karen the teacher, Karen the mum, Karen the neighbour, Karen the mask wearer—We're all in this together, but a vocal minority who believe rules and laws don't apply to them have given the name 'Karen' a bad rap this year," the free pizza application page reads. "At Domino's, we know there's plenty of Australians named Karen that aren't, well, 'Karens.'"
The company then asked people to fill out a form explaining what makes them a "nice" Karen.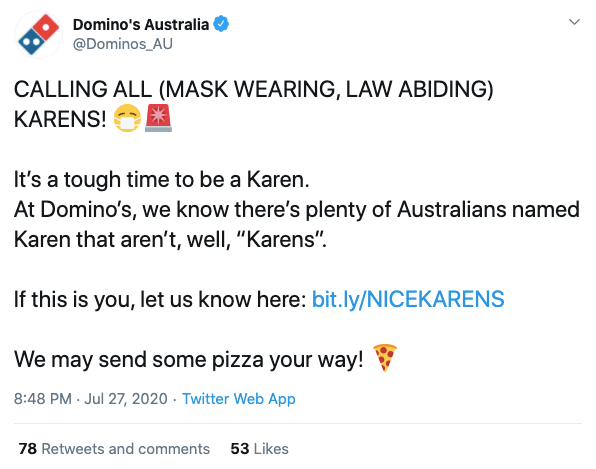 Then, Domino's posted the promotion on Twitter, where people very quickly flamed the pizza company. Some social media users said that the donated pizzas should instead go to people in need.
"There are so many GENUINELY marginalised [sic] people doing it tough right now/always, & you wanna give free pizza to… Karen? This misses the mark completely," Twitter user @AlanahParkin wrote. "Give pizza to people in poverty, people who can't get a wage subsidy… people who are ACTUALLY struggling."
Another Twitter user mentioned that the promotion was rewarding "more privilege to the most privileged in our society."
Others thought that Domino's offer was tone-deaf because of the heap of "Karen" videos that show white women acting racist toward people of color. Among other things, the videos show "Karens" making a fake 911 call on a Black woman for sitting in her apartment complex, hitting a Black teen in the middle of the street, and demanding to see immigration documents from a landscaper.
Most infamously, there is Amy Cooper, the woman who called the police on a Black birdwatcher in Central Park after he asked her to put a leash on her dog.
"The whole idea around 'Karen's' is showing how these entitled privileged white women use their skin and status as power of others less fortunate than them," one Twitter user wrote. "How they know that they can get their way just by being an 'attacked' white woman. They don't deserve free pizza."
After the social media backlash, Domino's New Zealand, which is under the same CEO as Domino's Australia, wrote on Facebook that the company had pulled the promotion.
"We are sorry. Throughout COVID-19 we've tried to bring a smile to customers faces, with our pizza and our social media," Domino's wrote on Facebook. "Our intention was one of inclusivity only. Our pizza brings people together and we only had this at the heart of the giveaway."
In the Facebook comments, some people defended Domino's saying that "not everyone with the name Karen deserves the flack that the stereotype Karen gets."
Many people, who happened to be named Karen, were especially disappointed by the announcement. They said they had already applied to get a free pizza. Domino's commented back to those Karens saying they'd message them privately, meaning maybe some Karens will still be getting a free pizza after all.
The Daily Dot has reached out to Domino's Australia.
---
Must-reads on the Daily Dot