Opinion
It happened again: CD Projekt Red delayed Cyberpunk 2077.
On Tuesday, the official Twitter account for the open-world action role-playing game announced that Cyberpunk's release date would be moved from Nov. 19 to Dec. 10, given challenges with shipping the game simultaneously across current- and next-gen consoles. The delay comes one month after Bloomberg's Jason Schreier reported CD Projekt Red is forcing employees into "mandatory" six-day work weeks in an ongoing overtime period ("crunch") to try to release the game on time.
Schreier, who has extensively reported on crunch, received immense backlash for his reporting. For many gamers, crunch was the price to pay for a great video game, not a deeply exploitative labor practice throughout the games industry. But no matter how much reporting Schreier publishes, gamers seem hellbent on sacrificing developers' health for a $59.99 video game.
"Cyberpunk 2077 getting a three-week delay is unusual but probably won't change much for the developers, many of whom were going to be crunching into December anyway for a post-launch patch," he tweeted. "But I sure do hope reality is becoming clearer to those who tried to deny it."
The gaming world's callousness around Cyberpunk 2077's work conditions reflects another problem that's equally haunted the game: its transphobia. First, publisher CD Projekt's tone-deaf social media presence shook trans gamers' confidence in the company, particularly after the Cyberpunk 2077 Twitter account tweeted a transphobic joke. Then during E3 2019, CD Projekt Red's gameplay preview featured a deeply transphobic advertisement for an in-universe product called "Chromanticore." That ad, which I unpacked for the Daily Dot last year, features a trans feminine person in a bodysuit with a bulging erection. Above, the ad invites the viewer to "Mix It Up," implying that the trans character's genitals and gender are "mixed up."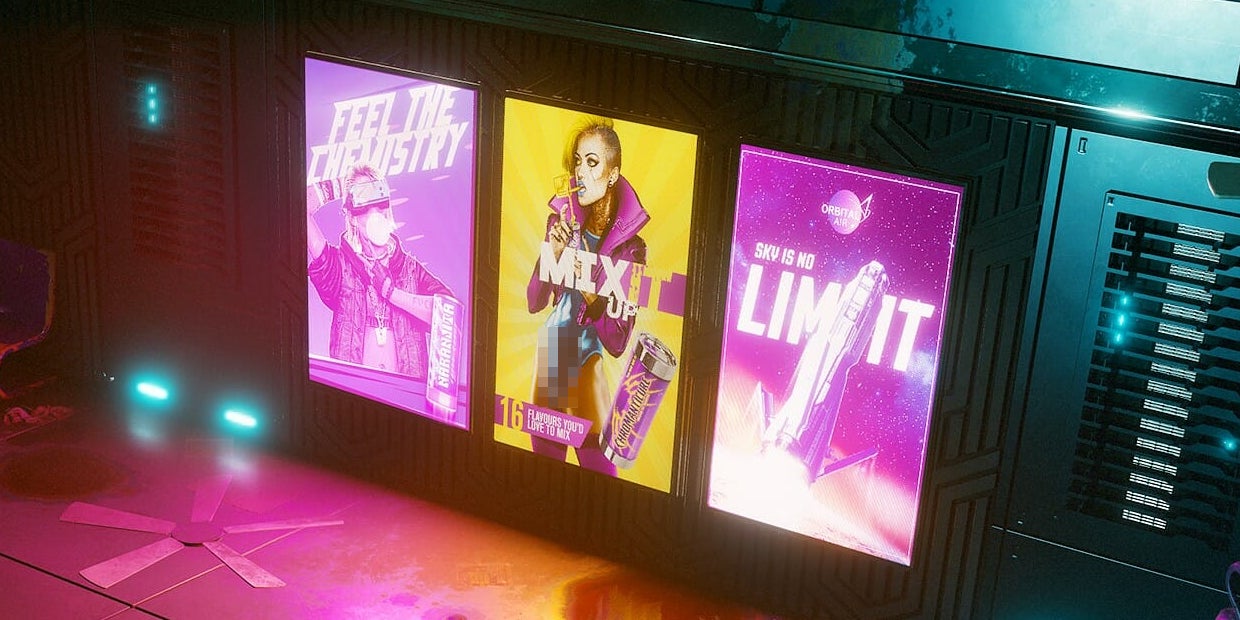 The advertisement caused an uproar. CD Projekt Red's art director Kasia Redesiuk told Polygon that the ad wasn't supposed to be transphobic, but inclusive. "Personally, for me, this person is sexy. I like how this person looks," Redesiuk said in the least objectifying statement possible. "However, this model is used—their beautiful body is used—for corporate reasons. They are displayed there just as a thing, and that's the terrible part of it."
Was the Chromanticore ad shocking because a corporation was exploiting a trans feminine body, or because it cast (a stereotypical image of) trans femininity as a horrific reality in the late capitalist cyberpunk dystopian future? The model's enormous erection, which leaves little to the imagination, comes as a surprise if you aren't expecting it. Another advertisement, this for an in-game show named "Watson Whore," plays a similar gag: this one involves a trans feminine person puking in a toilet, all the while wearing tight black panties that prominently cling onto their testicles between their rear cheeks, according to Reset Era.
Gamers, of course, insist this art isn't actually transphobic, isn't actually reflective of CD Projekt Red's values, or otherwise shouldn't diminish peoples' interest in Cyberpunk 2077. Ironically, this mirrors the same disdain for criticism around the game's labor conditions. For gamers, it doesn't matter how the sausage gets made or who it poisons, just as as long as it's shiny.
"Jesus Christ. Labor issues? Maybe, sure. Transphobia? This is just grasping at straws," one gamer bemoaned. "And yes, I forced myself to read the mental diarrhea post made on resetera. A couple of CMs fucked up? Sure. It was addressed. The rest of the 'issues'? Not really issues. But whatevs."
When we talk about crunch, it's inappropriate to talk about the consumer's point of view. The consumer is not hurt by crunch conditions. Employees, meanwhile, have their lives taken away from them; as one former CD Projekt Red developer told Schreier, Cyberpunk 2077's devs look "physically ill" right now. In the same way, why do we talk about Cyberpunk 2077's trans characters without ever talking to the people harmed the most by their poor implementation: trans people? Our point of views are not just nuanced, they reflect complicated feelings of betrayal, anger, and fear.
Maya, a nonbinary trans woman, was originally excited about Cyberpunk 2077. Then the controversies began. While she still appreciates the game's visibility toward trans people, she's hesitant on purchasing the game: ultimately, she wants to see how CD Projekt Red handles trans issues in the final product.
"Our lives and experiences are constantly objectified and commodified, because to the media, it's an exotic topic that brings controversy and clicks. This means we are generally talked *about* rather than talked *with*, just like many other minorities," Maya told me. "The gaming community at large is mostly cis and will not really even understand or care about our lived experience. They just see our complaints as SJW whining."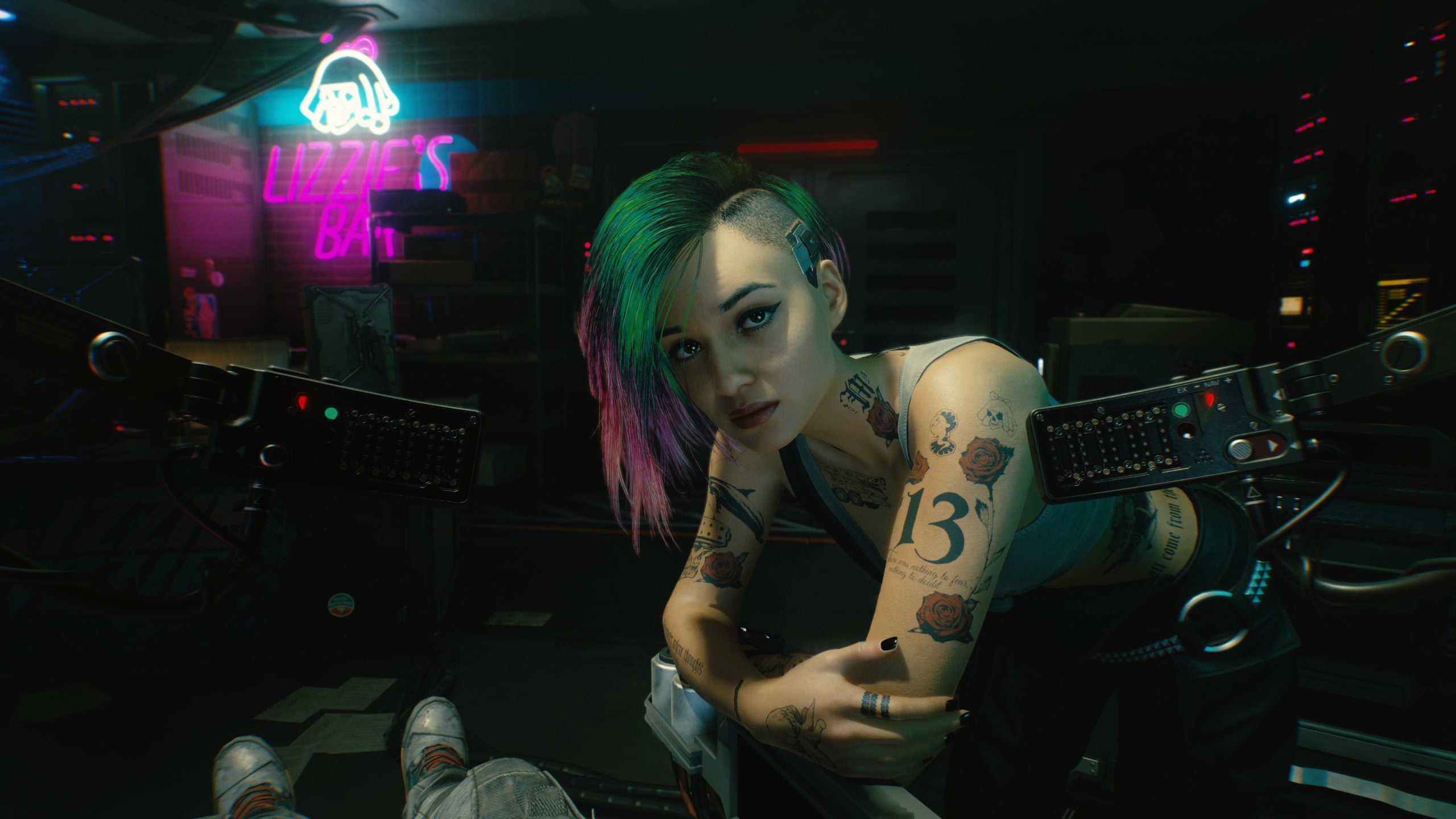 Some trans people can look past Cyberpunk's issues as blunders, missteps, or awkward attempts at good faith inclusion. While they aren't willing to let Cyberpunk 2077's transphobic social media joke slide, trans sex worker Lain Arbor sees "good, novel intention" on CD Projekt Red's part. Case in point, their biggest complaint about the Chromanticore image is that the commentary is "hamfisted," they said.
"I think a lot of people are like 'well I myself am gonna play the game so how is this going to affect me?' when it comes to the trans dynamics that come into play. I also think that a lot of people see this as an absolute win for trans people because literally any representation is better than none, which I can understand to a degree," Arbor told me. "I think allowing players to pick pronouns and your junk is nice, and I think tying your characters pronouns to their voice is less nice. It's a mixed bag for sure, but it is, in my opinion, a very wobbly step in the right direction."
But not everyone agrees Cyberpunk 2077 is a step in the right direction. Trans game developer Olivia Hill told me she was initially excited for the game after enjoying The Witcher 3, and that her career as a game designer was influenced by the original tabletop RPG Cyberpunk 2020. But it became impossible for her to simply forgive each controversy as a mistake or misstep. Certainly, a cyberpunk video game can discuss bigotry. But, as Hill told me, bigotry must be "viewed from the lens of its injustice, not just uncritically embraced" by creators with casual bigotries themselves.
"And as the hits kept coming, every time I told myself it was an isolated mistake, that it was one member of a large team. Over time, that became less and less my perception," Hill told me. "I realized these people, this game absolutely does not have my interests at heart, and socially speaking it doesn't speak to any realistic perception of a future; instead capitalizing on the exact same bigotry we face today without any meaningful effort to interrogate that bigotry."
There are other issues with Cyberpunk 2077's world that further reinforce bigotry. During previews, players of color pointed out the game's widespread racist stereotypes, particularly its racist gangs. There's literally a group called the "Animals" that mostly features Black characters, according to a 2019 preview for VG247. Little has changed in that regard, Fanbyte's Kenneth Shepard wrote in September. For trans players of color, these cyberpunk fans sit at an intersection where both their skin color and their trans bodies are made to feel lesser by Cyberpunk 2077. Luna, a biracial trans woman, stressed that the gaming community continues to fail "trans voices and especially trans voices of color."
"When you have a gang called ANIMALS full of people of color, the [Latinx stereotype] Valentino's and probably worst [Haitian stereotype] Voodoo Boys. Like… Wow.. I haven't heard any outlets even question those naming choices," she told me. "I'm still curious to see what the game has to offer, but at this point, I won't be buying it and it's a shame because it had potential, but it hurts all the more knowing the devs at CDPR have been under intense grueling crunch and most of these design decisions are likely out of dev's hands."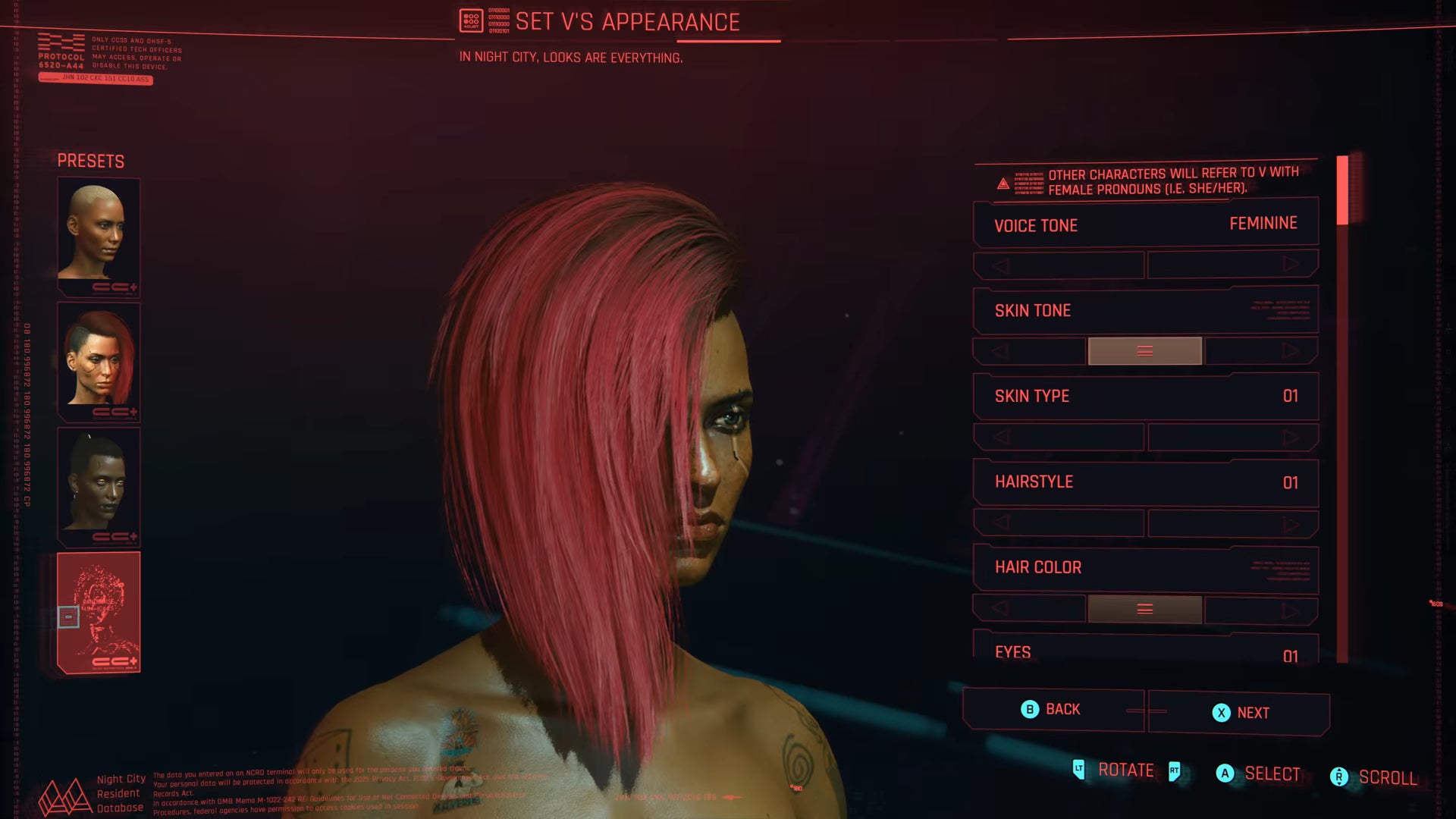 Sure, CD Projekt Red could turn things around. But does the studio even have the range? While the developers added a far more inclusive character creation process that lets users pick their genitals without defining their gender, they still let cissexist assumptions lead the creation process. An Oct. 15 preview video on Cyberpunk 2077's official YouTube account shows the main character, V, has their gender defined based on "voice tone," implying that one's gender can always be perceived based on whether their voice sounds deep- or high-pitched. Why link gender to voice tone in the game? What message does that send to trans people? That their gender is only as real as others perceive it to be real?
These flaws go back to the same core problem. The conversation online is never about how trans players feel. It's never about the game's messages to players of color. It's always about whether trans players have the right to feel upset. It's always about whether a racist stereotype is actually racist. These conversations are not about the marginalized, but the privileged. They are bad now, and they will surely get worse as Cyberpunk 2077 launches in December, bringing to the forefront all of its troubled messages about gender, race, and oppressed bodies to the table. And that's a problem that won't be fixed by hiring a few sensitivity consultants and hoping for the best.
"I am not an advocate for inoffensive art. I believe art should push boundaries and test limits. But what art shouldn't do is parrot the same tired, lazy bigotry. That's boring. That's culturally worthless," Hill said. "I SHOULD be able to care about Cyberpunk 2077. But the absolute best case scenario is they water it down and homogenize it to the point where I give less than zero shit about it. That's the best I can hope for—an offensive, lazy mess being turned into something as artistically valuable as a McDouble."
---
Today's top stories