It's almost time to get schwifty! This Sunday, season three of the beloved animated adult cartoon Rick and Morty FINALLY premieres. So what better way to celebrate than by pre-ordering a life-size portal gun?
That's right! The completely interactive Funko toy is now available for pre-order through Amazon. The Funko is a life-size, working replica of the one Rick uses throughout the show. Unfortunately, the Funko doesn't open a portal to another dimension. But it does emit a variety of lights and noises, just like Rick's. Pull the trigger and watch the portal gun animate itself.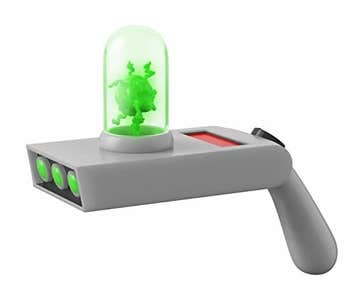 And since the collectible portal gun is life-size it makes the perfect accessory for your cosplay. Or, really, just everyday use. Seriously, don't be hesitant to use it offensively or defensively to avoid your enemies.
A collectible this awesome probably costs an arm and a leg, right? Wrong! The portal gun funko is just $14.99 through Amazon. Surely, that's a steal. Just ask Rick. Errrr, maybe don't ask Rick. He'd be devastated to find out his portal gun has been replicated.
Pre-order it here
MORE BAZAAR DEALS:
The Daily Dot may receive a payment in connection with purchases of products or services featured in this article. Click here to learn more.