Peach & Lily is my favorite Korean skincare line. Yes, I said it. Despite spending the last six years testing everything from Missha to Sulwhasoo, I never found a line where I liked everything before now. Like most fans of K-beauty, I tend to mix and match my products, carefully using the ones from each line I liked the most.
Today, my routine is 90% Peach & Lily. That's partially due to the extraordinary balance of highly effective yet gentle ingredients. It's also because the line continues to expand its reach, addressing ongoing issues most skincare fans can relate to: redness, acne, eczema and more. And while all those issues have improved as I've used this line, I'm beyond hyped to say this new vitamin C treatment is perhaps the most impressive of all.
What is Peach & Lily's new vitamin C treatment?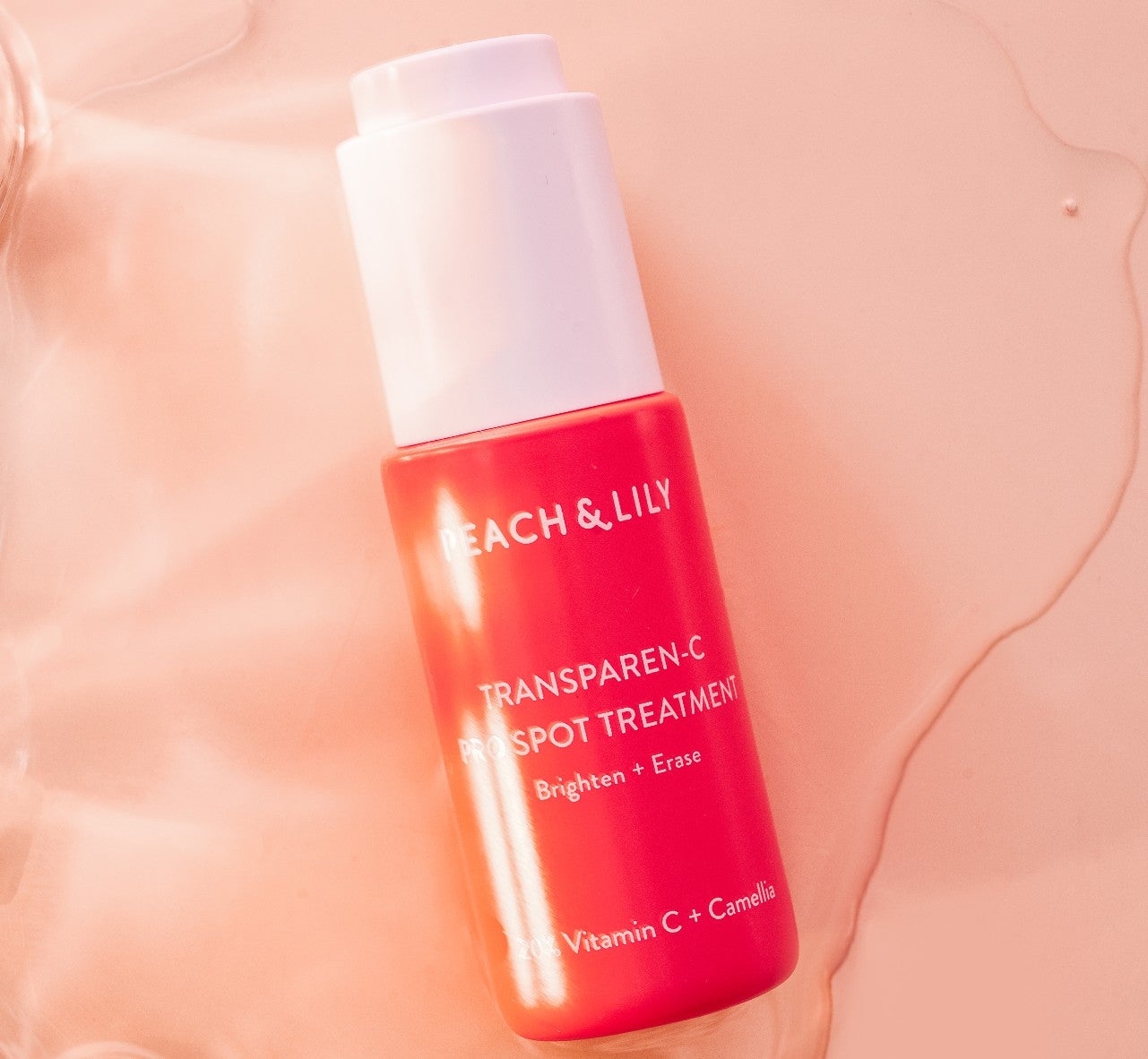 I've written a treatise on the magnificence of vitamin C. Scores of studies also explain why it's so powerful. But it's also a difficult product to keep shelf stable and often has to be stored in the fridge. This is officially a pain in the ass unless you have a beauty fridge in your bathroom (and yes, I know they exist).
Peach & Lily's founder, Alicia Yoon, didn't want her customers to have to deal with that problem. That's why she worked closely with chemists for several years to develop a vitamin C treatment that's shelf-stable. It also contains a high concentration (20%!), which means fast results. But I asked: could that high of a concentration be hard on my skin?
"It's gentle enough for every skin type, and it's not water-based so there are no issues with oxidation," Yoon told me in a video call. "It's good for 12 months after you open it." So in other words, it's not only a power player in my skincare cabinet, but there's no fridge needed. Yay!
How does vitamin C treatment work to fade hyperpigmentation?
Vitamin C is a powerful ally for your skin because it has multiple benefits (and each would be impressive on its own, much less in one ingredient!). But how does it actually work?
"Hyperpigmentation results when melanocytes overproduce melanin in certain areas of the skin, creating areas or spots that are darker or discolored," Yoon said. "Vitamin C is known to inhibit an enzyme called tyrosinase which inhibits the overproduction of melanin, thereby helping hyperpigmentation visibly improve."
It also helps that vitamin C is packed with antioxidants. Our bodies are remarkably efficient multitaskers, but there are ways to help them do their job, and antioxidants are one of them. They rush in to help the body combat inflammation. Since inflammation impedes the skin's natural healing process, antioxidants give it a much-needed boost.
Vitamin C also boosts your collagen production. Our bodies start to slow on this process at age 25. As this happens we may develop wrinkles, notice we are becoming less flexible, and experience joint pain since loss of collagen wears down cartilage. The best ways to supplement this loss are maintaining a healthy diet and using vitamin C in your skincare routine!
How long does it take to work?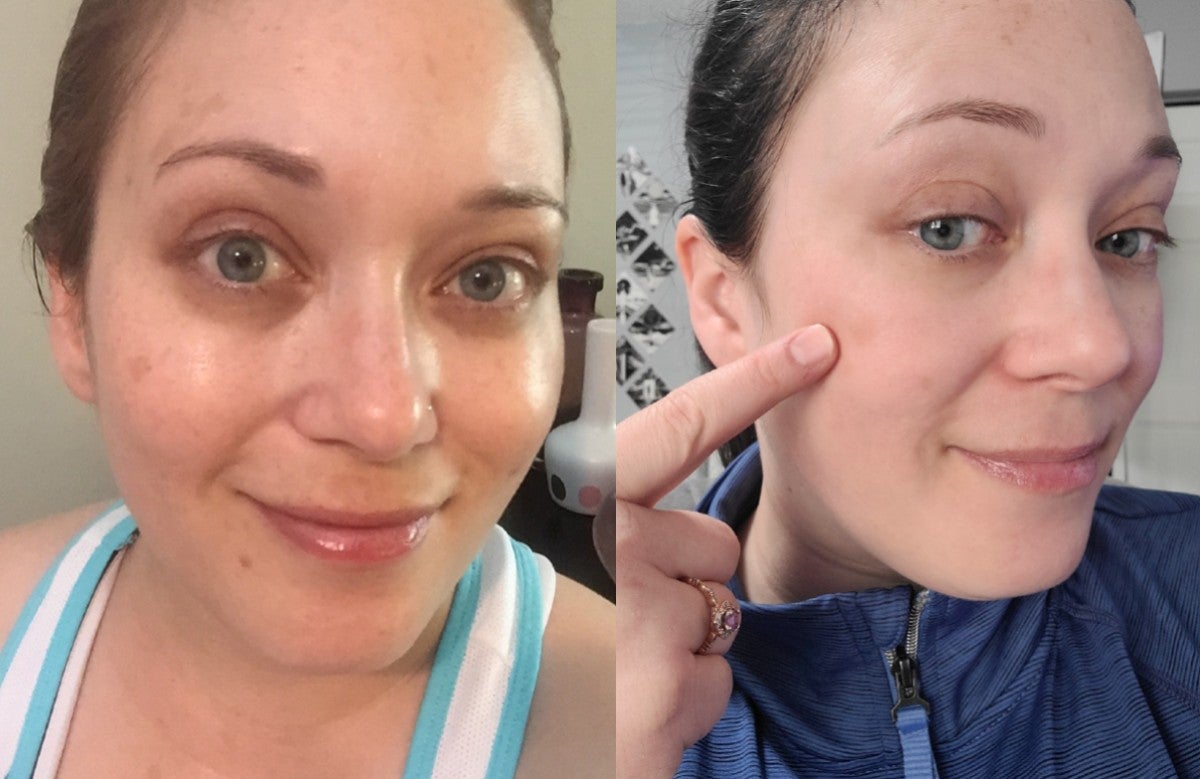 When Yoon told me about Transparen-C Pro Spot Treatment, I literally squeaked with delight. I've been in need of this very product for quite some time. Thanks to skipping sunscreen in my foolish younger days, I have a patch of sun damage on my left cheek. Luckily it's benign, but ever since it appeared it serves as a scarlet letter on my face, reminding me: Hey, you could have gotten skin cancer! Suffice to say I've worn my sunscreen religiously every day since.
I took the photo on the left a few months ago. You'll notice I also have some sun damage over my eyebrow on the same side. I've maintained a consistent skincare routine since that time in hopes of fading both these marks. While they seemed to be fading a little, the progress was painfully slow. But I've found the key to skincare results is consistence and patience, so I expected to be in for the long haul–until now.
When I started using Transparen-C in my morning and evening skincare routine, I noticed a change in about a week. I took the right photo this morning. The product promises results in two weeks, so I can't say everyone's skin will respond as quickly. But one thing is for sure: Transparen-C produces results.
A vitamin C treatment that truly works
My experience with Transparen-C was obviously a positive one. But I got more out of it than just fading my much-hated sun damage. Prior to using it, I believed erasing hyperpigmentation would take years if I didn't want to go the laser treatment route. Since I prefer not to have treatments that are hard on skin, I figured the only solution was to keep at it over time. Now I know I don't have to do that. And best of all, I can do so without hurting my skin in the process.
The Daily Dot may receive a payment in connection with purchases of products or services featured in this article. Read our Ethics Policy to learn more.