Since uploading its first YouTube videos in 2009, conservative channel Prager University (also called PragerU) has become one of the leading forces in introducing right-wing political ideas and history to younger audiences through short videos full of colorful animation and interviews.
Radio host Dennis Prager co-founded Prager University to fight supposed leftist and secular indoctrination on college campuses, which he believes instill un-American values in students.
"You have to explain to your children—repeatedly—what America you stand for," Prager wrote in a 2013 column on his website. "That, if I may note […], is why I started PragerUnversity.com." While fighting leftist indoctrination might be why he started it, Prager has continued to operate Prager University because it's been extremely lucrative. But it's also generated controversy and even led to lawsuits.
What is Prager University?
According to its YouTube channel, Prager University is an online resource dedicated to "promoting knowledge and clarity on life's biggest and most interesting topics." The vast majority of the channel's videos run less than five minutes and promote conservative social and political causes, encompassing politics, religion, science, history, and campus life.
https://twitter.com/prageru/status/1100486572376387584
Prager University releases one five-minute animated video every week on major topics that dovetail with Prager's radio show, including "What Made George Washington Great," "Why Trump Won," and "What Does Diversity Have to Do With Science?" It also puts out 2-3 "man on the street"-style interview videos every week, usually asking college students questions that they think should be easy to answer. Prager also does a longer "fireside chat" video every week.
The content is less inflammatory than far-right sites like Breitbart, and less reliant on conspiracy theories and outrage. But Prager University unabashedly reflects modern conservatism in the Trump era: divisive to the extreme, anti-abortion, anti-immigration, unbelieving in human-caused climate change, anti-same-sex marriage, pro-traditional family, and vocally pro-Trump.
PragerU will tell viewers that the minimum wage shouldn't be increased, racism isn't a problem in America, multiculturalism is destroying Europe, today's Democratic Party is directly linked to the KKK, and men are being oppressed.
All of these are, presumably, things Dennis Prager wants college students to know.
Who is Dennis Prager?
Prager is an Orthodox Jewish radio host, writer, speaker, and zealot for traditional Republican values. Early in his career, he was called the "Jewish Billy Graham" and turned a weekly Los Angeles TV show on religion into a hyper-focused media empire devoted to traditional values, hyperbolic patriotism, and support for limited government.
Prager gets about 2 million daily radio listeners (far fewer than Rush Limbaugh's 14 million) and is known for his vast licensing empire. This includes Prager merchandise, a variety of books, subscription services for his website, expensive trips to Israel alongside Prager, and of course, Prager University.
Politically, Prager leaned more Democratic early in his career, and in 2011 said that Trump's swearing "render[ed] him unfit to be a presidential candidate, let alone president." But like many previously anti-Trump conservatives, Prager now wholeheartedly supports the president, struggling to find even one negative thing to say about Trump, both personally and politically.
READ MORE:
Is Prager University an actual university?
Prager University is a non-profit, but not an actual accredited college in any way, though Prager does refer to some of the conservative pundits who have made videos for him as "faculty." These include both mainstream conservative intellectuals (Charles Krauthammer, Dinesh D'Souza) and younger, more influential fire-breathers like Ben Shapiro and Charlie Kirk.
As an article on weather.com puts it, written about PragerU's penchant for using climate change deniers as "faculty" and donors: "Prager University is not a university. And the facts it preaches aren't necessarily facts. It is named after someone named Prager, though."
Just as real universities have donors, so too does Prager University. In this case, much of the funding for the first PragerU videos came from Dan and Farris Wilks, two billionaire brothers from Texas who made a fortune in the fracking industry and believe in "bringing the Bible back into school" rather than teaching "the gay agenda." Beyond their oil wealth, the Wilks brothers are involved in the Assemblies of Yahweh church, which preaches inflexible belief in every aspect of the Old and New Testaments, and provided seed money for Ben Shapiro's conservative news site Daily Wire. They also still extensively fund PragerU, though the channel's website makes no mention of them.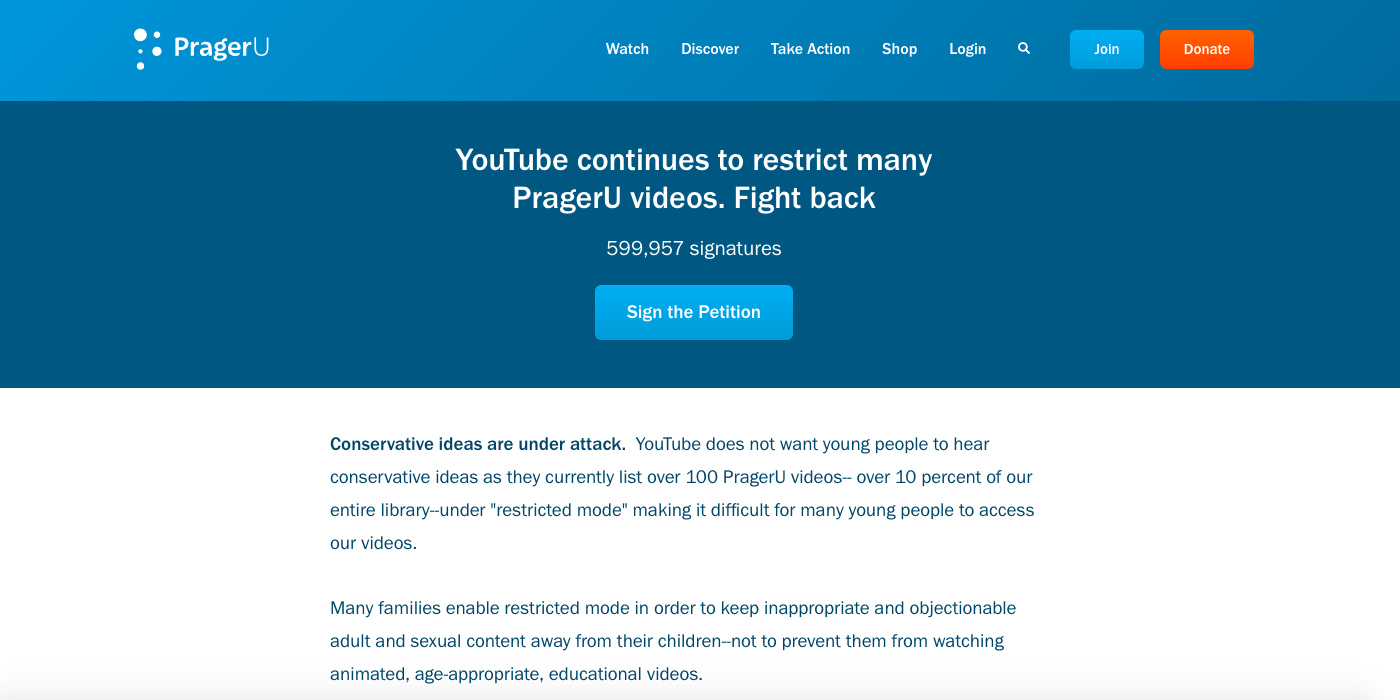 Has Prager University caused controversy?
Its denial of widely accepted climate science aside, PragerU tends to find itself on both ends of a great deal of controversy. Prager sued Google in 2017 for blocking some of its videos on YouTube, which was dismissed a year later.
In 2013, an Irish photographer sued Prager University for using his material without permission, which caused the site to drop all photos from its videos and use animation only—pulling 80 videos from the site as a result.
Race and ethnicity have defined every nation on earth.

Except one: the USA.

It is defined by values.

To understand America, you must understand her values:

1. E Pluribus Unum
2. Liberty
3. In God We Trust@DennisPrager calls this the American trinity. https://t.co/dEO1UzPll1

— PragerU (@prageru) February 25, 2019
Generally, PragerU's videos are factually accurate, though often presented without greater context or opposing viewpoints, and with a great deal of right-wing bias.
The main animated videos tend to be about broad questions, giving right-wing basics on topics ranging from Karl Marx to Hezbollah to feminism to stock buybacks. The site presents other videos in an "everything you know is wrong" style designed to shock, such as "Why the 3/5ths Compromise was Anti-Slavery" and "As the Rich Get Richer, the Poor Get Richer." All are patriotic to the extreme, obsessed with political correctness, and almost entirely devoted to proving liberals wrong.
Critics of Prager University call its videos biased, dangerous, fake news, propaganda, and "proselytizing ignorance."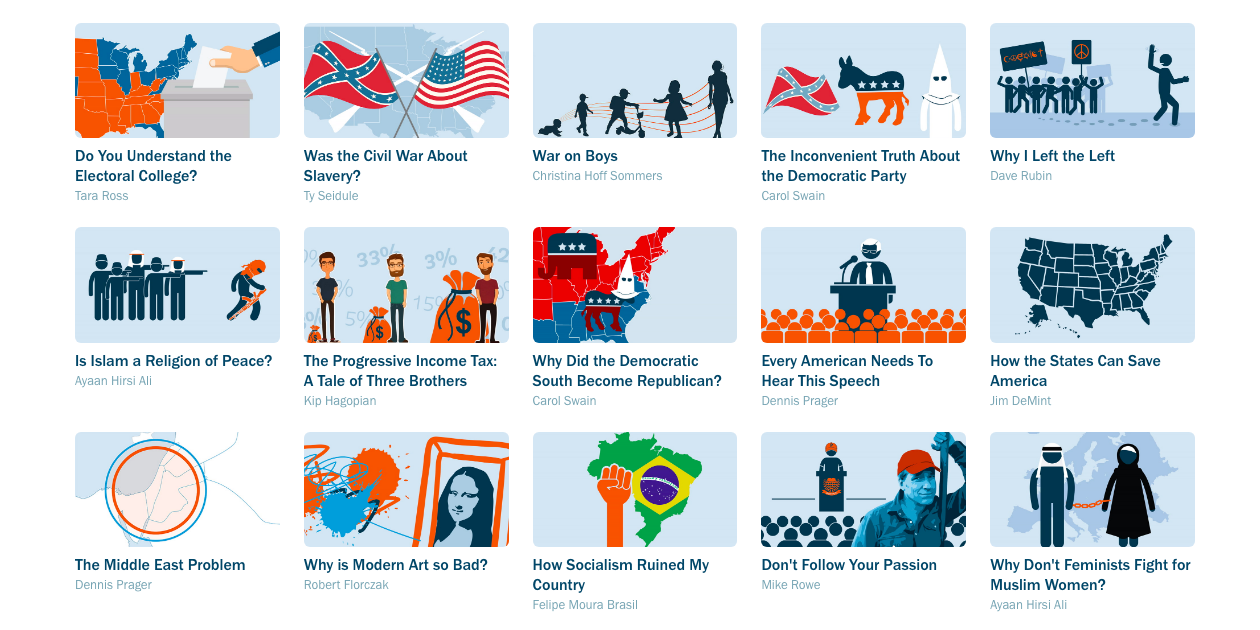 READ MORE:
How much traffic does Prager University get?
Overall, Prager University claims to have received 625 million views in 2017, and over a billion in 2018. PragerU has 3.2 million Facebook followers and 2 million YouTube subscribers, though some of these might overlap. Its videos routinely get millions of views; its most popular YouTube video, an animated project called "Make Men Masculine Again," currently has over 8.5 million.
Prager University has a comparatively small footprint on Twitter, with just over 200,000 followers—but it does have a parody account called No Context Prager U that tweets screenshots from videos without captions.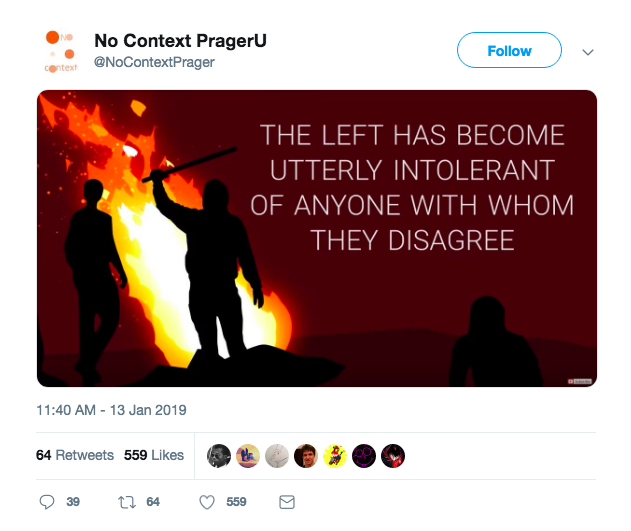 Do Prager University videos work?
It's hard to say what effect Prager University videos have on college students. The site clearly gets a great deal of traffic, and boasts that "70% of viewers have changed their mind on an important issue after watching one of our videos." Its viewership far outstrips even the most popular far-left video channels, along with popular conspiracy theory and far-right outlets.
But is Prager University winning hearts and minds on college campuses? One person certainly thinks so: Dennis Prager, who told Buzzfeed News that he sees it as direct competition to the modern liberal arts college.
"Unless one needs to study any of the natural sciences, or math, or a foreign language," Prager said, "one would learn more about life and gain far more wisdom attending PragerU than attending almost any Western university."