After far-right and conspiracy theory figures were banned in large numbers from Facebook, there was a surge of interest in finding another platform that would let them spew their content unhindered by pesky concepts like moderation and decency.
But since many are also banned from other major platforms like YouTube, Twitter, and Instagram, there weren't a lot of options available.
Right away, secure messaging app Telegram emerged as a potential new home for the likes of Alex Jones and Laura Loomer.
But while the app claims to have over 300 million users, it quickly proved to be a bad fit for two-way social media communication. It's not inherently designed as a microblogging platform, as users had to download and sign up for the app, and couldn't share posts with their own followings—the key to virality.
As a result, most major right-wing media figures found themselves with small followings and little interest in their posts, and the site's usage quickly devolved into a mix of racist ranting and internecine feuding between media personalities.
Telegram is just Gab now, a safe space for extremists to complain and do racism when they get banned from Twitter pic.twitter.com/S487ssJihA

— Andy Campbell (@AndyBCampbell) May 29, 2019
As Telegram was having its meteoric rise and just-as-swift fall, another name emerged as a potential outlet for right-wing "thought leaders" to lead the thoughts of fellow right-wingers: the new social media app Parler.
What is Parler?
The site was launched in 2018 by libertarian business owner John Matze as a so-called "free speech" alternative to Twitter, one that would allow smaller websites to capture and grow their own engagement without having to work within Twitter's rules and revenue structures.  
In terms of function and usage, Parler (which is meant to be pronounced "par-lay" as in the French word for "speak," but was abandoned in favor of the English pronunciation) is much closer to Twitter than a secure messenger like Telegram was designed to be. It allows users to easily search for posts, hashtags, and users and to readily share and like posts. It also offers 1,000 characters for posts, rather than Twitter's 280.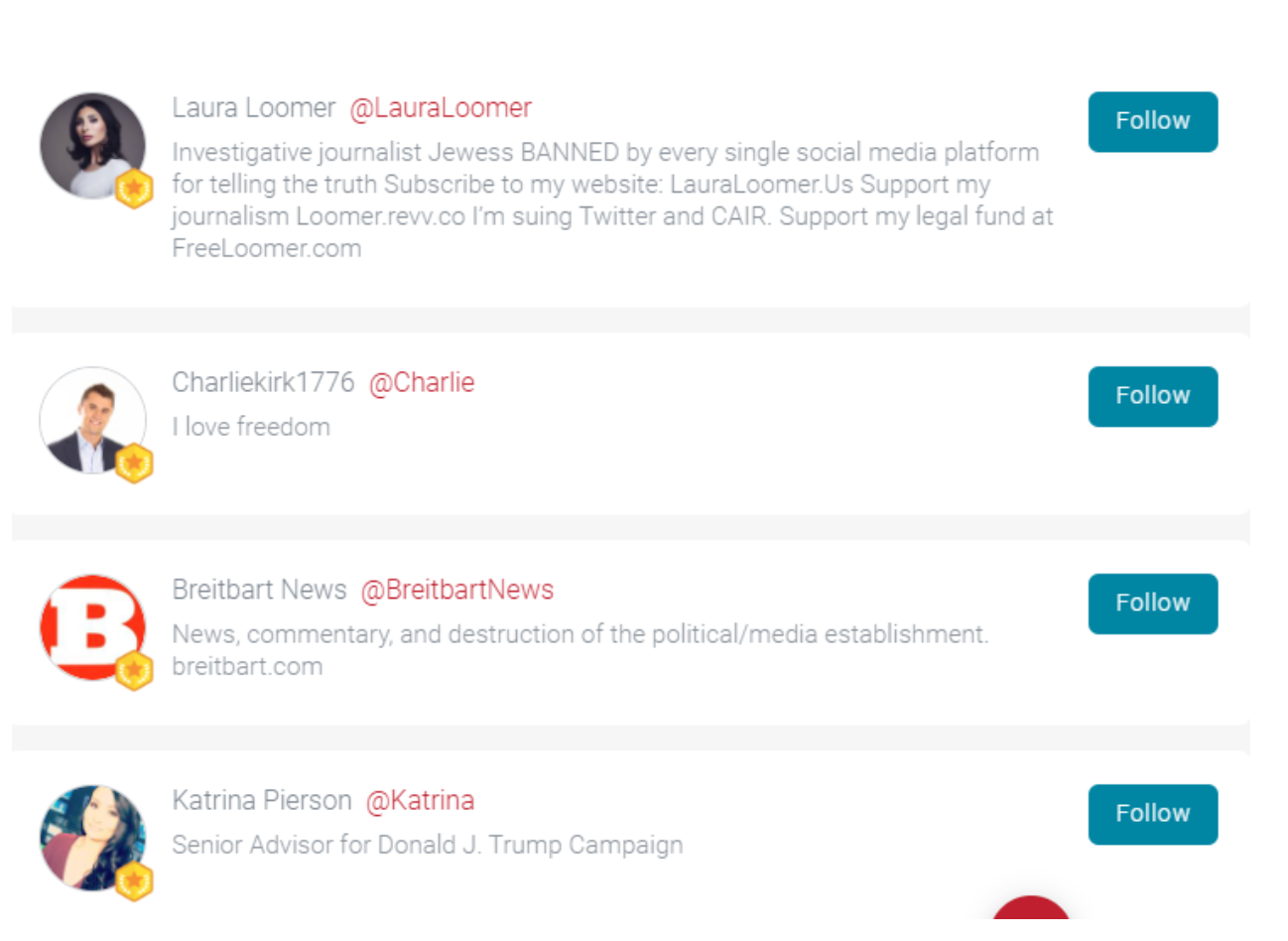 Matze launched Parler in August, and the site was almost totally under the radar until December, when it had a sudden influx of leading conservative media figures, starting with Candace Owens declaring herself to be "the first conservative" to join "the new Twitter."
InfoWars figure Paul Joseph Watson, Twitter-door-chainer Laura Loomer, Trump media mouthpiece Katrina Pierson, and Trump 2020 campaign manager Brad Parscale also all publicly joined Parler within a few days—often announcing their move on their Twitter accounts.
Late May brought another wave of mainstream attention, with Matze appearing on Laura Ingraham's Fox News show to pitch Parler as a conservative alternative to Twitter that eschews heavy moderation while not immediately becoming another wannabe Nazi fever swamp.
I am a lost soul wondering around Parler. It feels like foreign territory. I can't get anything to pull up. I can post a tweet but I don't see where the heck it goes. My page doesn't pull up 75% of the time. https://t.co/iciwoyhhnq

— Code of Vets ™ (@codeofvets) June 1, 2019
The people who have made the switch to Parler were brought to the site by loose community guidelines that claim to allow "offensive speech," "hate speech (As long as it not [sic] considered obscene by the FCC)," and "fake news (Even if it is misleading,)" while banning spam, threats, and "fighting words."
Parler's servers were overwhelmed by the surge of interest in December, and Matze admitted in posts on the site that it had no system for verifying user accounts, along with a layout that "needed a facelift." Even six months later, Parler remains buggy and prone to freezes.
What Parler is trying to do (the site didn't respond to a request for comment) by creating a moderation-light "anything goes" environment, where conservatives can speak freely, might sound familiar to users of another right-wing focused Twitter knockoff, the controversial and troubled app Gab. But while Parler is still something of a blank slate, Gab already pulls a train of baggage behind it, due to its embrace by the alt-right and anti-Semites. Launched in 2016, Gab was quickly embraced by controversial right-wing figures banned from more mainstream sites.
That initial surge petered out when Gab was overwhelmed by bans from payment sites, deplatforming by servers, and financial problems. It also took a massive hit when it was revealed as the platform of choice by Pittsburgh synagogue shooter Robert Bowers, who announced on Gab that he was "going in" to the Tree of Life to commit mass murder.
Parler has had no such incidents holding it back in the marketplace of ideas, and has so far managed to keep a lid on outright racism and anti-Semitism. For that reason, Gab has gone on the offensive against the site (on Twitter, naturally), by mocking it for not being able to handle its usage surge.
In early June, Gab founder Andrew Torba told the Daily Beast that Parler was merely "a social network for Z-list MAGA celebrities" that "nobody uses." Both appear to be competing for attention from Trump's orbit, hoping that the president himself will migrate over to one platform or the other.
Ultimately, Parler and Gab appear to be fighting for the same niche audience of social media users, and despite that audience complaining endlessly about Twitter, they don't seem particularly inclined to actually leave Twitter.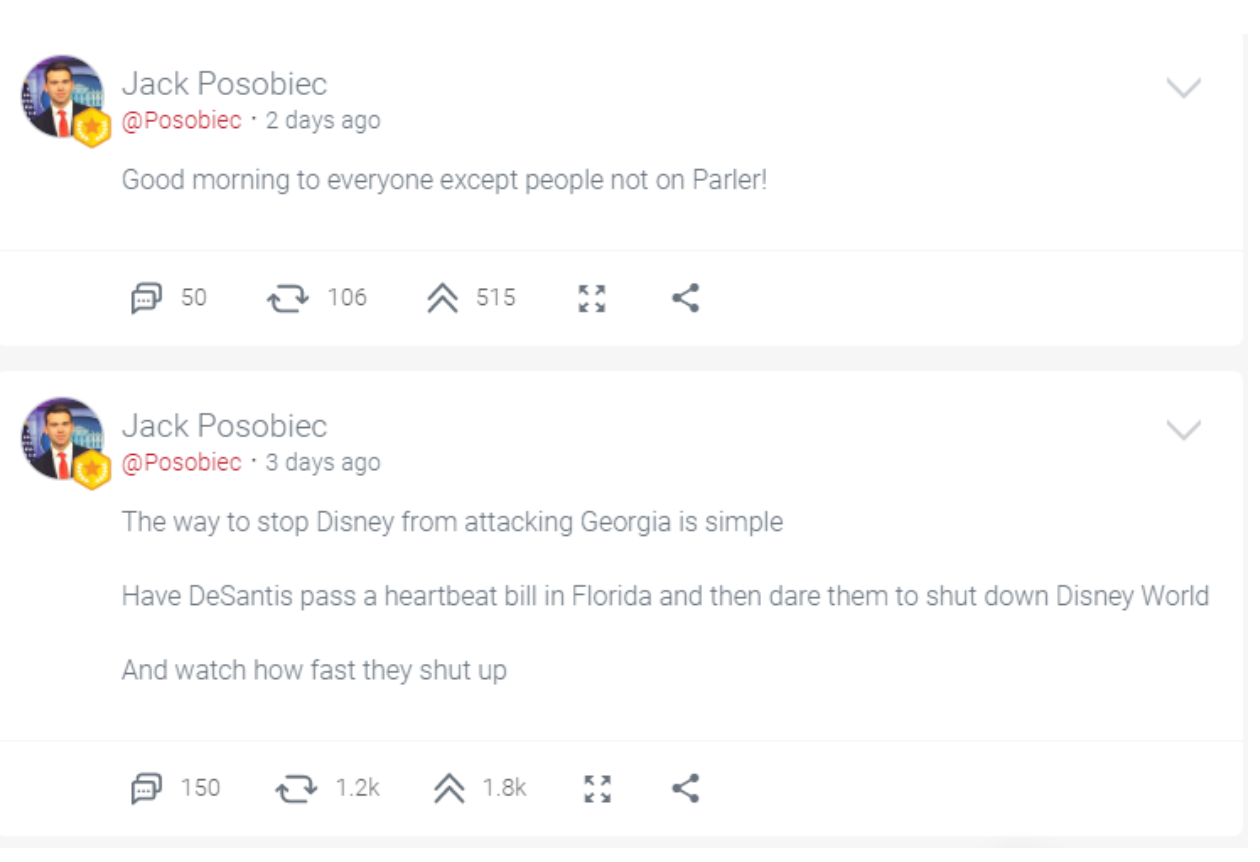 And given Trump's engagement on Twitter, and the low usage numbers both sites have, the idea of his operation moving over to one site or the other appears to be a pipe dream.
Hard numbers of subscribers are difficult to pin down, but a recent FEC filing pinned Gab's user base at around 635,000; with Matze claiming Parler had about 100,000 users in May. And despite the constant griping by conservative media figures about the odious censorship and banning by mainstream social media, neither site is exactly thriving. Gab's usage by the mainstream far-right has gone fairly stagnant, and while a lot of far-right figures publicly praised Parler, that hasn't translated to usage yet.
Even Candace Owens, the conservative pundit who put Parler on the map in December, appears to have just as quickly tired of it.
She has just 13 posts and hasn't used Parler since January.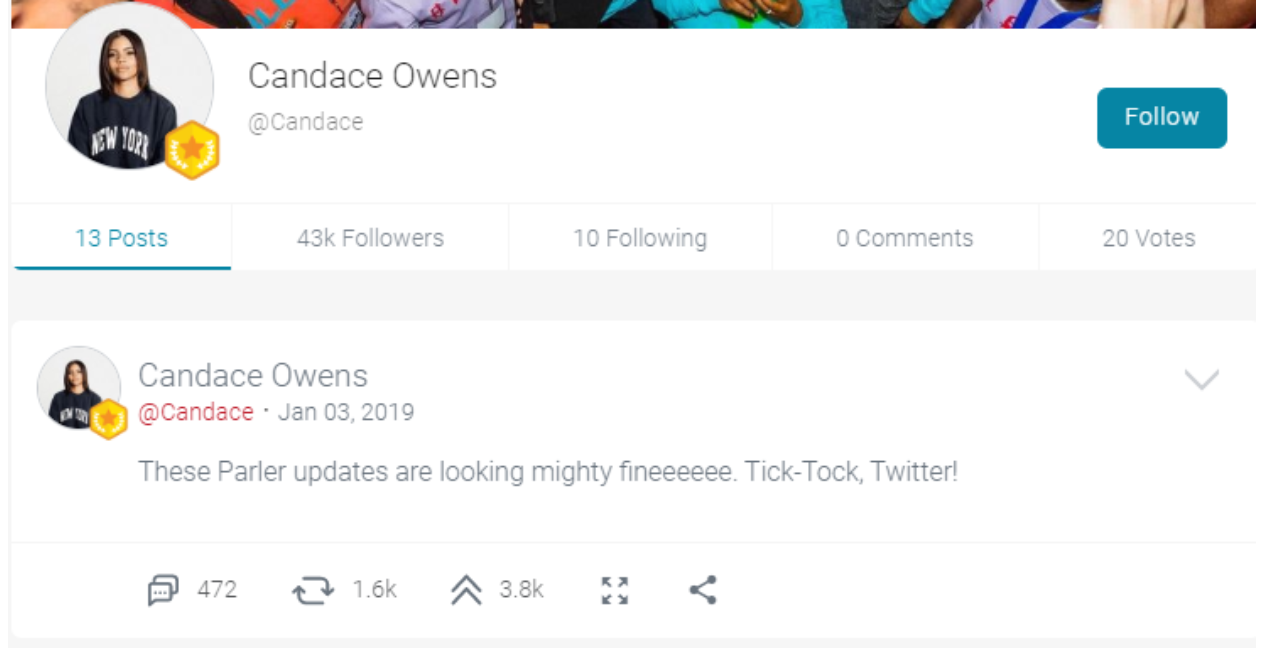 READ MORE: