If you follow Ukrainian President Volodymyr Zelensky on Facebook, you might have noticed an odd video pop up on his page Tuesday, urging you to watch a 15-year-old documentary narrated by Joaquin Phoenix.
The story behind that now-deleted post is probably stranger than whatever you might be thinking.
On Tuesday, an armed man boarded a bus in the Ukrainian city of Lutsk, taking the 13 passengers on board hostage. According to the Associated Press (AP), the man personally called the police to alert them of the situation and tried to get journalists to cover it. BuzzFeed News reporter Christopher Miller tweeted that the man continued to post on social media while on the bus.
"The alleged bus hijacker also appears to be using at least two social media accounts in real-time. There are posts from just minutes ago and one account just showed him as active," Miller wrote during the standoff, adding that the hijacker promoted a self-published book and demanded that "Ukrainian government officials admit to being 'terrorists.'" Miller later reported that Twitter had suspended that account.

The man threatened to detonate multiple explosives, at one point throwing what appeared to be a grenade out of the bus window. He also shot at a police drone and, at one point during negotiations, narrowly missed the first deputy chief of national police, Yevhen Koval.
After some early conversations, Koval was able to free three of the passengers on board and bring others water. But, according to Miller, it was President Zelensky's attention the man was clearly courting, having posted online and demanded on phone calls that the leader watch Earthlings.
For those unfamiliar with the 2005 film, it's a documentary narrated by Joaquin Phoenix and looks at how "humanity uses animals for economic purposes," according to its Facebook page.
While there's no confirmation whether the Ukrainian president has seen the movie, the AP says he did speak with the bus hijacker on the phone, afterward posting the short video endorsement of the film on his Facebook page. BBC Ukraine correspondent Jonah Fisher reposted the video on Twitter, translating it for English-speaking viewers.
"A 2005 film, Earthlings, everybody should watch it," Fisher tweeted.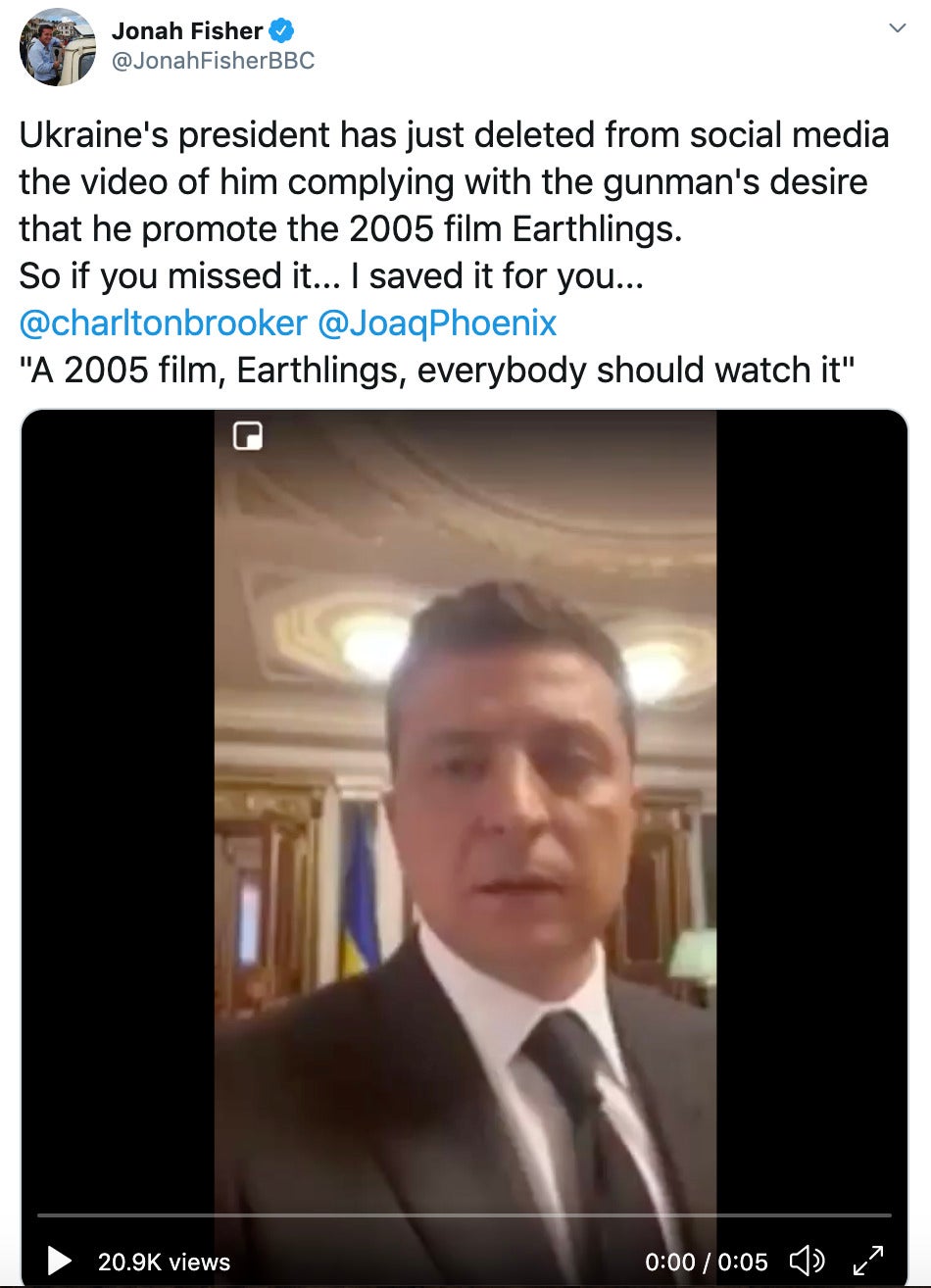 Soon after the video was posted on Facebook, the hijacker stepped off the bus, ending the standoff after 12 hours with no one injuries. Soon after, the president's video disappeared off his page, replaced by a post thanking police for their response to the situation.
"Human life is the most important value," Zelensky wrote on Facebook. "Now families can finally hug their relatives who spent the entire day on the bus in anguish."
Per the AP, Ukraine's Interior Minister Arsen Avakov told reporters the hijacker was an "unstable man who painted his vision of the world and invented a revenge for it."
But it was another statement from Avakov, which Miller shared, that seemed to really resonate with Twitter.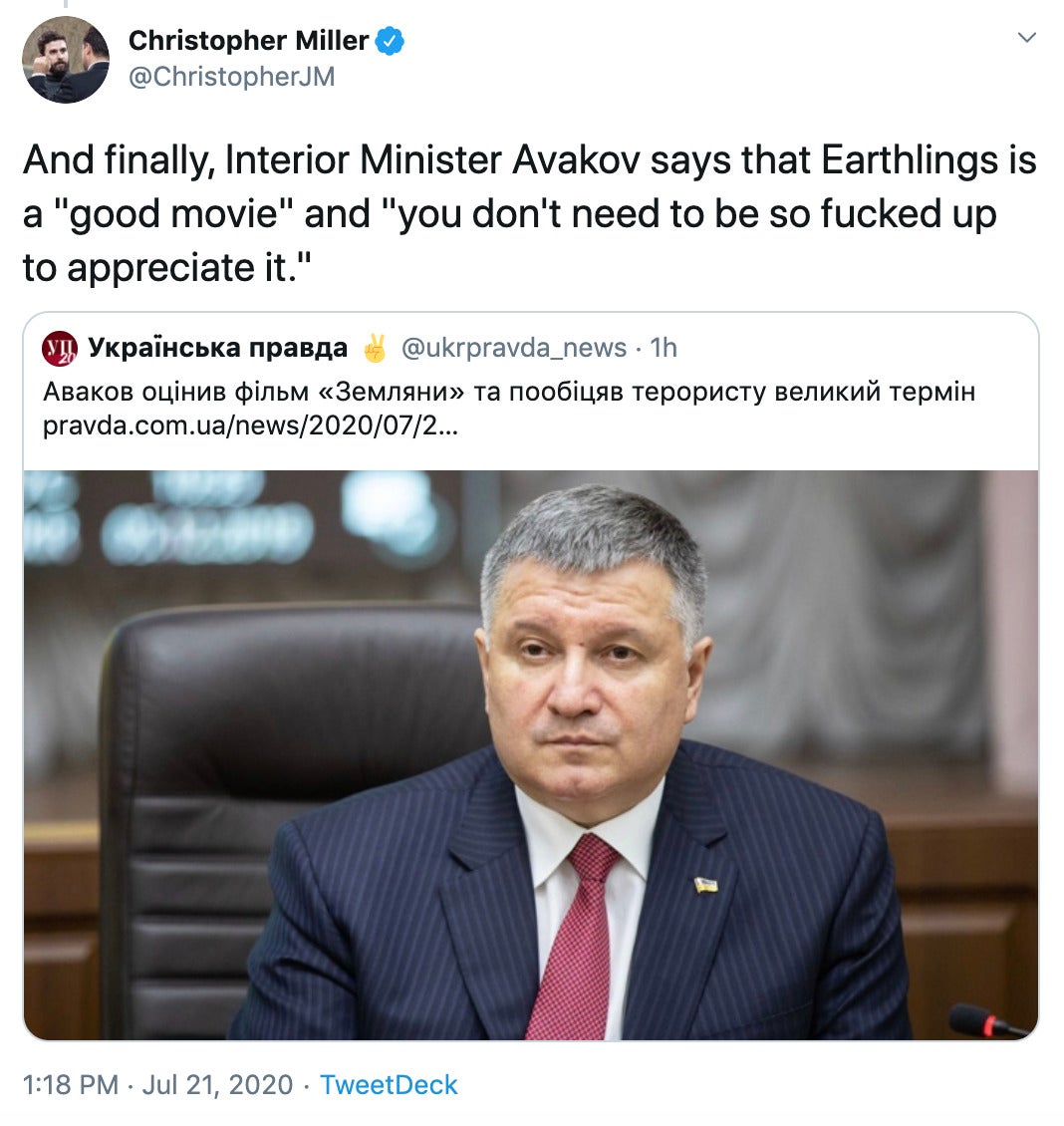 "And finally, Interior Minister Avakov says that Earthlings is a 'good movie' and 'you don't need to be so fucked up to appreciate it,'" Miller tweeted, concluding his lengthy breaking news thread.
READ MORE: