Yesterday, President Donald Trump's campaign unveiled the president's second-term agenda.
The 50-point plan was released with little fanfare. It nevertheless attracted plenty of attention—little of it positive.
Trump's second-term agenda includes the peculiar—colonize the moon—the patently false—the U.S. doesn't have the world's cleanest air or drinking water (as Flint, Michigan can attest)—and plenty of red meat for racists. It calls for categorizing drive-by shootings as domestic terrorism, hiring more police, ending release on recognizance in favor of universal cash bail, blaming China for the coronavirus pandemic, and more.

Some of its goals can be charitably called vague: "return to normal in 2021," "protect our veterans," "get allies to pay their fair share."
Steve Benen, a producer on The Rachel Maddow Show, argued that such goals would "hardly count as half-written tweets."
The agenda was quickly mocked and memed.
"The plan for education is robust and incredible," @CHSGeorge tweeted sarcastically of the two goals composing the entirety of Trump's education plan.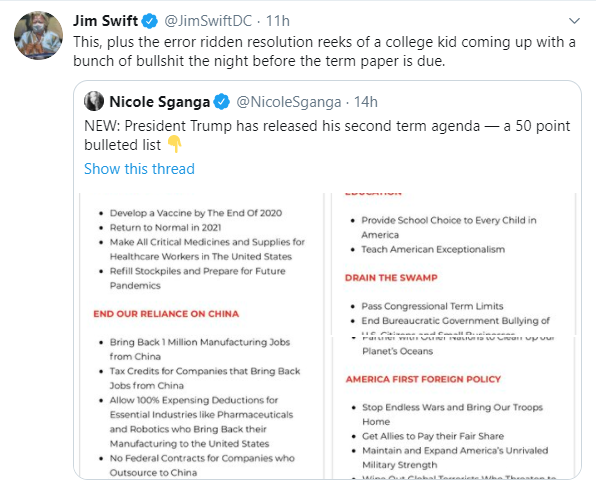 There were numerous not-so-subtle nods to QAnon, the conspiracy theory that Trump is battling a global cabal of elite satanist pedophiles. "Drain the globalist swamp by taking on international organizations that hurt American citizens," "expose Washington's money trail," and "dismantle human trafficking networks."
Several argued that Trump's plan could have extremely negative consequences on a national and global scale.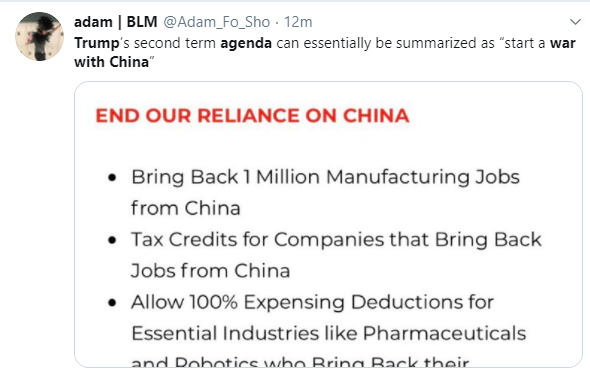 A few noticed what wasn't in the agenda.
"Notably absent from President Trump's second term agenda is any mention of his 2016 signature campaign promise: 'Build the wall,'" observed CBS News' Nicole Sganga.
"Guess climate change has been solved," remarked Lance Ulanoff.

For the first time in its history, the Republican Party has opted not to field its own platform this year. Instead, it will incorporate Trump's agenda.